Back to top
A Fantastic Family Sierra Getaway at Evergreen Lodge Yosemite
If you've ever dreamed about relaxing at an idyllic retreat in the High Sierra with plenty of family friendly activities, rustic but stylish cabins, and fantastic food, then you should make plans to visit the Evergreen Lodge, a historic resort located just a short distance from the western entrance to Yosemite National Park. Evergreen Lodge is a wonderful year-round destination that the whole family will enjoy, and we had a chance to experience what it has to offer earlier this fall.
The Evergreen Lodge has been a favorite family destination in the Sierra since the 1920s. Originally constructed during the construction of O'Shaughnessy Dam at nearby Hetch Hetchy, it began life as a post office, restaurant, and general store, becoming a hotel in the late 1920s. Purchased by its current owners in 2001, the Evergreen Lodge has undergone recent expansion and renovation to become a classic family mountain resort.
Staying at the Evergreen Lodge
The Evergreen Lodge offers family-friendly accommodations ranging from historic 1920s vintage cabins to the 2,500-square-foot John Muir House vacation rental, all sited under towering Sugar Pines and Incense Cedars. Most of the lodging is options are in the form of cabins constructed in the 2000s, which range from simple one-room duplex-style units to stand-alone cottages and bedroom family cabins, some with bunk beds.
We stayed in a deluxe cabin in the Wapama area of the resort, which was perfect for a short family getaway. Our cozy cabin had a comfy king bed, a queen sofabed in the sitting area, private deck looking out into the forest, and even a cute cast-iron gas fireplace, which was the perfect thing when the evening temperatures turned chilly. It was spotlessly clean, too.
Rooms are equipped with Sirius satellite radios, Keurig coffee makers, mini-refrigerators, and a basket full of classic games. I really loved the decor, which featured lamps made from thermos bottles and birch logs, framed vintage photos and maps, and rustic furniture.
Note that there's no TV on that list of amenities—cabins at Evergreen Lodge have no televisions! This freaked my kids out at first, but there's so much to do that they really didn't miss them. There are no phones either, and you can forget trying to get a cell phone signal out in the middle of the woods. Fortunately, courtesy landline phones are available for the use of lodge guests.
From May through October, Evergreen Lodge offers custom camping as a lodging option. Tents, sleeping bags, chairs, lanterns, mattresses, and toiletries are provided, so you don't need to worry about packing all your camping gear. There's a bathhouse with shower facilities, a campfire area, and even hammocks. Campers can use all of the lodge's other amenities, too.
Activities and Family Fun
The focus of the Evergreen Lodge is its main lodge are. The main outdoor plaza is flanked by the welcoming Recreation Center and Tuolumne Hall, both of which offer plenty to do. Tuolumne Hall is the center for most of the fun and games at the resort, and features foosball, ping pong, a pool table, a play area with plenty of toys and games for younger kids, nature craft activities on most afternoons, and family movies in the evenings.
Across the plaza, the Recreation Center offers a quieter atmosphere, complete with crackling fire in the stone fireplace, comfy sofas and chairs, and plenty of games, puzzles, books, and magazines to keep everyone occupied. This was our favorite place to relax in the evenings. The outdoor fireplace at the back of the Recreation Center becomes a social center after dinner, when everyone gathers to make s'mores.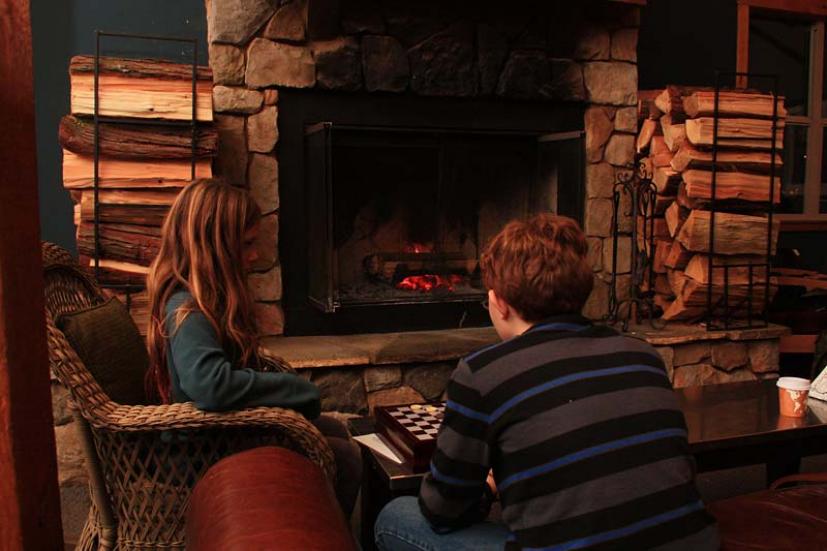 Outside, there's a lawn, a sun deck, and a kids' play area with play houses in the shape of Miwok bark dwellings and a sandbox with plenty of Tonka trucks. You'll find additional outdoor play areas around the area, with zip lines, cool nature-inspired play structures, swings, and more. There are places to play horseshoes, bocce, and chess on a giant outdoor board too. A nature trail also circles the resort. With markers along the way describing the natural history of the area, it's a fun and easy hike for the whole family.
Like all classic resorts, Evergreen Lodge has a swimming pool and a hot tub, too. The pool is open April through October (although they'll open it on request if it's warm enough to swim), and guests have access to the hot tub at any time of year. Both are salt-water filled and solar heated. The pool area has a pool house, a bar and serving drinks and snacks, and plenty of lounge chairs, tables, and umbrellas.
Since you'll be close to Yosemite National Park, you'll probably want to pay a visit there, too. My daughter is in fourth grade this year, which enable our family to enter the park for free with her Every Kid in a Park Pass. (Got a fourth grader in the family and don't have your pass yet?  Download yours at everykidinapark.gov and get free entry to all federal parks and lands for free!)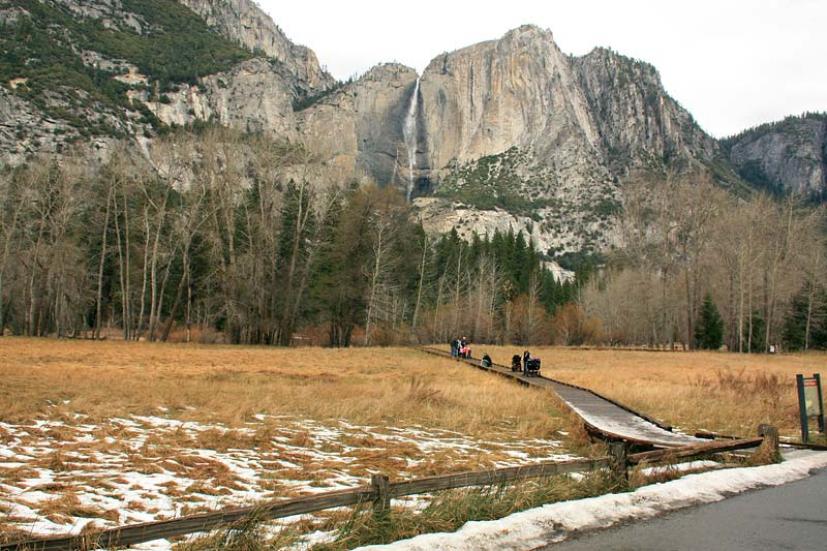 Give yourself at least an hour for the drive into Yosemite; the time it takes to get there may vary depending on the weather and traffic. The Evergreen Lodge is about 10 minutes away from the western entry to the park, and it's about another 45 minutes to the valley floor from there.
The Hetch Hetchy part of Yosemite and its trails are just a few minutes away from the Evergreen, and guests can also use the facilities at Evergreen's next-door neighbor, Camp Mather, during the summer for a small day-use fee. Other trails in the Stanislaus National Forest are close by as well.
Evergreen has everything from mountain strollers and bikes to backpacks and trekking poles available for rent, so don't worry if you don't have any gear. They also offer guided activities for all ages like trips into Yosemite Valley and other areas of the park, hikes, snowshoeing, fly-fishing, and whitewater rafting.
Dining at Evergreen Lodge
The main lodge is home to Evergreen's restaurant and tavern, which offer breakfast, lunch, and dinner. Both are kid-friendly, and offer a cozy ambience and tasty food, which is good considering it will take you about an hour to drive anywhere else for something to eat. There's also an outdoor dining area that's heated during the cooler months.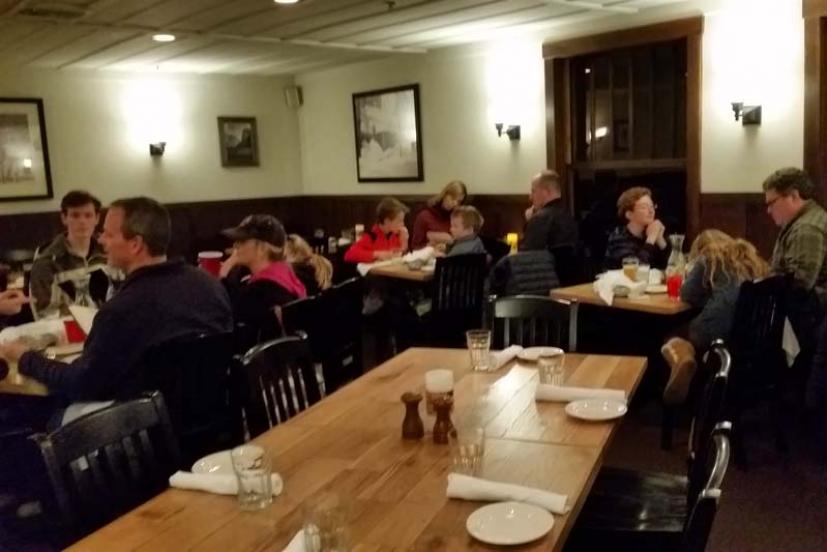 We liked the rustic tavern with its fireplace and lively atmosphere. (Both the restaurant and the tavern share the same menu.) Prices aren't cheap—hey, it's Yosemite, so don't complain—but everything we had was good, and there's an extensive kids' menu with the usual fare like mac-and-cheese, chicken tenders, pasta, and a PB&J.
If you don't feel like dining out, the Evergreen's general store and gift shops has plenty of snacks, breakfast items, sandwiches, espresso drinks, and even homemade soft-serve gelato. They also carry toiletries, outdoor gear like water bottles and walking sticks, toys, sweatshirts and fleece, T-shirts, postcards, soft drinks, beer, and wine. We really like the hot breakfast sandwiches available every morning which we took back to eat in our cabin while we planned our day.
If You Go
The Evergreen Lodge is really a fantastic place for a family getaway, and we had a hard time leaving. While it's close to Yosemite, there's really enough to do (or not do, as the case may be) around the lodge to keep everyone occupied all the time, so you may not have to go anywhere else! Everyone we encountered there was helpful, knowledgeable, and genuinely friendly, and we had a great time during our stay. For more information, rates, and reservations, visit www.evergreenlodge.com or call (209)­ 379-2606.
Evergreen Lodge is located at 33160 Evergreen Road, Groveland, CA 95321. (It's actually located about 30 miles east of Groveland.) To get there from Marin, take Highway 101 to Highway 580 in San Rafael and head east across the Richmond–San Rafael Bridge. Continue on 580 through the East Bay and over the Altamont Pass, then hook up with I-5 North and Highway 120 outside of Tracy. Take Highway 120 through Manteca and Escalon to Oakdale. Continue east on 120/108 and turn right at Chinese Camp to keep following Highway 120 east (you'll see the signs indicating it's the way to Yosemite). Continue on 120 through Groveland and Big Oak Flat. Continue until you see Evergreen Road, where you'll turn left. Evergreen Lodge is seven miles up Evergreen Road.
From November through April, drivers will need to have tire chains on hand in case of snowy weather. The rangers at the Yosemite entrance may deny you entry if you do not have chains and even if you do have all-wheel-drive. For up-to-date Yosemite road conditions, call (209) 372-0200, then press 1 and 1.
Sign up for tips & news for Marin families!