Back to top
A Fun Journey "Into the Woods" at the 2023 Mountain Play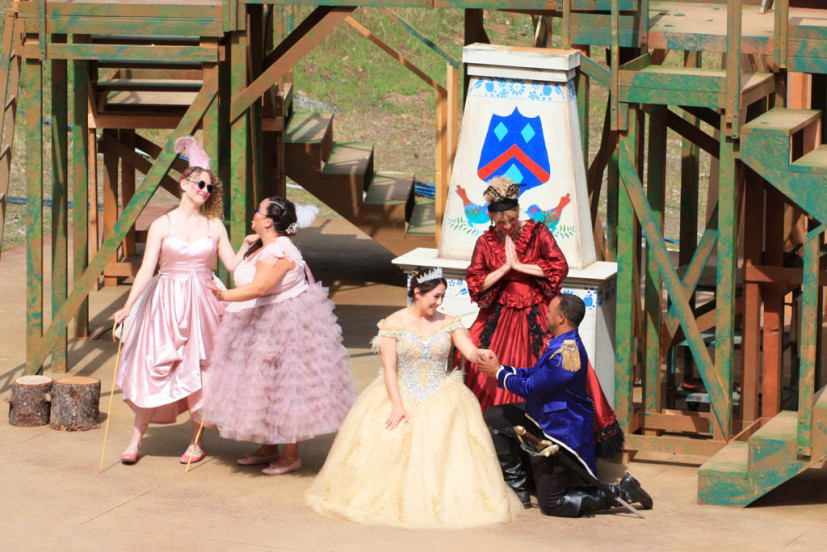 The Mountain Play, that time-honored Marin County tradition is back for it's 110th season, this time with the hit Broadway musical Into the Woods. It's a fun and fanciful outing for the whole family, with familiar fairy-tale characters, an innovative minimalist set, and even some puppetry.
Into the Woods tells the stories of a baker and his wife, who wish to have a child; Cinderella, who wishes to attend the king's festival; and Jack, who wishes his beloved cow Milky White would give milk. When the baker and his wife learn that they cannot have a child because of an evil witch's curse, the two set off on a journey into the woods to break the curse. In the end, everyone gets the happy ending they deserve … or do they?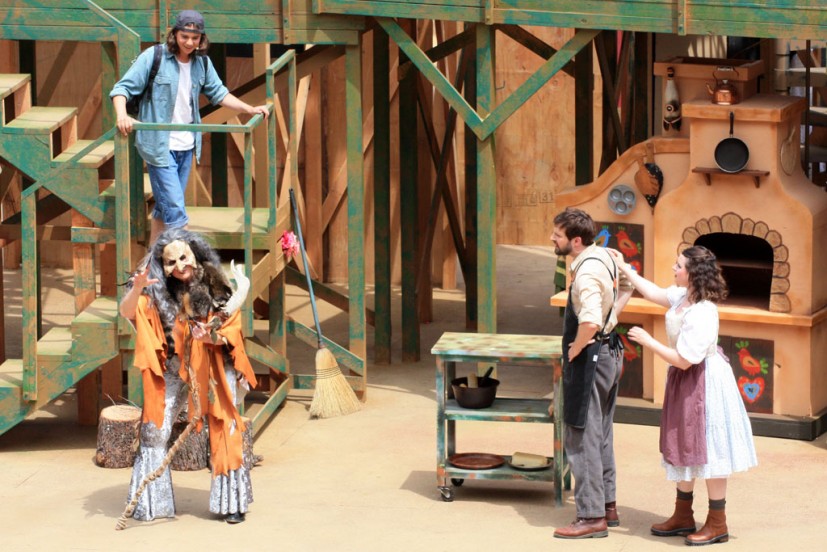 With a score by the legendary Stephen Sondheim and book by James Lapine, Into the Woods is a musically sophisticated show with an unforgettable score featuring songs like "No One is Alone," "Children Will Listen," and "Giants in the Sky." Into the Woods premiered on Broadway in 1987 and won three major Tony Awards.
Into the Woods is both directed and choreographed by Nicole Helfer, who has been responsible for the choreography of countless Mountain Play productions. Musical direction of the 16-piece live orchestra is by Daniel Alley.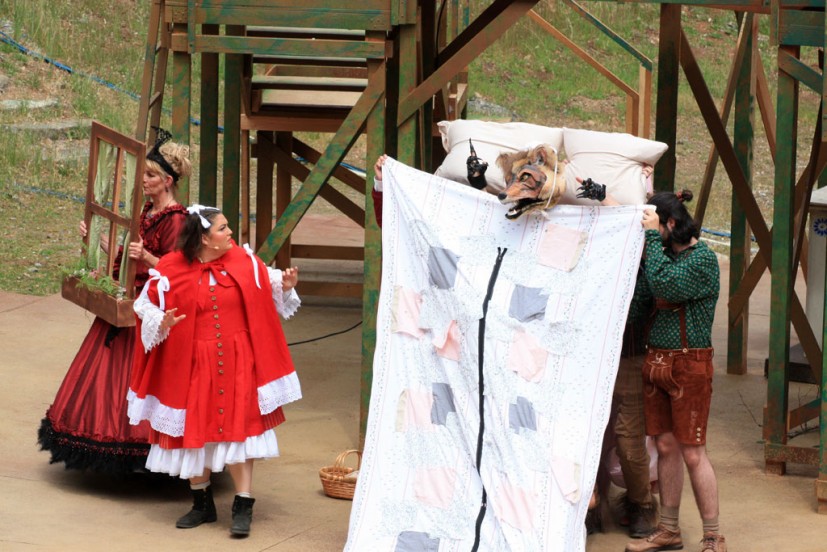 We really loved the performances by the whole cast, who tackled Sondheim's challenging score adeptly, but we especially loved Kevin Singer and Mountain Play veteran Melissa Wolfklain as the baker and his wife, Chachi Delgado (who really stood out in the role of Cornelius Hackle in last year's Mountain Play production of Hello Dolly!), Samantha Rose Cárdenas as Cinderella, and Celeste Kamiya as Little Red Riding Hood.
As always, it's a wonderful live musical theater production for everyone in the family, and a classic Marin County experience. My family and I look forward to going to the Mountain Play every year. Great tickets are still available for all Mountain Play performances on May 28 and June 4, 10, 11, and 18. All shows begin at 2 pm, but there's plenty of pre-show entertainment for everyone so make sure you get there early.
If You Go
General seating tickets to the Mountain Play are $50 for adults, $45 for seniors 65+, and $25 for youths 4–25 plus a 10% state park access fee; children 3 and under are free. Reserved seats are also available. Order tickets online here or by phone at (415) 383-1100. You can also buy your tickets at the gate; the box office opens at 9 am, and tickets are an additional $5 for adults and seniors.
Performances start at 2 pm and end around 5 pm, but of course you'll want to get there early for maximum fun, with pre-show entertainment beginning at 12:30 pm.
When you go, make sure you're prepared for any kind of weather. Even if it's foggy in Mill Valley, the Rock Springs and amphitheater area can be above it all and bathed in bright sunlight. Of course it can be windy and foggy, too. There are some areas of shade in the amphitheater, but they're available on a first-come, first-served basis.
Hats, sunscreen, and layered clothing are a must at the Mountain Play. Make sure you bring plenty of drinking water, too, although drinking fountains and drink concessions are available at the play. Amphitheater seats are all stone blocks, so stadium cushions, pillows, blankets, and other forms of padding are a good idea, too. You can rent pads at the amphitheater, and reserved seats have pads in place already.
The Mountain Play takes place at the Cushing Memorial Amphitheater in Mount Tamalpais State Park. While you can park up at the amphitheater, which is located near the Rock Springs trailhead and parking area, parking there is very limited, and fills up early in the day.
The traditional way to get to the Mountain Play is to take one of the shuttle buses ($10 adults, free for youth) up from Tamalpais High School or the Manzanita Park-and-Ride Lot (near the Buckeye restaurant). Buses leave approximately every 15 minutes starting at 10 am (last bus is at 12:45 pm), and will take you back down the mountain after the play.
For more information on how to get to there, read our Insider's Guide to the 2023 Mountain Play. You can learn more about the Mountain Play at www.mountainplay.org or (415) 383-1100.
Sign up for tips & news for Marin families!