Back to top
Get Your Tickets Now for Pumpkins on Pikes at Tara Firma Farms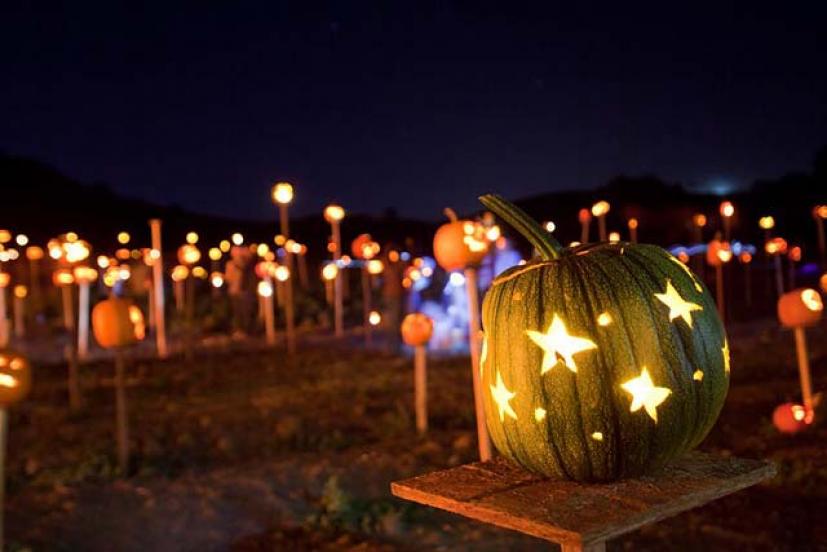 In addition to producing healthy and sustainable local food, Petaluma's Tara Firma Farms also puts on fantastic family-friendly events throughout the year. This fall, their annual Pumpkins on Pikes event continues this tradition. Come on out to the farm for Halloween fun with pumpkin carving, live music, dancing, a corn maze, BBQ and more.
Pumpkins on Pikes takes place on two Saturdays, October 20 and October 27, from 2 to 10 pm. Bring your pumpkin carving tools, blankets and coats to stay warm after dark, a sheet to cover hay bales for seating, and favorite treat for the dessert potluck. Free pumpkins for carving will be provided with admission. The carved pumpkins are placed on pikes out in the cornfield, and when the sun goes down, the pumpkins are lit. It's an amazing spectacle!
The October 20 event features live music by the Vivants and on October 27, the High Water Line performs. A BBQ dinner will be available for purchase $10 a plate at the event; vegetarian options available.
Admission is $20. Children 6 and under are admitted free. If you're interested in going, get your tickets soon—this event often sells out early.
Tara Firma Farms is located at 3796 I Street Extension in Petaluma. To get there, take Highway 101 north to Petaluma and exit at Petaluma Boulevard South. Follow Petaluma Boulevard South to I Street, where you'll turn left. Follow I Street south until you reach Tara Firma Farms at the Intersection of I Street Extension and San Antonio Road. Carpooling is encouraged as parking space is limited.
For more information, visit www.tarafirmafarms.com or call (707) 765-1202. Read about our visit to the Tara Firma Farms and their fantastic free farm tours here.
Photo courtesy Tara Firma Farms.
Sign up for tips & news for Marin families!