Back to top
Hands-on History at Sutter's Fort State Historic Park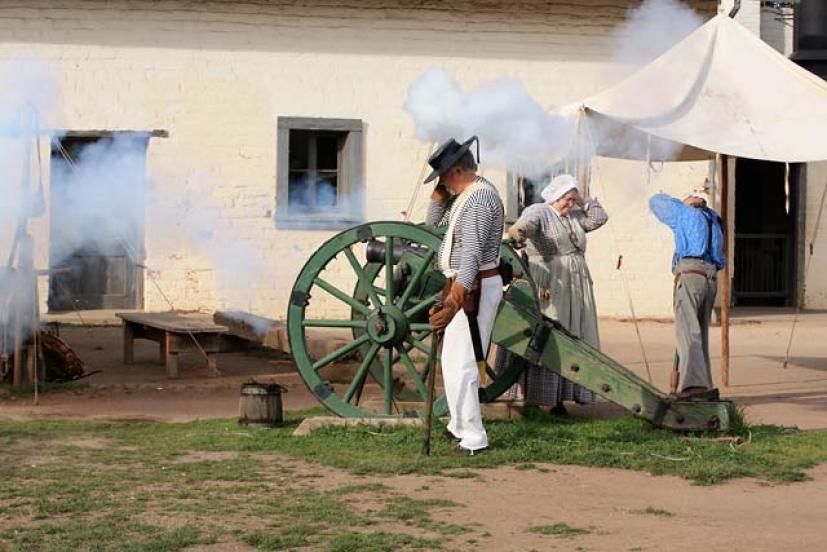 Like many other fourth graders in Marin, my son has been immersed in California history this year. One of the books that he read in class was Patty Reed's Doll
, which tells the story of the ill-fated Donner Party from the point of view of one of its youngest members and her beloved doll "Dolly." When we learned that Dolly herself is on view at Sutter's Fort State Historic Park in Sacramento, we decided we had to make the trip to go see it.
Sutter's Fort was built between 1841 and 1843 by Swiss-born pioneer John Augustus Sutter, who made it the centerpiece of his settlement which he dubbed "New Helvetia." Sutter's Fort was a welcome sight for many early California immigrants who often endured arduous conditions crossing the Sierra Nevada Mountains. Sutter was renowned for his hospitality and assistance to immigrants, but his lands were overrun by gold-seekers after 1848, destroying much of the empire that he built.
While the two-story adobe Main Building is original, the rest of the fort, including the 15-foot-high adobe walls, has been reconstructed. Step through the fort's gates, though, and you're back in the 1840s, especially if one of their special interpretive "Hands-on History" programs is taking place.
While the fort is a worthwhile visit on any day, the third Saturday of every month is time for Hands-on History. Volunteers in costume portray pioneers, soldiers, sailors, mountain men, and other people of the period, and visitors can take part in activities and demonstrations of early Calfornia life.
On our visit, the kids worked on a quilt, wrote with a quill pen, learned how to pack a covered wagon for its trip across the plains to California, made corn husk dolls, listened to fiddle music, sampled cookies baked in the fort's wood-burning clay oven, and even joined the navy, courtesy of the crew of the USS Cyane.
The highlight of the visit was experiencing the firing of the fort's cannon, an exact copy, cast from the original, of the cannon Sutter purchased from the defunct Russian outpost of Fort Ross on the Sonoma coast.
The fort itself includes a number of different rooms and workshops, many equipped as they were in the 1840s. Other rooms contain exhibits about life in California during the Mexican and Gold Rush periods, as well as artifacts that belonged to Sutter, gold discoverer James Marshall, and the Donner Party. And of course, who could miss Patty Reed's little doll, which recently underwent conservation treatment and now resides in a climate-controlled case.
Learn more about Sutter's Fort State Historic Park at www.parks.ca.gov or by calling (916) 445-4422.
If You Go
Sutter's Fort State Historic Park is located at 2701 L Street, in Sacramento's Midtown neighborhood. It's open from 10 am to 5 pm every day (except Christmas, Thanksgiving, and New Year's Day). Admission is $5 for adults 18 and over, $3 for youth 6 to 17, and free for children 5 and under. During special programs like Hands-on History, admission is $7 and $5 for youth. The next Hands-on History program is "California at War" on Saturday, June 15, 2013.
To get to Sutter's Fort from Marin, take Highway 101 to Highway 37 east in Novato, and follow Highway 37 through Vallejo to Interstate 80. Take I-80 east to Sacramento, where you'll get onto Business 80/Highway 50 east. Take the N Street exit and head straight onto 30th Street, then turn left onto L Street to the fort. Plenty of street parking is available; you can either feed the meter or purchase a parking permit in one of the streetside machines (it's good for other areas in Sacramento until it expires). Parking is free on Sunday.
Drinking water and restrooms are available in the park outside the fort. The Sutter's Fort Trade Store offers a wide array of books, toys, gifts, and souvenirs pertaining to California History and the Gold Rush.
Sacramento can be extremely hot during the summer, so pack hats, sunscreen, and remember to keep everyone hydrated.
On our trips to Sacramento, we love to grab a bite to eat at the Old Spaghetti Factory. It's just a few blocks away at 1910 J Street, and it's child-friendly and inexpensive. Located in an old train station, it's crammed with antiques and you can even dine inside and old streetcar. (916) 443-2862.
Sign up for tips & news for Marin families!