Back to top
"From Here To There" Opens at the Bay Area Discovery Museum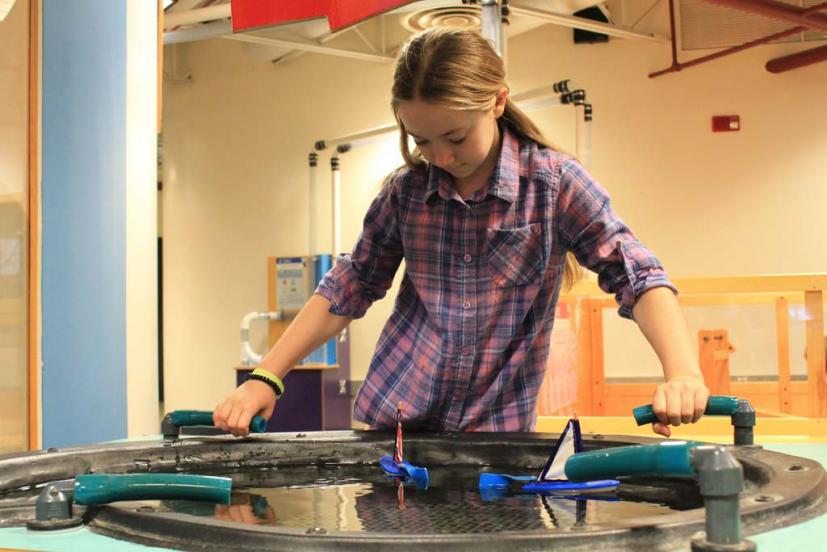 The Bay Area Discovery Museum's newest hands-on exhibit, From Here To There, opens this Saturday, January 27, 2018. This traveling exhibit explores the science of how things move by land, sea, and air, and will be on view through Sunday, May 13, 2018.
From Here to There features a dozen different hands-on activities that provide children an opportunity to engage with both familiar modes of transportation—such as trucks and airplanes—and with a new world of travel that includes magnetic levitation and hovercrafts as possibilities. Each activity is an opportunity to learn about gravity, friction, and the laws of motion that keep things moving through our world.
Kids can try to send a hot air balloon soaring or to navigate a boat safely through an authentic canal lock system complete with changing water levels. They can also harness the power of the wind to keep a sailboat on course and send colored balls zooming through tubes that extend from one end of the room to the other.
For more information on this new exhibit, visit bayareadiscoverymuseum.org.
If You Go
Admission to the From Here to There is included in general museum admission: $13.95 for babies ages 6–11 months and seniors 65+ and $14.95 for children 1–17 and adults 18–64.
The Bay Area Discovery Museum is located at 557 McReynolds Road in Sausalito, at the foot of the Golden Gate Bridge. They're open Tuesday–Friday from 9 am–4 pm, Saturday from 10 am–5 pm, and Sunday from 9 am–5 pm.
Sign up for tips & news for Marin families!