Back to top
Family Kayak Adventures in Marin and Northern California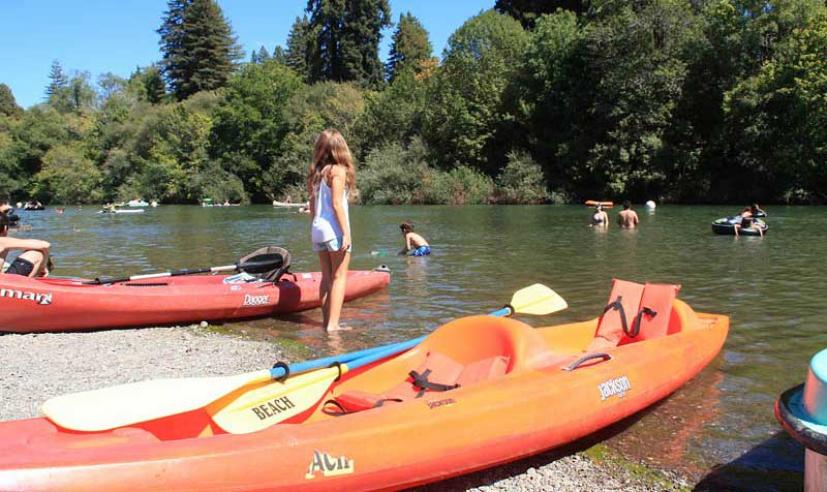 One of the activities we love to do is kayaking. It's a fantastic way to experience nature and peacefully explore local waterways. What we love most about it is that it's an activity that can be enjoyed by all ages! Tandem kayaks often have a third seat for a small child, and kids can easily pick up the skills needed to paddle their craft through the water. It's fun and great exercise.
For beginners, all these kayak rental outfits offer the sit-on-top style ocean kayaks, which are stable, lightweight, and easy to paddle. The only drawback is that you can get a little wet while you're paddling, but then that's part of the fun. We've kayak on lakes, bays, and rivers, and each type of location offers a different experience.
Here's our list of businesses that offer on-water kayak rentals in Marin and the Bay Area; we threw in Monterey Bay and Lake Tahoe, too, since they're vacation hot spots where kayaking is popular and fun. Most of these outfits offer guided tours, but renting a kayak and heading out on your own is surprisingly easy. Rentals usually include basic kayaking lessons and safety gear like life vests.
Here are some tips for beginning kayakers:
Wear hats and use sunscreen, since you'll be out in the open for much of the time.
You're going to get wet, so avoid cotton clothing and opt for quick-drying clothing like workout shirts and board shorts.
Try to go in the morning when winds are calm. It will be an easier and more fun experience for all.
Make sure you get a dry bag to stow your valuables and anything that you don't want to get wet.
Marin County
The calm waters of Tomales Bay in West Marin, where you can paddle to spots like Heart's Desite Beach, and Richardson Bay in Sausalito are perfect for kayak adventures. Another favorite spot for kayakers are the waters in San Pablo Bay off China Camp State Park in San Rafael.
Blue Waters Kayaking
Inverness and Marshall
www.bluewaterskayaking.com
(415) 669-2600
Blue Waters Kayaking offers rentals in both Inverness and Marshall so you can explore Tomales Bay.
Sea Trek
Sausalito
www.seatrek.com
(415) 332-8494
Paddle Richardson Bay and the Sausalito waterfront! Sea Trek's rental shop is located near the Bay Model in Sausalito.
Outback Adventures
San Rafael
www.outbackadventures.com
(415) 461-2222
Outback Adventures offers on-water kayak rentals near China Camp State Park, at Buck's Launching in San Rafael (off Point San Pedro Road). Explore the gentle waters of San Pablo Bay and put in at China Camp Beach for a picnic!
101 Surf Sports
San Rafael
www.101surfsports.com
(415) 524-8492
101 Surf Sports offers on-water rentals at their location on Third Street in San Rafael, on the San Rafael Canal.
San Francisco
City Kayak
San Francisco
citykayak.com
(415) 294-1050
City Kayak rents kayaks from their waterfront location at Pier 40 near AT&T Park.
Sonoma County
The Petaluma River and the Russian River in western Sonoma County are popular places for kayak excursions, as are the county's lakes.
Clavey Paddlesports

Petaluma
www.clavey.com
(707) 766-8070
Clavey Paddlesports in downtown Petaluma is located just two blocks from the Petaluma River. They rent single and tandem kayaks as well as stand-up paddleboards and rafts and offer kayaking classes.
Johnson's Beach
Guerneville
johnsonsbeach.com
(707) 869-2022
This old-school getaway on the Russian River in downtown Guerneville offers kayak rentals right on the beach. Read more about Johnson's Beach.
Watertreks
Jenner and Guerneville
watertreks.com
(707) 865-2249

River's Edge Kayak & Canoe Trips
Healdsburg
riversedgekayakandcanoe.com
(707) 433-7247
Howarth Park
Santa Rosa
srcity.org
(707) 543-3753
Sprawling Howarth Park in Santa Rosa is home to Lake Ralphine, where you can rent kayaks for bargain prices. It's a great place to try out kayaking. Read about visiting Howarth Park.
Spring Lake Regional Park
Santa Rosa
parks.sonomacounty.ca.gov
(707) 539-8092
This small lake in Santa Rosa is another perfect place for beginning kayakers who want to take it easy. Rent kayaks at the Lakeside Grill near the Violetti Road entrance. Read about visiting Spring Lake Regional Park.
Monterey Bay
Monterey Bay, with its abundant marine life—including sea otters, seals, and whales—is a fantastic place for nature-loving kayakers. You can paddle from numerous locations, including Monterey, Santa Cruz, and Moss Landing. Kayaking is especially fun in Monterey, where you can explore Cannery Row, the kelp forest, Monterey Harbor, and Fisherman's Wharf.
Monterey Bay Kayak
Monterey and Moss Landing
www.montereybaykayaks.com
(831) 373-5357
Monterey Bay Kayak offers kayak rentals and tours in Monterey and Elkhorn Slough Reserve in Moss Landing.
Adventures by the Sea
Monterey and Pacific Grove
www.adventuresbythesea.com
(831) 372-1807
Adventures by the Sea offers kayak rentals at Cannery Row and Breakwater Cove in Monterey and at Lover's Point in nearby Pacific Grove.
Kayak Connection
Santa Cruz and Moss Landing
www.kayakconnection.com
(831) 479-1121 (Santa Cruz)
(831) 724-5691 (Moss Landing)
Kayak Connection offers kayak rentals and tours in Santa Cruz Harbor and Elkhorn Slough Reserve in Moss Landing.
Venture Quest Santa Cruz
Santa Cruz Wharf
www.santacruzkayak.com
(831) 427-2267
Capitola Boat & Bait
Capitola
capitolaboatandbait.com
(831) 423-1739
Lake Tahoe
Lake Tahoe is a fantastic place to kayak. Most kayak rental outfits on the lake offer rentals from April or May through October only, with actual dates depending on the weather. Many top Tahoe destinations, like Emerald Bay, have kayak rentals on-site.
Kayak Tahoe
South Lake Tahoe
kayaktahoe.com
(530) 544-2011
Kayak Tahoe offers kayak rentals from South Lake Tahoe and Vikingsholm/Emerald Bay.
Tahoe City Kayak & Paddleboard
Tahoe City
tahoecitykayak.com
(530) 581-4336
Tahoe Adventure Company
Tahoe City
www.tahoeadventurecompany.com
(530) 913-9212
West Shore Sports
Tahoe City (Sunnyside), Homewood, and Tahoma
www.westshoresports.com
(530) 583-9920 (Sunnyside and Homewood)
(530) 525-9920 (Tahoma)
West Shore Sports offers kayak rentals in Tahoe City's Sunnyside area, Homewood, and Ed Z'berg Sugar Pine Point State Park in Tahoma.
Tahoe Paddle & Oar
Kings Beach
tahoepaddle.com
(530) 581-3029
Today's Events
Wednesday, February 21, 2018