Back to top
Santa Rosa's Howarth Park Is Worth the Trip
When we find ourselves up in Santa Rosa we make it a point to stop by the wonderful Howarth Park and play for a while. This large park on the east side of town is packed with attractions and things to do, and it's well worth a visit if your in the area; it might even merit a special trip up north.
Howarth Park has been a Sonoma County fixture since the 1950s. Not only does the park boast a large, modern set of play structures, it has plenty of other attractions as well. Kids can take a trip on a miniature train, ride a carousel, meet some animals at the barn, and even rent a boat to sail or paddle on adjacent Lake Ralphine.
The main "Land of Imagination" play area is divided into several sections, each suitable for different age groups. At the center of the play area is an Old West town and a Native American village where kids can indulge in creative play. An additional playground on the other side of the parking area features swings and a rock climbing wall structure.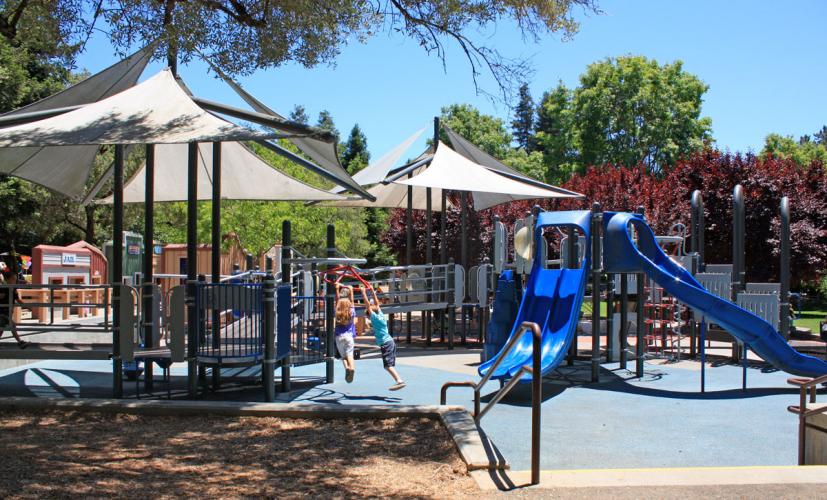 Adjacent to the playground, you'll find the Big K-Land area with attractions like the Animal Barn, carousel, train, and bounce house. All these attractions require tickets for admission, which can be purchased up at the Big K-Land train station. Tickets cost $2 each or $40 for a book of 25 (which can be used all season long).
The train ride takes you on a trip through a not-very-scary Haunted Tunnel (don't forget to scream on your way through) and over a bridge (look for the Alfred the alligator in the pond) and through the enchanted forest. The train itself is a scale replica of the 1863 C.P. Huntington steam locomotive that you'll see at the California State Railroad Museum in Sacramento. The carousel has been a Howarth Park tradition for over 50 years, and features 30 horses and over 1,000 lights. At the animal barn kids can meet and pet a variety of different farm animals, including pigs, sheep, a calf, chickens, ducks, rabbits, and goats.
In addition to K-Land and the playground, Howarth Park also boasts hiking trails (which lead to neighboring Spring Lake Regional Park and Annadel State Park, tennis courts, picnic areas, and Lake Ralphine, where you can can sail or paddle a boat and fish for largemouth bass, bluegill, sunfish, and rainbow trout. Boats, including sailboats, rowboats, paddleboats, kayaks, and canoes, may be rented from the Boathouse for $12 per hour, depending on type. Reservations must be made in advance online.
Howarth Park is a popular place for birthday parties and gatherings, and can get busy on a nice day. There's so much to do here, it's no wonder!
If You Go
Howarth Park is located at 630 Summerfield Road in Santa Rosa. During the summer, rides and attractions are open Monday to Thursday from 11 am to 4:30 pm and Saturday and Sunday from 11 am to 5 pm. During the rest of the year they're open on weekends from 11 to 5 pm Rides are not open if it's raining. The Lake Ralphine Boat House is open from March through September. Big K-Land attractions cost $2 each or a 25-ticket book for $40. The park's pony rides and jumpy house are closed indefinitely.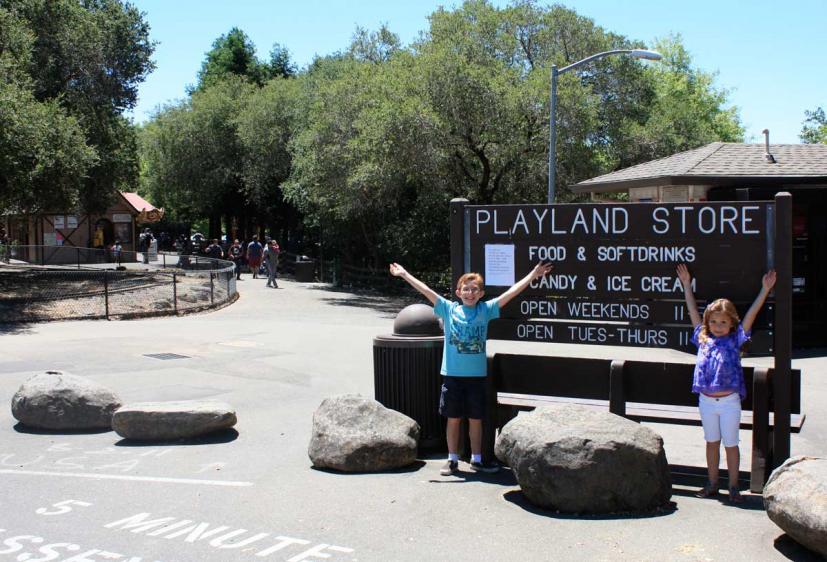 There's a snack bar located near the train station that offers ice cream, soft drinks, hot dogs, pizza, popcorn, candy, and other treats. It's open Monday to Thursday, noon to 4:30 pm and weekends from noon to 5 pm.
To get to Howarth Park from Marin, take Highway 101 north to Santa Rosa. Take the Highway 12 east exit. Follow Highway 12 past the Sonoma County Fairgrounds, then turn left at the stop light onto Farmers Lane. Turn right on Montgomery Drive and follow it to Summerfield Road, where you'll turn right. Howarth Park will be on your right. Plenty of free parking is available, but it can be challenging to find a spot on a nice weekend day.
For more information, including party information and a schedule of events, visit www.howarthpark.com.
Sign up for tips & news for Marin families!