Back to top
Russian River Fun at Johnson's Beach
When the temperature rises, it's time to head to a local beach and cool off. Bay Area residents have been doing this for nearly 100 years at Johnson's Beach, a laid-back, family-friendly summertime getaway on the banks of the Russian River in Guerneville. There's nothing quite like lounging in an inner tube on the river on a warm summer day with redwoods towering overhead!
Johnson's is a privately owned beach that's open to the public. This year, due to COVID-19, Johnson's is limiting capacity to permit visitors to spread out without getting too close to other groups, and advance reservations are necessary. So make your reservation, pack up your beach gear and folding chairs, and get ready for a lazy riverside day!
The pebble beach stretches down to the river where you'll find a roped-off kiddie pool area where the little ones can splash and play. The river itself is cool, not very deep, and ideal for swimming, splashing, and floating around in an inner tube.
In years past, admission to Johnson's beach was free; visitors just had to pay a $7 parking fee and could rent gear like beach umbrellas, canoes, and kayaks. For the 2021 summer season, visitors must make an advance reservation for beach spots, 10-foot spaces spaced 6 feet apart from each other on the beach with room for 4 people to spread out and relax. Beach spot reservations range in cost from $15 to $40, depending on their proximity to the river, and include all-day use of a beach umbrella. 
At the boathouse, you can rent canoes, kayaks, and paddle boats ($50 per day; $40 per day for single kayaks). Hourly rentals are not available this season due to the need to sanitize equipment thoroughly. The beachside cafe is not open this season, but the Saucy Mama soul-food popup restaurant will be on-site this Fridays through Sundays selling ribs, grilled and fried chicken, beverages and more.
Johnson's Beach, a family-owned affair for decades, has underwent a change of ownership a few years ago. The new owners bought it precisely for its old school charm, so they're making improvements while keeping the tradition and fun going! It's a great place to spend the day after a mini road trip up to the river. While you're in Guerneville, make sure you visit nearby Armstrong Redwoods State Natural Preserve to see some amazing big trees without the crowds.
For more information about Johnson's Beach, visit johnsonsbeach.com or call (707) 869-2022.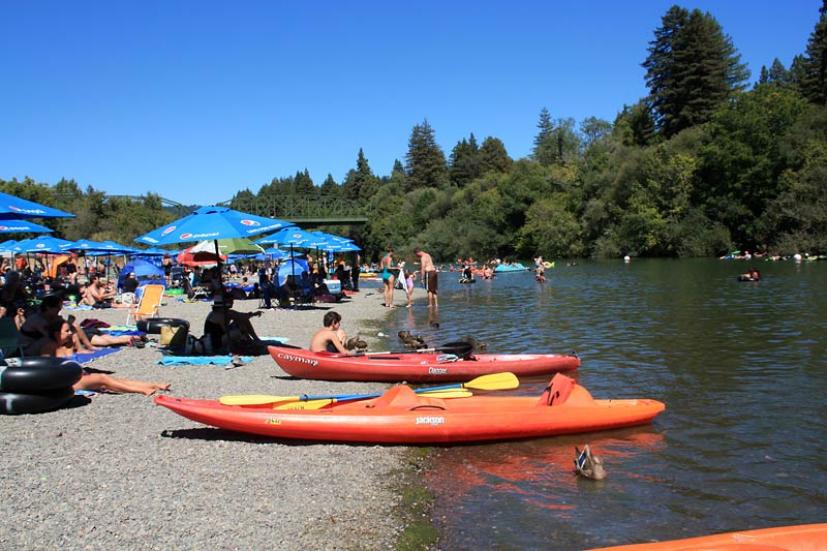 If You Go
Johnson's Beach is currently open weekends only from May 15–June 6. June 11– August 22, Johnson's Beach will be open daily. Then from August 23–September 26 it will be open on weekends only again. It's located in Guerneville off Church Street, and it's about a hour drive from Marin. There's a $7 per car parking fee and advance reservations are required to secure your beach spot for the day.
Due to COVID-19 precautions, visitors must book a 10-foot, 4-person beach spot in advance, and masks or other face coverings must be work when you can't maintain a 6-foot social distance from other groups or members of the Johnson's Beach staff. Boat rentals may be made in advance online, too. Visit johnsonsbeach.com to make your reservations.
Johnson's Beach is located at 16215 and 16217 First Street in Guerneville 95446. To get there, head north on 101 into Sonoma County. You can either split off onto Hwy 116 west in Cotati or continue north on 101 through Santa Rosa. If you go the first route take Hwy 116 (Gravenstein Highway) through Sebastopol and Forestville to Guerneville. Go over the Russian River and take a left onto River Road into Guerneville, then turn left onto Church Street and follow it to the Beach.
If you go through Santa Rosa, take 101 north through Santa Rosa. Take the River Road/Mark West Springs Road exit and head west on River Road to Guerneville. Once in Guerneville, make a left turn onto Church Street as above.
Alcohol, BBQs, pets, and canopies or umbrellas are not allowed. Food is available for purchase on-site on weekends. Johnson's Beach also offers lodging in 1920s-era cabins, a rental lodge, and a campground adjacent to the beach.
Sign up for tips & news for Marin families!