Back to top
Hiking with Kids in Marin: Mount Burdell Open Space Preserve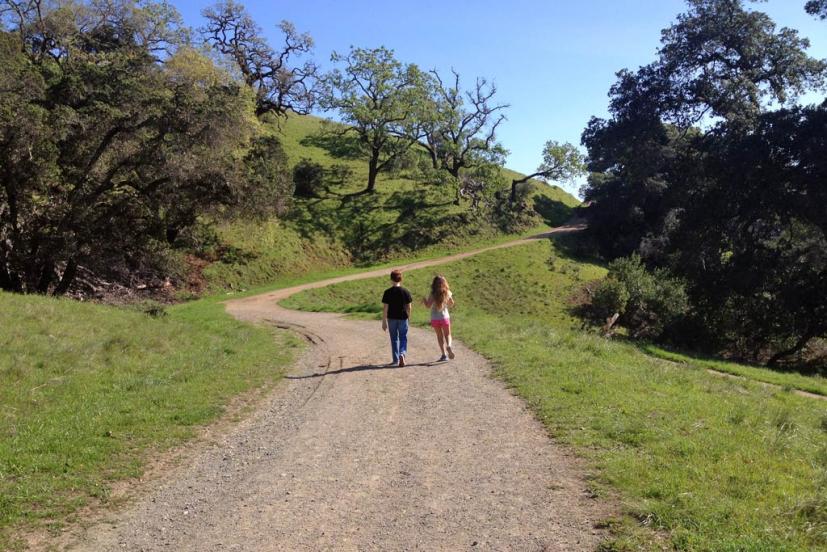 While not as iconic, renowned, or tall as southern Marin's Mount Tamalpais, Novato's Mount Burdell offers its own kind of charm and appeal for families looking for an easy outdoor outing. Mount Burdell Open Space preserve boasts plenty of wide fire roads and trails that are perfect for a hike with small children. Those after more challenging treks can head uphill and look for the seasonal Hidden Lake, hike to the top of the 1,558-foot peak for amazing views of the San Francisco Bay Area, and even drop down into neighboring Olompali State Historic Park.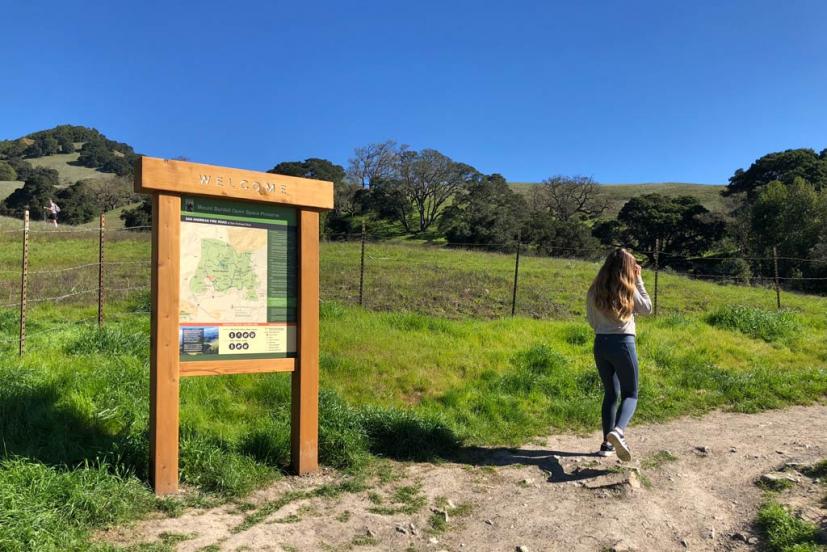 Wildflowers of all different colors are beginning to make an appearance, and seasonal streams burble and splash their way down the hilside. Keep an eye open for birds of all sorts, including red-tailed hawks, turkey vultures, and wild turkeys, as well as a variety of colorful butterflies. Late winter and early spring is really a magical time of year here!
On our most recent Mount Burdell outing, we chose to stick to the relatively flat San Andreas and Big Tank Fire Roads and Michako Trail, all of which cross the sweeping grasslands that cover the lower slopes of the mountain. We veered off onto the San Andreas Court Fire Road and followed it down the hill and onto another trail that paralleled a small stream. We crossed the stream and looped back up to the Big Tank Fire Road.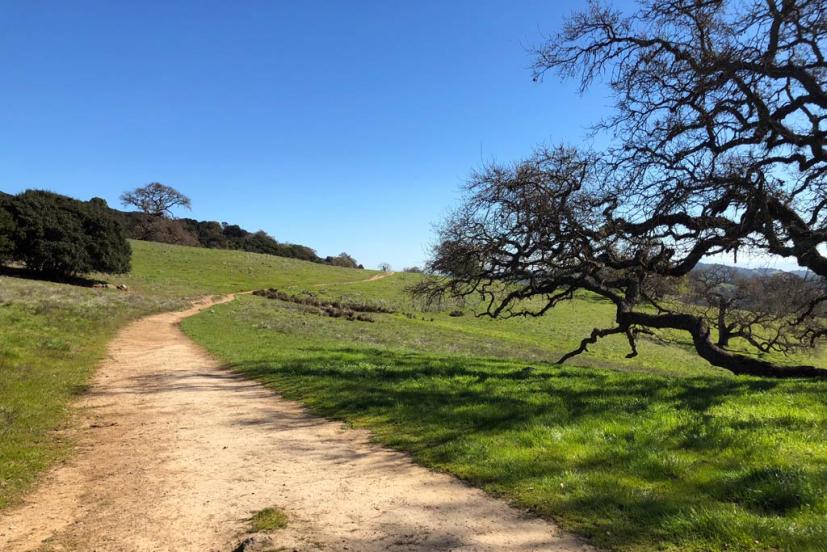 The fire roads and intersecting trails make for a good assortment of loop hikes that are suitable for a family with smaller kids who aren't going to be up for climbing up onto the mountain. These trails are popular with hikers, mountain bikers, and dog walkers. Keep in mind that the Marin County Open Space District (MCOSD) allows off-leash dogs under voice control on fire roads.
There's also a chance that you'll encounter a herd of dairy cows while on the trail at Mount Burdell. They're pretty placid animals, but they can be big and intimidating to children, so keep that in mind. Our kids of course wanted to run up and say hello to the cows the moment they saw them. Make sure you firmly close all the cattle gates that you encounter, lest you inadvertantly cause a bovine breakout.
If You Go
The trails on Mount Burdell wind through grasslands and oak and bay forests. Since chance are you won't be in the shade all the time, sun protection in the form of sunscreen and hats is a must, as well as plenty of drinking water. No water or restroom facilities are available. Keep in mind that rattlesnakes and mountain lions are spotted in the area from time to time, so don't let kids run ahead on the trail ahead of the grownups in the group. Also, make sure you check everyone for ticks after your hike, especially if anyone's been walking off the trail in the tall grass.
There are numerous trailheads in northern Novato that lead onto the Mount Burdell preserve, but the most popular and easily accessible one is near the end of San Andreas Drive. To get there, take Highway 101 to the San Marin/Atherton Avenue exit; go left onto San Marin Drive and follow it to San Andreas Drive, right before the San Marin Plaza shopping center. Turn right on San Andreas and follow it up the hill—you'll probably see cars parked on the side of the road near the clearly marked trailhead.
To learn more about Mount Burdell, visit the Marin Parks website, where you can download a handy printable trail map and check out their online field guides to the birds, butterflies, reptiles, amphibians, and mammals that inhabit the area. The Parks Department also offers naturalist-led Nature for Kids outings on Mount Burdell. They're a great way to introduce the little ones to the great outdoors and learn more about the plants and wildlife that make the preserve their home.
Sign up for tips & news for Marin families!