Back to top
Hiking With Kids in Marin: Tomales Bay Trailhead in Point Reyes
When we're in the mood for an easy hike in West Marin with the kids, we love to head to Tomales Bay Trailhead, off Highway 1 just north of the town of Point Reyes Station. This hike is perfect for families with children of all ages, and passes through the gently rolling hills at the southern end of Tomales Bay. Be prepared to take in some sweeping views, watch for local wildlife, and meet some friendly cows wandering the meadows.
Tomales Bay Trailhead has the added benefit of being close to Point Reyes Station—it's only a few minutes north of town off of Highway 1. It's a great place to take in a hike when you don't feel like driving out all the way into Point Reyes National Seashore, and it's beautiful in its own right. The Tomales Bay Trails winds along hills and run through grassy meadows from the highway down to Tomales Bay itself.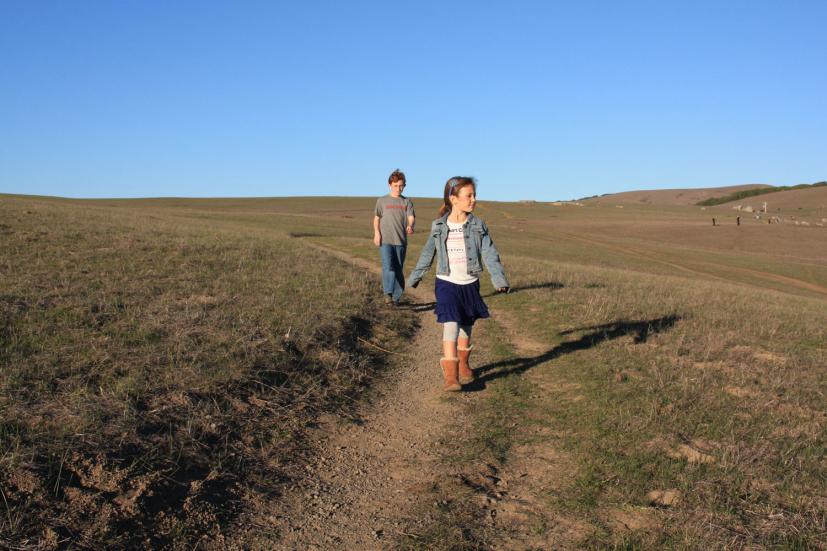 Along the way keep your eyes open for birds and other wildlife, especially in the pond located about two-thirds of the way along the trail. You'll also certainly meet up with some of the cows that graze here. On our last hike here there were plenty of cows and calves lounging around, and none of them seemed all that interested in us or any of the other hikers walking through their meadow. At several points along the trail, you'll find metal cattle gates—make sure you close these securely behind you to prevent a bovine breakout.
The area around the Tomales Bay Trail is wide and open with only a few trees here and there. This, coupled with the wind blowing off Tomales Bay, makes this a fantastic place to fly a kite! We always make sure we have a small kite in the back of the car just in case the opportunity presents itself.
We saw many children of all ages hiking here (in addition to ours, of course), and it's an easy out-and-back hike of roughly two miles that all ages can tackle. For smaller kids, a baby-carrier backpack is advisable, but you should be able to manage the trail with a sturdy off-road jogging stroller.
If You Go
The Tomales Bay Trailhead is located off Highway 1 approximately one mile north of Point Reyes Station. The trailhead is clearly marked, and there's plenty of off-street parking.
There are no restrooms or drinking fountains here, so make sure you pack your own water and snacks. West Marin weather can change at a moment's notice, so layered clothing is a must. You won't find much in the way of shade here, so bring along hats and sunscreen.
Keep in mind that there are real cows grazing in the area here. Watch out for cow pies, which get especially numerous off-trail. We did see a few dog walkers on the trail, although Tomales Bay Trail is not on the list of GGNRA trails open to dogs.
The Tomales Bay Trail is officially part of the Golden Gate National Recreation Area. Learn more at www.nps.gov/goga.
Sign up for tips & news for Marin families!