Back to top
Hit the Ice! Holiday Ice Skating in the Bay Area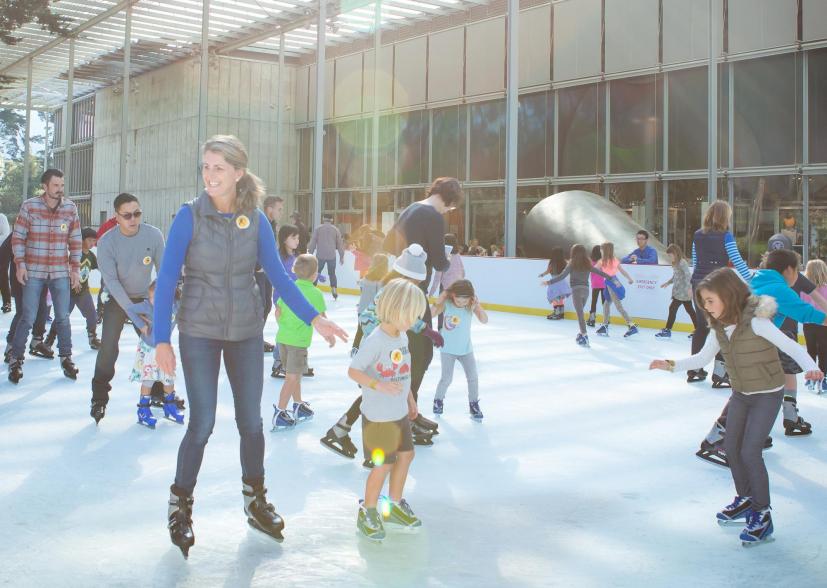 Even though it's an activity that you can do year-round, ice skating seems to be something that's especially appealing around the holidays. NorCal Ice is back at Northgate in San Rafael for another season of outdoor ice skating, so you don't have to leave Marin County to go skate! It's the only rink in the county, but you'll find more opportunities to skate in San Francisco, Santa Rosa, and the East Bay.
Here's our list of places to hit the ice in the Bay Area this holiday season: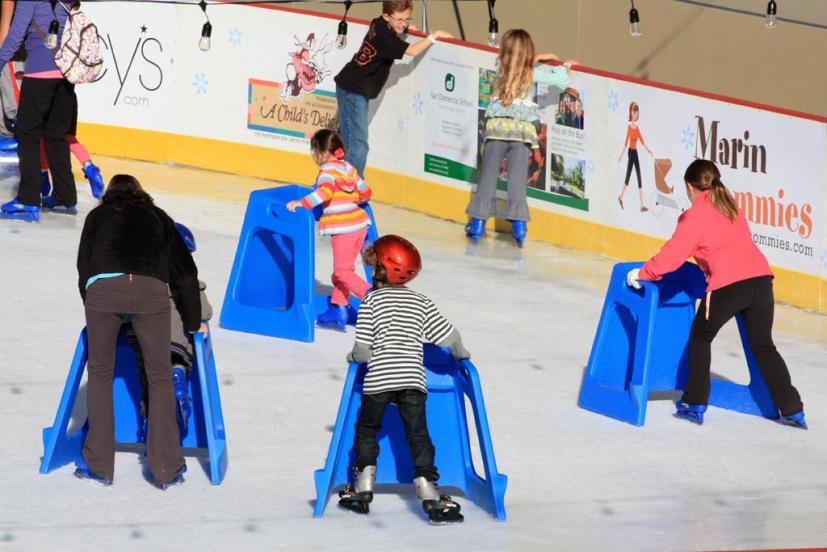 NorCal Ice
The NorCal Ice (formerly known as Marin on Ice) outdoor skating rink in San Rafael's Northgate Mall returns to offers al fresco skating from Wednesday, November 7, 2018 through January 21, 2019. The rink will once again be located near the center's Oaktree Plaza and features 6,400 square feet of real ice. Skating costs $15 per person, which includes skate rental and all-day in-and-out privileges. "Skate Buddies" (the blue plastic chair-like supports) are available to rent for beginnners ($5 per hour). Discount ticket books (10 tickets for $130) are available, too.
Rink hours are Monday–Friday, 2–9 pm and Saturday and Sunday, 11 am–10 pm. (Hours subject to change.) They also offers birthday parties and private rentals. For more information, visit www.officialnorcalice.com or call (415) 640-9570. Northgate Mall is located off Highway 101 in San Rafael's Terra Linda area, between Northgate Drive and Las Gallinas Avenue.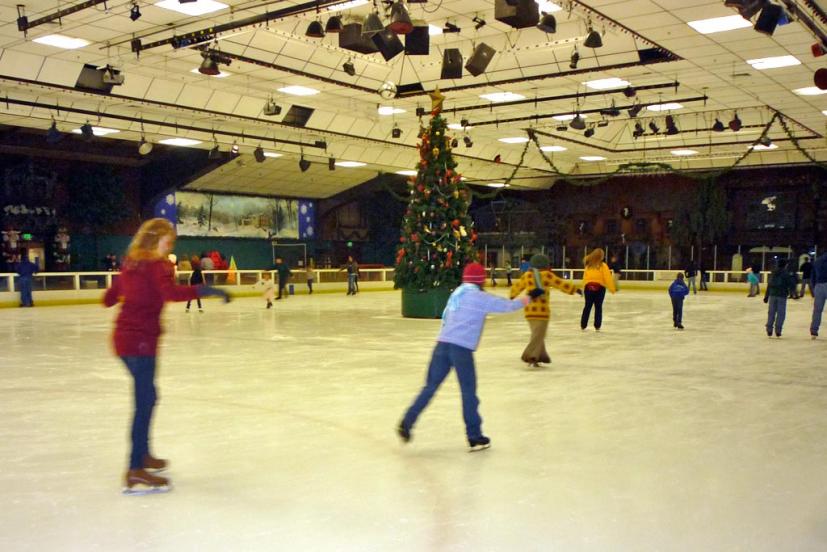 Snoopy's Home Ice
In Santa Rosa you can find Snoopy's Home Ice at the Redwood Empire Ice Arena. Opened by the late Santa Rosa resident and Peanuts cartoonist Charles M. Schulz in 1969, the Redwood Empire Ice Arena offers daily public skating hours (check their schedule for details), skating lessons, birthday parties, and special events. The entire place is decorated with a Swiss theme and offers a charming alpine ambience. The Redwood Empire Ice Arena is also home to Snoopy's Warm Puppy Cafe, where you can sit by the fire and eat breakfast, lunch, or dinner, or just have a hot chocolate and watch the action on the Snoopy's Home Ice.
Session prices are $10 for adults 18 and over and juniors 12–17, and $8 for children 11 and under. Skate rental is $4. They also offer Puppy Practice, a session for children under 12 and their parents that's perfect for beginners, since it includes a 20-minute group lesson for both adults and kids. Puppy Practice is $10 for adults and $8 for children, with no skate rental charge.
Snoopy's Home Ice is located on West Steele Lane in Santa Rosa. To get there, take 101 north to the Guernville Road/Steele Lane exit; at the signal, turn left on Steele Lane and go under the freeway. Cross Cleveland Avenue and bear right onto West Steele Lane. The Redwood Empire Ice Arena, along with Snoopy's Gallery and Gift Shop, will be on your right after Range Avenue. For information and public skating schedule, visit snoopyshomeice.com or call (707) 546-7147.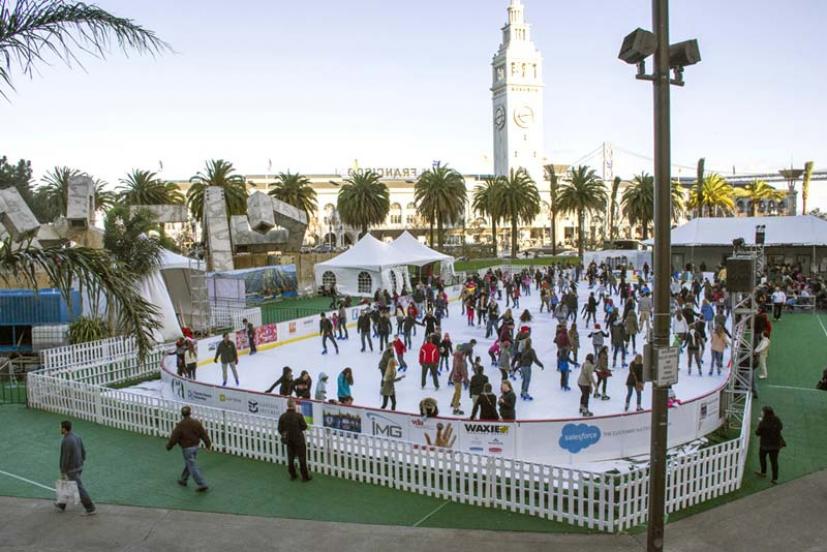 Embarcadero Center Holiday Ice Rink
For over 30 years, San Francisco's Embarcadero Center has hosted an outdoor ice rink at Justin Herman Plaza. This year's skating kicks off on November 5, 2018 and continues through January 7, 2018. The Bay Area's largest outdoor ice rink offers 90-minute skating sessions Sunday through Thursday from 10 am to 9:30 pm, and Fridays and Saturdays from 10 am to 11:30 pm. Admission is $12 for adults and $7 for children ages 7 and under; skate rental is $5. They also offer group rates, as well as birthday parties and private rentals.
Get more info and check for closure dates (due to private parties) at embarcaderocenter.com or (415) 837-1931. It's located near Four Embarcadero Center right across from the Ferry Building. A fun and convenient way to get there from Marin is to take the Golden Gate Ferry.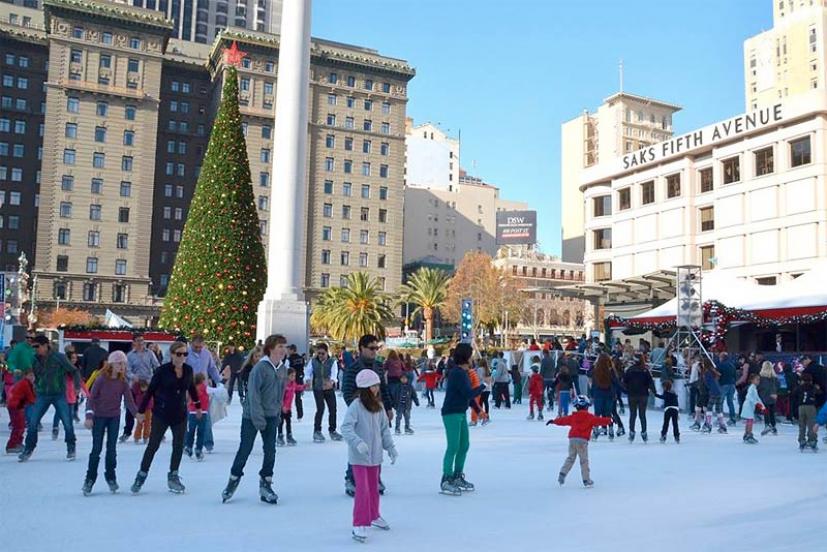 Holiday Ice Rink in Union Square
Union Square, San Francisco's main shopping district, gets into the ice skating spirit during the holiday season with an outdoor ice rink sponsored by Safeway. It's open November 7, 2018 through January 21, 2019 from 10 am to 11:30 pm daily. 90-minute sessions start on every even hour. Admission is $18 for adults and $13 for children eight and under and includes skate rental. Skate helper rentals cost $6. Group rates are also available through December 7 and from January 8–11. Information: (415) 781-2688 or www.unionsquareicerink.com.
Union Square is in downtown San Francisco between Post and Geary and Stockton and Powell Streets. We find parking is easiest at the Sutter-Stockton Garage, but plenty of other options are available. It's also convenient to public transportation, especially BART and Muni.
 
Holiday Ice Rink at Cal Academy
Lace up your skates and take a spin around the California Academy of Science's outdoor ice rink. With several skating sessions available daily, you'll have plenty of time to perfect your form. Ice rink tickets cost $10 and are not valid for general admission to the Academy and a separate general admission ticket or membership is required for entry. New Sunday Skate Nights (November 18 and 25, December 2 and 9) cost $15 for members and $10 for non-members. Open daily and select Thursday and Sunday nights from November 16, 2018 to January 6, 2019.
Winter Park at Civic Center Holiday Ice Rink
The Winter Park at Civic Center is an all-new ice experience steps away from San Francisco's City Hall. Modeled after the Wiener Eistraum in Vienna, the Winter Park is open daily from noon–10 pm November 30, 2018 through January 6, 2019. This festive, winter wonderland includes an ice rink and 400 ft. track which will weave through a lighted tree forest. It will continue to expand, evolving into an adventure park on ice over with new interactive elements for the whole family added each year. Tickets are $20 and $15 for children eight years old and under, with figure skate or hockey skate rental included. Purchase tickets in advance online. Learn more
Sundays on Sherman Winter Edition Ice Rink
Sunday on Sherman in downtown Novato will be offering Ice skating on December 16 only. They are taking up to 25 pre-registrations for each time slot; registration opens November 12. There will be 15 spots reserved for walk-ins, first come first served the day of the event. Please note, children must be at least 4 years old and 42" tall to be eligible to skate. Learn more.
Yerba Buena Ice Skating and Bowling Center
Also in San Francisco is the indoor Yerba Buena Ice Skating rink at Yerba Buena Gardens, the only year-round ice skating venue in the city, with a large NHL-sized rink. You can check their regular public skating schedule here; special extended public sessions are offered during Thanksgiving week and the month of December. Admission is $12 for adults, $10 for kids ages 6–12 or for seniors (55 and over, with ID), and $7 for tots 5 and under. Skate rentals cost $4; included in tot admission price. Wednesday evening (excluding holidays) offers free skate rental for the "Cheap Skate" evening session. Discount cards are available. They also offer group discounts, year-round birthday party packages, and skating lessons. As the name implies, there's also a bowling alley on site.
The Yerba Buena Ice Skating and Bowling Center is located in the South of Market district at 750 Folsom Street, between Third and Fourth Streets in San Francisco. The Ice and Bowling Centers are located at the Rooftop at Yerba Buena Gardens, which is built literally on the roof of Moscone Convention Center. Parking is probably easiest at the Fifth and Mission Garage a couple blocks away. Visit skatebowl.com for more info.
Oakland Ice Center
Across the Bay, Oakland Ice Center—also know as Sharks Ice, since it's run by the San Jose Sharks NHL team—offers a public ice skating, skating lessons, birthday parties (where you can even get the Sharks' mascot S.J. Sharkie to make an appearance), and more. Public skating prices are $11 for adults, $9.45 for youth 12 and under, and $8 for seniors 55 and over. Skate rental is $4.75. Special skating deals are also available. Schedule and more information: (510) 268-9000 or www.oaklandice.com.
Oakland Ice Center is located in downtown Oakland at 519 18th Street, between San Pablo and Telegraph avenues.
 
Iceless Ice Skating at the Bay Area Discovery Museum
Bay Area Discovery Museum, Sausalito
December 1–30
Weekday hours: 9 am–1 pm & Weekend hours: 9 am–5 pm
Strap on skates and take a spin around the "ice" this December at the Bay Area Discovery Museum! We're transforming our Discovery Studio space into an Iceless Skating Rink. On our synthetic ice rink, children of all ages can slide and glide into the holiday season. Tickets: $13.95–$14.95. Purchase tickets here.
Sign up for tips & news for Marin families!