Back to top
A Learning Journey in a Family-Centered Community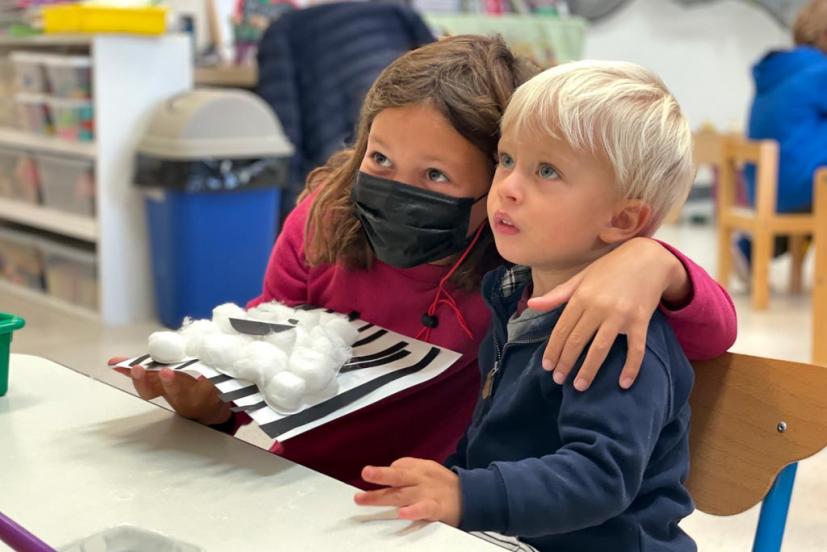 Marin Mommies presents a sponsored article from Lycée Français de San Francisco.
As any parent would know, transitions can be challenging for all kids, especially when they're younger, or about to reach important milestones. To ease these transitions, at key moments of their bilingual journey, LFSF students are paired with older peers who inspire them, help them feel confident, and simply assist them to overcome the apprehension of novelty.
On the Primary campus in Sausalito, where students start as early as age 2 with La Petite Ecole (LPE), this approach started organically, on its own, during a fire drill!
Gr3 students spontaneously escorted their very young peers to find their way to the school playground and kids now continue to interact on a regular basis. Every first Tuesday of the month, LPE and Gr3 students join forces on a common (often art) project. The youngest really look up to their older buddies, who take very good care of them. All learn important values such as collaboration, respect and service. It also allows them to feel a common and shared  sense of belonging. Gr3 students give a hand, do good for their school and their schoolmates and feel valued for working collectively for the wellbeing of the community.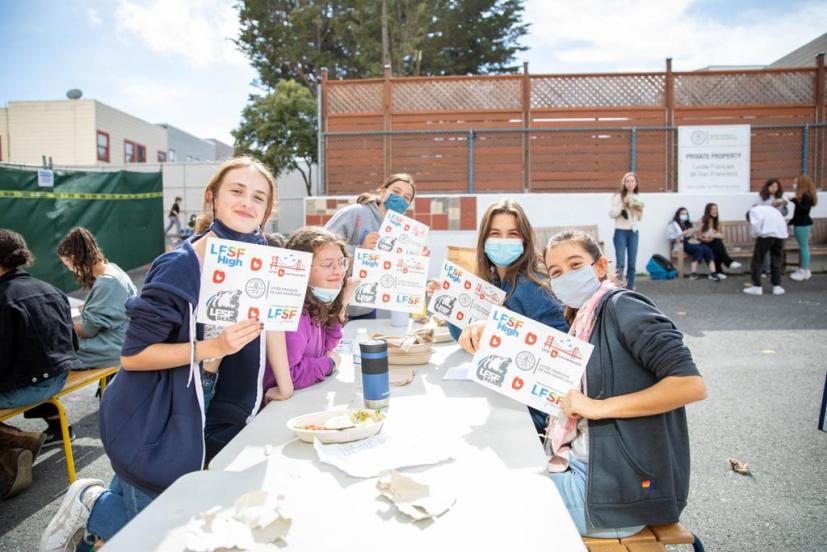 LFSF Forward, to grow up with confidence
LFSF Forward is our umbrella program designed to facilitate transitions to the next grade up. This ensemble of events and initiatives is intended to inform students and their parents of the many opportunities for learning and social development at LFSF as they move forward through the grades.
To prepare for Middle School, Gr 5 and Gr 7 are paired a few times a year for a  gentle introduction. For example, in the Fall, Gr5 students visit the MS campus and are VIPs for a day. Elementary students and their MS buddy share lunch and conversations spark about what will change for the younger ones in the next year, what they can look forward to etc... They tour and discover the campus, are engaged in activities led by MS teachers…. More opportunities to reconnect throughout the year will support these relationships and help incoming 6th graders look forward to their entrance in Middle School at LFSF.
For the transition to High School, Gr8 are paired with Gr11 students and they also get together several times to build and develop a relationship: sharing a meal, going on an organized field trip, getting to shadow classes with their Gr11 buddies will provide essential information on the different curriculum options in HS while building camaraderie amongst these teenagers.
Bilingualism, a unique journey at LFSF 
Fostering a strong feeling of belonging is crucial because it takes time to truly and solidly establish bilingualism and multiculturalism. What makes that journey unique at LFSF is the remarkable percentage of native French speakers in the classroom that effectively supports the acquisition of bilingualism.
English being the language of the environment, children are more likely to be excellent French speakers if they are taught in that language but also if they can play and socialize in that language. Communicating in "Moliere's tongue" with their native French-speaking peers is key in their learning process. The time spent at school expands beyond the classroom. LFSF offers a year-round program: during breaks, students can keep having fun together and thrive at camp.
As a result, many of our Seniors are traditionally Lifers (i.e. they started in Preschool). So the relationships,  just like the skills they developed during their years at LFSF, will last them a lifetime!
Sign up for tips & news for Marin families!