Back to top
Marin Weekend Family Fun for March 22–24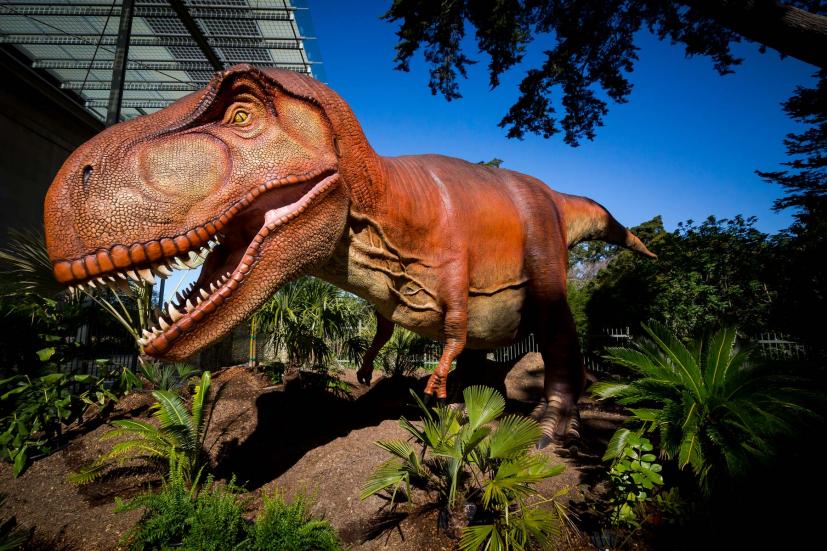 Walk among life-size animatronic dinosaurs that move and roar at the new exhibit Dino Days at the California Academy of Sciences in San Francisco. Open daily through May 5.
Here are our picks for great spring events and activities for children and families this weekend. Find more events for the whole week in Marin and beyond in our Family Events Calendar.
Friday, March 22
Music Time with Megan
Sports Basement, Novato
Friday, 9:30–10 am
Bring the kiddos for live music, singing, dancing and playing instruments with popular children's musician Megan Schoenbohm. Cost is $10 per child, and siblings under 7 months are free. This is an ongoing weekly class, so drop in as often as you can! Location: Vintage Oaks Shopping Center, 100 Vintage Way, Novato. Event details.
Dino Days
Cal Academy San Francisco
Friday & Saturday, 9:30 am–5 pm and Sunday, 11 am–5 pm
Walk among life-size animatronic dinosaurs that move and roar at Dino Days. An immersive festival with its footprint all over the Academy, Dino Days invites you to travel back in time to the Late Cretaceous period and come face-to-face with the largest reptiles that ever stalked the Earth. Museum admission applies. Open daily through May 5. Location: 55 Music Concourse Drive, Golden Gate Park, San Francisco. Event details.
Mom & Baby Yoga
Pomegranate, San Anselmo
Friday, 11 am

Enjoy your baby, reconnect with your body, and meet other new moms in our postnatal mama and baby yoga class. Class is most successful with pre-crawling babies but all are welcome to try out a class and discuss exceptions with the instructor. We want mamas to be able to get out of the house, meet other moms, and enjoy the support and exercise of a yoga class. Cost: $23 for drop-in class. Sign-up online

here.

Location: 25 Tamalpais Avenue, San Anselmo. For more info,

visit their website.

Makerspace: Youth Open Lab
South Novato Library, Novato
Friday, 3–6 pm
On Fridays, the Makerspace is open for youth in grades 5-12 to work in projects of their own design. Explore & develop your skills through a passion project.  Bring your ideas and interests and we'll help you build and create something unique using design thinking. Pre-register by emailing info@cecmake.com. Location: 931 C Street, Hamilton, Novato. Event details.
San Domenico School presents: Grease, School Version
San Anselmo
Friday and Saturday, 7 pm & Sunday, 2 pm
Come see the 6–8th graders of San Domenico School perform Grease: School Version! Tickets: $10 students and seniors, $15 general admission. Purchase tickets here. Location: San Domenico School, Carol Franc Buck Hall, 1500 Butterfield Rd, San Anselmo. Event details.
Yes Theater: Mamma Mia!
San Anselmo Playhouse
Friday, 7 pm, Saturday, 1 & 7 pm, Sunday, 1 pm
Come see the 6–8th graders of the White Hill school performance of Mamma Mia! Tickets: $15 standby tickets at the door. Location: 27 Kensington Road, San Anselmo. Event details.

PAAM presents: Mamma Mia!
Showcase Theater, San Rafael
Friday, 7 pm and Saturday, 1 & 6:30 pm

Be swept away by the infectious music and uplifting story of

Mamma Mia!

On a small Greek island, Sophie dreams of her father giving her away at her wedding. The problem? She doesn't know who he is! After sneaking in her mother's old diaries, she discovers three possible fathers and secretly invites all three to the wedding. When all three turn up, mayhem ensues and love, old and new, is ignited. Told through the music of ABBA, this feel-good musical will have you dancing in your seat! Tickets: $25.

Purchase tickets here

. Location: 10 Avenue of the Flags, San Rafael.

Event details

San Marin Music: Hello, Dolly
San Marin High School, Novato
Friday & Saturday, 7:30 pm, Sunday, 2 pm

Enjoy this Broadway classic performed by a cast of talented local youth. This is the final performance to be presented in San Marin's Emily Gates Student Center. Tickets: $15 adults, $5 students.

Event details
Saturday, March 23
Yoga FUNdamentals - FREE
Old Mill Park Amphitheater, Mill Valley
Sunday, 9–10:15 am
The class is suitable for absolute beginners as well as those seeking to strengthen the foundation of their existing yoga practice. Are you a longer time practitioner plagued by injuries? A raw beginner wondering what yoga can do for you? Meet at Old Mill Park Amphitheater 10 min. prior to start of class.No pre-registration, weather may cause class to be cancelled. Location: 352 Throckmorton Ave, Mill Valley. Event details.
Marin Country Mart Farmers Market
Marin Country Mart, Larkspur Landing
Saturday, 9 am–2 pm
Enjoy the best local and organic produce, flowers, pastured meats, seafood, organic cheeses, yogurt and milk, breads, baked goods, pasta, confections, olive oil, and brunch and lunch offerings! Kids can take a pony ride and visit the petting zoo (10 am–2 pm), try out some arts and crafts (9 am–2 pm) and listen to music (9:30–10:30 am). Event details.
Golden Gate STEM Fair
Bay Model Visitor Center, Sausalito
Saturday, 9 am–4 pm
Bring the family to the 2019 Golden Gate STEM Fair to view students' projects on display and participate in event activities. Location: 2100 Bridgeway, Sausalito. Event details.
Toni's Yoga Storytime
Larkspur Library
Saturday, 10 am
Stretch into the weekend with this fun interactive storytime! For families and kids up to age 6. Free. Location: 400 Magnolia Avenue, Larkspur. Event details.
Breakfast with Enzo
Sports Basement, Novato
Saturday, 10 & 11 am
Enzo Garcia plays guitar, banjo, accordion, musical saw, Jew's harp, enzotar, Appalachian dulcimer, slide flute, percussion and more. Recommended for children 7 and under. Drop in any time. Admission: $7 per person, siblings under 7 months free. Location: 100 Vintage Way, Novato. Event details.
Sheep Shearing Family Farm Day
Slide Ranch, Muir Beach
Saturday, 10 am–2 pm
Celebrate spring, when the pasture is vibrant and green, fleecy young lambs and frolicking goat kids abound, and it's time to shear the sheep! Come meet the newest, adorable additions to the barnyard herd. Learn about wool processing from sheep to yarn and make a wool craft to take home. Family Farm Days are exciting four-hour programs featuring a wide variety of activities related to the day's theme. Discover Slide Ranch's feathered, furry and wooly friends with your whole family. $35 per person, children 35 months and under are complimentary but you must register for a free ticket. Event details
Spring Family Bird Walk
Spring Lake Regional Park, Santa Rosa
Saturday, 10 am–noon
Do you enjoy wildlife watching, learning new skills, and meeting other outdoor enthusiasts? Join us and our partners at Madrone Audubon Society to marvel at springtime bird behaviors—nesting, foraging, singing—of our resident and migratory avian friends. All levels of birding experience are welcome. Bring binoculars and field guides if you have them, or borrow ours. Refreshments will be provided. Free. Parking $7 or free for Regional Parks members. Location: 393 Violetti Road, Santa Rosa. Event details

Woolly Egg Ranch Spring 2019 TourTam Valley Community Center, Mill Valley
Saturday, 10:30 am

Tam Valley's Woolly Egg Ranch is the only working ranch in Mill Valley, and produces eggs, lamb, honey, flowers, plants, and more. You can tour Woolly Egg Ranch on Saturday, March 23, 2019 on their annual

Spring Farm Tour

. The tour starts at 10:30 am and costs $5 for kids (little ones free) and $7 for adults. See spring lambs, baby chicks, spring flowers, and more! Reserve your spot on the tour through the

Tam Valley Community Services Distri

Tot Shabbat at Kol Shofar

Kol Shofar, Tiburon
Saturday, 11 am

An experience for children 6 and under with singing, stories, learning the service, and community. Service led by Asaf, our JCC Preschool musical teacher and Kol Shofar Rabbis. RSVP appreciated but not required to:

Jschreiber731@gmail.com.

Location: 215 Blackfield Drive, Tibruon.

Event details.

Drop-in: Music, Dance and Play Class in Spanish for Children
Cucu's PlayHouse, San Rafael
Saturday, 11–11:45 am
Mixed ages 1–5 year olds. Fun and active Music, dance and play class. A selection of children songs in Spanish guides the class from start to finish. Games and activities are related to the lyrics, in order to familiarize the children with the words and their meanings. Cost: $25 per class for drop-in (first class is free). Location: 1414 4th Street, Downtown San Rafael. Event details.
Free Guided Farm Tours
Tara Firma Farm, Petaluma
Saturday & Sunday, 11 am–noon
You will learn about our farm and CSA, learn what pasture raised means and how farms like Tara Firma Farms are on the front lines to fight climate change, reduce water usage, and build better soil through the latest methods in Carbon Farming!  Perfect for families, kids and school groups! *No RSVP required. Show up 15 minutes before! If no guests arrive before tour time, we do not hold the tour.* Location: 3796 I Street Ext., Petaluma. For more info, call (707) 765–1202 or visit their website.

Marin Camp Fair
Conlan Center Gymnasium at Dominican University
Saturday, 11 am–2 pm

Free event with booths for camps, schools, preschool, S.T.E.M. and S.T.E.A.M. programs, sports, cooking, enrichment, performing arts, robotics and YMCA. Free demonstrations and arts activities. Free Admission, free pizza, free raffle & free parking. Conlan Center Gymnasium, Dominican University, 1475 Grand Ave., San Rafael. 

Event details

Hands-on History: Embroidery
Mission Courtyard, Sonoma
Saturday, 11:30 am–2:30 pm

Embroidery is a craft used during mission times which allowed people to personalize their clothing. Learn about embroidery and practice three basic stitches. This hands-on activity is geared for ages 8 and up. It runs continuously between 11:30 am and 2:30 pm in the Sonoma Mission courtyard. Free with paid admission. Rain or shine.

Event details

Family Hike
Montini Preserve Trail, Sonoma
Saturday, noon
Get our for an early spring hike along the lower Montini Preserve Trail. Experience history, nature and community led by Park Interpretive Specialist Ranger Dave. This is a one-mile, slow- paced hike with minor elevation changes. Sturdy shoes and water recommended. All ages, free of charge, no reservation needed. Steady rain cancels. Location: Meet at the Vallejo Home parking lot at the end of 3rd Street, Sonoma. Event details.
Headlands Nightlife: Family Night Hike and Campfire
NatureBridge, Marin Headlands
Saturday, 5:30–8 pm


Explore the mysterious lifestyle of nocturnal animals that start their day just as you're going to bed! Learn about special adaptations that allow owls, bats and other nighttime critters to hunt by moonlight.

Children of all ages are welcome. Baby carriers/strollers are suggested for children 4 and under. Tickets: $15 per person. There currently is a waitlist. If you're interested, register online and they will let you know if there's room. Event details
Novato Live: The Theory
Novato City Hall
Saturday, 6–8 pm
Novato live is a free indoor concert series that takes place inside Novato City Hall. This Saturday: The Theory, a mix of rock, blues, and Americana scene. Location: 901 Sherman Avenue, Novato. Event details
Indoor Power Play
Cal Star Gymnastics, Novato
Saturday, 6–9 pm
Drop the kiddos ( K-8 th grade) for some indoor fun. They can run, jump and play in an open gymnastics environment. Bring the kids in on a rainy day or any day to burn some energy. Cost: $30 per child. Location: 70 Digital Drive, Suite #3 in Novato. Event details.
Sunday, March 24
Sign up for tips & news for Marin families!