Back to top
Marin Weekend Family Fun for October 11–13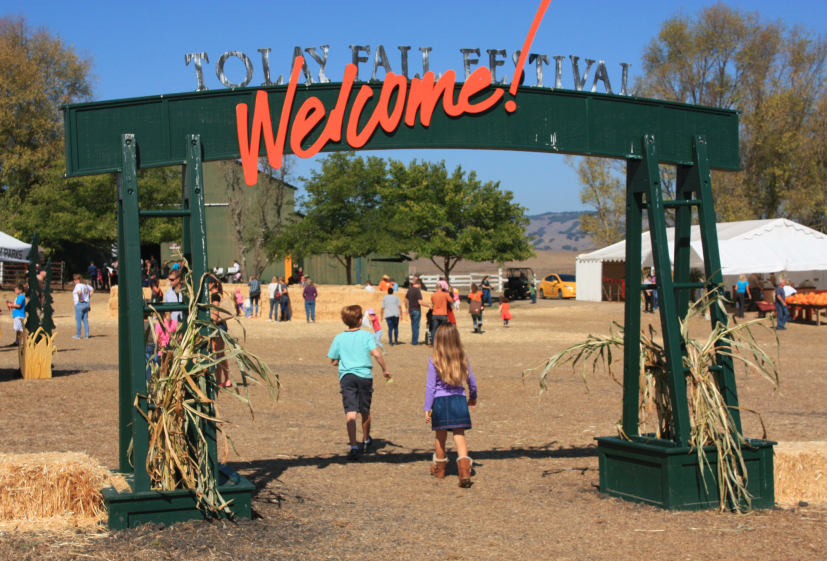 The Tolay Fall Festival takes place in Petaluma this weekend, October 12 & 13.
Halloween pumpkin patches in Marin and Sonoma counties are open—see our list here.
Friday, October 11
Mill Valley Film Festival
Various Locations
Friday–Sunday, various times
The 41st annual Mill Valley Film Festival features a variety of fantastic family films from around the world. Location: various theaters within Marin. Event details
Santa Rosa Pumpkin Patch
Santa Rosa
Friday–Sunday, 9 am
Santa Rosa Pumpkin Patch offers eight acres of pumpkins, a huge seven-acre corn maze, kiddy corn mazes, hay and sunflower mazes, jack-o-lantern tether ball, tire swings, a 10-bale-high hay pyramid, a huge jumpy pillow, pedal trike races, a corn play box, a petting zoo, face painting, and more. Location: 5157 Stony Point Road (at Rohnert Park Expressway). Event details
The Great Peter Pumpkin Patch
Spring Hill Jersey Farm, Petaluma
Friday–Sunday, 9 am–6 pm
Pick your own organic pumpkin, dig for potatoes, take a tractor ride, visit farm animals, taste homemade ice cream and Spring Hill cheese, milk a cow, and get lost in the hay maze. Peter Pumpkin Patch also offers fresh fruits and vegetables and picnic baskets. Activities are free and so is the parking. This is a wonderful and fun pumpkin patch on a real working farm. Location: 4235 Spring Hill Road (off Bodega Ave.). Event details
Nicasio Valley Pumpkin Patch
Nicasio
Friday–Sunday, 10 am–6 pm
Nicasio Valley Farms Pumpkin Patch offers a wide variety of certified organic pumpkins spread out in an expansive meadow on the farm. Kids activities: jumpy houses, inflatable slide, hay rides, pony rides, a petting zoo, farm animals to visit, and face painting. Some of these attractions have an admission fee, and some are available only on weekends and select days. Shaded seating area with picnic tables, so you can relax and take in the scenery, listen to some great live music, and even eat lunch. Tim Cain performs on Sunday from 11 am to noon. Location: 5300 Nicasio Valley Road, Nicasio. Read our review here.
Petaluma Pumpkin Patch
550 Stony Point Road
Friday & Saturday, 10 am–10 pm, Sunday, 10 am–6 pm
Over 50 varieties of pumpkins, squash, and gourds, as well as a 4-acre Amazing Corn Maze (admission $6, 5 and under free; $9 on Friday and Saturday nights 6–10 pm), farm animals, a zip line, weekend pony rides, face painting, jumpy houses and inflatables, food vendors, covered snack area, and more. Some of these attractions have an admission fee. Event details.
Sing and Dance with Miss Kitty
San Rafael Public Library
Friday, 10:30 am
We are pleased to announce the return of Miss Kitty to the San Rafael Public Library! Miss Kitty is back for a series of fun family concerts that are just right for kids birth to 8 years old. No registration, no space limitations, all are welcome! Sponsored by the Friends of the San Rafael Public Library. Location: 1400 Fifth Avenue, San Rafael. Event details.
Halloween Harvest Festival
Marinwood
Friday, 5–7 pm
Come to Marinwood for its annual Halloween Harvest Festival for children 12 and under. Activities include carnival games, pumpkin carving and decorating, face painting, trick-or-treat bag decorating, caramel apples, and a bounce house. Tickets: $12 advance or $15 at the door for kids ages 2 to 12; adults free. Food available for purchase. Event details
2019 Grand National Rodeo
Cow Palace, San Francisco
Friday, 7:30–11 pm
The Cow Palace is bringing back the Wild West to the Bay Area with the annual Grand National Rodeo, Livestock Exposition and Horse Show. Now in its 72nd year, the Grand National Rodeo will celebrate the time-honored tradition of America's West by presenting the best of the best in the competitive sport of rodeo.During the livestock exposition, real farm equipment and animals are on site with interactive displays to learn about how food is grown. Exhibitors will show cattle, hogs, sheep, goats, and rabbits, along with photography and fine art. Purchase tickets here.
Fleet Week 2019
Marina Green, San Francisco
Friday–Sunday, various times
Fleet week returns to San Francisco, along with the Blue Angels, who will perform over San Francisco Bay on Friday, Saturday, and Sunday at 3 pm. Fleet Week also includes a parade of ships (Friday, noon–1 pm), ship tours, band concerts, and more. Free admission; airshow bleacher seat tickets at Marina Green $55–$75. Event details
Movies in the Park: Coraline
Old Mill Park, Mill Valley
Friday, dusk
Free family-friendly movie, Coraline, in Old Mill Park.  Please bring your blankets, low beach chairs, flashlights and picnics. Free. Event details
Saturday, October 12
Weekend Along the Farm Trails
Sonoma County
Saturday & Sunday, various times
Meet your farmers and vintners, shop from delicious farmstands, see how cheese is made, pick pumpkins, meet farm animals, learn about beekeeping, sample delicious food and libations and discover some of Sonoma County's best kept secrets! Free, but registration required. Event details
Thomas and Percy's Halloween Party
Roaring Camp Railroads, Felton
Saturday & Sunday, 10 am–3 pm (various times)
Dress up for Halloween with favorites Thomas and Percy, for a 20 minute train ride, entertainment, and fun filled activities for the entire family. Tickets: $21–$25. Purchase tickets here. Event details
Kule Loklo Open House & Workday
Point Reyes Station
Saturday, 10 am
Visit a replica Coast Miwok village that offers a glimpse of life in pre-European California. Park staff or volunteers will be present from 10 am to about 11:30 am to talk about Coast Miwok history and culture, walk around the village with the public, and may be able to share or demonstrate activities representative of Coast Miwok life. All ages are welcome. Free. Location: 1 Bear Valley Rd, Point Reyes Station, Visitor Center. Event details.
HeadsUp Carnival
San Rafael High School
Saturday, 10:30 am–4 pm
HeadsUp Carnival brings together every school in San Rafael for an event celebrating all that's great about our schools and our town. From dancing mascots to marching bands, from face-painting to pupusas, there is something for everyone to enjoy at our annual party of the year. Location: 150 Third Street, San Rafael. Event details
McClelland's Dairy Pumpkin Patch
Petaluma
Saturday & Sunday, 10 am–6 pm
Find the perfect pumpkin in McClelland's three-acre organic pumpkin field. $10 admission includes pumpkin patch, petting farm animals (including cows, goats, and chickens), and watching cows being milked in the parlor. There's also a hay maze, kids' haunted hay house, hay rides, bounce houses, and u-pick squash, and the new Haunted Forest, as well as a farm store and a food cart serving organic grilled cheese sandwiches, organic milkshakes, organic popcorn, and espresso drinks. Event details
Bon Air Invitational Car Show
Bon Air Center, Greenbrae
Saturday, 10 am–4 pm
Over 100 of the finest vintage cars in the area have been invited to show at Bon Air Center's car show. The event is free to the public. Location: 50 Bon Air Center, Greenbrae. Event details
ZOOtoberFest
San Francisco Zoo
Saturday–Sunday, 10 am–5 pm
Visit San Francisco Zoo & Gardens to welcome our favorite season… FALL! Navigate through San Francisco's largest hay maze, a 5,000-square-foot structure made from over 1,000 bales of straw and incorporates play areas within the design. For kids AND adults, SF Zoo's "Zoo Brew Haus" at The Depot Grill is pouring a great selection of brews, and cooking a full smorgasbord of fall-inspired dishes! During lunch, dine to the upbeat sounds of a live band playing traditional European polka music. You might even want to get up and dance! Free with admission. Event details
Annual Pumpkin Patch Festival
Western Railway Museum, Suisuin City
Saturday & Sunday, 10 am–5 pm
Get your Halloween pumpkins and Jack-o-Lanterns, test your strength with the pumpkin launcher, explore our huge hay bale fortress, and spend a great day at the Pumpkin Patch! At the Pumpkin Patch, you can purchase your pumpkins, as well as snacks, drinks and other home-made specialties. Additional activities are included in your ticket price, such as tractor rides and the giant hay bale fortress! Pumpkin patch trains run on the half-hour from 10 am–4 pm. Tickets: $14 adults, $12 seniors over 65, $10 children 2–14. Event details.
Where the Mountain Meets the Moon
BACT Berkeley Center, Berkeley
Saturday and Sunday, 10 & 11:15 am
Inspired by Grace Lin's Newbery Honor Book of the same name, "Where the Mountain Meets the Moon" relates the adventures of Minli, a spunky young girl in an ancient mythical China, who sets out on a quest to bring good fortune to her weary, hard-working family by seeking help from the Old Man of the Moon. Along the way, she rescues a friendly dragon who becomes her faithful companion. Recommended for ages 7 and up. Runtime is 75 minutes. Tickets: Adults $20 and Child $26. Purchase tickets here. Location: 2055 Center Street, Berkeley. Event details.
San Domenico Garden Fair
San Anselmo
Saturday, 11 am–2 pm
San Domenico School invites you to spend a beautiful fall day with us in our 1 acre-Garden of Hope! This event is open to the public and will be a great time for all ages. We'll have live music by students, a petting zoo, carriage rides, face painting, garden crafts, homemade pizza, and a farmers market with lots of goodies. This event highlights San Domenico's nationally renowned Sustainability Program and showcases the thoughtful work that our students create in the garden. Location: San Domenico Garden of Hope, 1500 Butterfield Road, San Anselmo. Event details
Tolay Fall Festival
Tolay Lake Regional Park
Lakeville Highway at Cannon Lane, Petaluma
Saturday & Sunday, 11 am–5 pm
The 11th annual Tolay Fall Festival takes place over two long weekends in October at Tolay Lake Regional Park off Lakeville Highway. In addition to pumpkins and fall decorative items for sale, attractions and activities include a Native American village, the Nighttime Creatures Barn with Creepy Crawly Critters Room, nature hikes, a giant straw maze, a hands-on children's area and kiddie corral, and hay rides. Admission: $5 adults, $3 children 12 and under; free for Sonoma County Regional Parks members. Parking for non-members is $7. Event details
Spookomotive Train Ride
California State Railroad Museum, Sacramento
Saturday & Sunday, 11 am–4 pm
This delightful, not frightful train is just the ticket for the whole family. The diesel-powered train is decorated for the season with cornstalks, scarecrows, skeletons, bats and spiders. Each operating weekend the Spookomotive will have a special theme, and includes exciting on board entertainment and a tasty Halloween treat. Upgrade to first class to enjoy themed entertainment in the exciting Mad Scientist Lab. Tickets: $15 adults, $8 youth 2–17; $6 and $3 for members. First class: $29/$19 adults, $19/$12 youth. Event details
Tahoe Donner Fall Festival
Northwood Clubhouse. Tahoe Donner
Saturday, 11 am–4 pm
The Tahoe Donner Fall Festival is one of our biggest events of the year! There's something for everyone, from arts and craft vendors, the annual doggie dip, seasonal beer offerings, pumpkin patch, a carnival area for kids with arts, crafts, games and food, and much more! Admission charge applies. Read about our visit here. Event website
Biketoberfest
Fair Anselm Plaza, Fairfax
Saturday, 11 am–5 pm
Biketoberfest is a free celebration of bikes, music, food and family fun – and a stellar brewfest! This fun-filled celebration is for everyone, including commuters, roadies, mountain bikers, BMXers, fixies, cargo-carriers, e-bikers, touring aficionados and even the bike-curious! Location: 765 Center Boulevard, Fairfax. Event website
Oktoberfest Corte Madera
Old Corte Madera Square
Saturday, noon–5 pm
Enjoy craft brews, local wines, food, and live music at this 25th annual event. Kids' activities include games, races, a bounce house, face painting, crafts, and coloring. Tasting admission $30, non-tasting $10; kids under 12 free with adult admission. Event website
Cotati Oktoberfest
La Plaza Park, Downtown Cotati
Saturday, noon–6 pm
Bring the family to the 13th Annual Cotati Oktoberfest. Free admission, dancing, Authentic German Food, Authentic German Music, Wiener Dog Race, Yodeling Contests, costume contest and more. Location: La Plaza Park in downtown Cotati, Old Redwood Hwy. & W. Sierra Ave. Event details.
Pumpkin Nights Santa Rosa
Sonoma County Fairgrounds
Friday–Sunday, 5:30–10:30 pm
At pumpkin nights, you'll set out on a magical quest along a half-mile walking path, where you'll discover the Forbidden Pumpkin City, a pirate's cove, and more fantastical lands built using over 3,000 hand-carved real and synthetic pumpkins. The celebration continues with the Spirit of Pumpkins Fire Show, delicious tastes and treats, and outdoor movie screenings. Whether it's date night or family night, there's something for everyone at Pumpkin Nights! Purchase tickets here. Location: 1350 Bennett Valley Road, Santa Rosa. Event details.
Kids Night Out: Adventure Night
The Cave, Corte Madera
Saturday, 5:30–10 pm
Drop your child off with us at The Cave for dinner, recreational gym play, movies, and more! Kids' Night Out is for children ages 5–14 years old. Pre-registration required; $45. Must register 24 hours in advance of scheduled time. Location: 412 Tamal Plaze, Corte Madera. Event details.
Movies in Creek Park: Close Encounters of the Third Kind
Creek Park, San Anselmo
Saturday, 6 pm
Enjoy free movies outdoors in San Anselmo's Creek Park. 6 pm lawn seating, with pre-movie slide show, announcements, trivia and nightly raffle. Movies begin when dark enough and generally run two hours. Event details.
Movie in the Park: Monsters, Inc.
Pocket Park, Novato
Saturday, 6:30–9:30 pm
Movie will begin 15 minutes after sunset approx. 6:45 pm. Gather your friends and family, low-back lawn chairs and comfy blankets to enjoy the Disney Pixar Monsters Inc. outside at Pocket Park. Beverages and popcorn will be available for purchasee. Rain or shine! Movie will be moved inside the Downtown Rec Center should it rain. Free. Location: 950 7th Street, Novato. Event details.
Petaluma Pumpkin Patch (see Friday for details).
Peter Pumpkin Patch (see Friday for details).
Nicasio Valley Farms Pumpkin Patch (see Friday for details).
McClelland's Dairy Pumpkin Patch (see Friday for details).
Mill Valley Film Festival (see Friday for details).
Sunday, October 13
Civic Center Farmers' Market
Marin Civic Center, San Rafael
Sunday, 8 am–1 pm
There's lots of organically grown produce, breads, eggs, and fresh cut flowers, as well as live music, bounce houses, and more. This farmers' market is a great one to take the kids to. It's located in the main Civic Center parking lot. Event details.

U-pick Organic Apples
Chileno Valley Ranch, Petaluma
Sunday, 9 am–2 pm

Visit Chileno Valley Ranch to pick crunchy, delicious, organic apples and tour the farm. Other farm products for sale including grass-fed beef and lamb, cheese, and olive oil.

RSVP here

. $8 per family with advance reservations; $12 drop-in. Apples cost $2 per pound. Location: 5105 Chileno Valley Road, Petaluma.

Event details.

West Point Inn Pancake Breakfast
Mt. Tam
Sunday, 9 am–1 pm
Guests must hike or bike to the inn; parking is available at the Bootjack, Pan Toll, Rock Springs, and East Peak parking lots. This is a really nice hike if you haven't done it before. It's not appropriate for babies or infants, unless they're in a baby backpack. The cost is $10 for adults and $5 for children. Location:100 Old Railroad Grade Fire Road, Mill Valley. Event details.
Nature for Kids: Blackstone Canyon
Blackstone Canyon Preserve, San Rafael
Sunday, 10 am–1 pm
This secluded valley below the rugged east end of Big Rock Ridge is a great place to look for animals that are attracted to the creek. We'll take a slow walk to the wet places in the canyon to see who's hiding there. Remember to bring lunch. High fire or heavy smoke danger cancels: Call (415) 893-9527 after 8 am on the day of the event to hear a recorded message if cancelled. We request no pets (except service animals) attend. Event details
Storytime with Christopher Smith
Book Passage, Corte Madera
Sunday, 10:30–11 am
After four years of living overses, children's story reader Christopher Smith returns to Book Passage! Christopher was the Sunday story time reader at Book Passage for more than 20 years, introducing new picture books, poetry, and song to countless young children in Marin. A local school teacher, Christopher's song The Golden Gate is a Parent's Choice Award winner and a beloved favorite throughout the Bay Area. Join us as this tradition continues on. Free. Event details
Story Time with Moana
Village Child, Novato
Sunday, 11 am–1 pm
Come join Moana for a fun interactive storytime with singing and dancing! We will also be braiding hair, face painting and painting nails! Bring those cameras as there will be photo opportunities at the end! Cost $15 per child. Purchase tickets here: https://www.villagechildrensboutique.com/products/storytime-with-moana-and-ariel Location: 869 Grant Avenue, Novato. Event details.
Pumpkin Train
Sacramento RiverTrain, Sacramento
Sunday, 11 am & 2 pm
We have planned a fun and exciting train ride filled with activities and games on the way to our very own Pumpkin Patch filled with perfect pumpkins for riders to take home. Meet the farm animals that live on the Hunt Family Farm at the Petting Zoo and enjoy costumed characters, a bouncy house and games. We will have concessions for Mom and Dad, including our Harvest Wine and Beer tasting booth open at Old Town. This 2.5 hour round trip excursion has something for everyone!Tickets cost $39/adults, $33/children (3–12) and $15/infants (2 and under). Event details.
Free Art Day
Studio 4 Art, Novato
Sunday, 10 am–noon
Welcoming our 12th year, October 13th will be full of free art activities and a chance to throw on our pottery wheels. Our free art day will have painting, printmaking, clay, and recycled art activities! Also a chance to win one free month of our new membership program! How to register: all attendees must register online here! Location: 1133 Grant Avenue, Novato. Event details.
Presidio Picnic
Presidio, Main Parade Ground in San Francisco
Sunday, 11 am–4 pm
Presidio Picnic is free and open to the public, and takes place rain or shine on the Presidio's beautiful Main Parade Ground, an expansive seven-acre lawn with amazing views of the park, the city and San Francisco Bay. In addition to the new monthly cultural dance performances, Presidio Picnic will feature more than 25 international mobile food creators, music, lawn games, yoga, bike safety classes, and nature-based crafts for kids. Location: Presidio, Main Parade Ground in San Francisco. Event details
Petaluma Pumpkin Patch (see Friday for details).
Peter Pumpkin Patch (see Friday for details).
Nicasio Valley Farms Pumpkin Patch (see Friday for details).
McClelland's Dairy Pumpkin Patch (see Friday for details).
Mill Valley Film Festival (see Friday for details).
Sign up for tips & news for Marin families!