Back to top
Hiking with Kids in Marin: Sky Oaks and Lake Lagunitas on Mt. Tam
It's no secret that Mt Tamalpais is Marin County's outdoor adventure hot-spot. One of the most popular ways to visit the mountain and its many trails and natural resources is via Sky Oaks just west of Fairfax.
Sky Oaks is home to the Watershed Headquarters for the Marin Municipal Water District, which manages a large part of Mt. Tam's lands (other portions of which are part of Mt. Tamalpais State Park). Sky Oaks offers easy access to numerous trails, picnic areas, and the Lake Lagunitas and Bon Tempe Lake reservoirs. With towering redwoods and Douglas firs ringing the sparkling lakes, it's a beautiful place, and it almost feels like you're up in the Sierras.
For a great family friendly hike, try walking the loop around Lake Lagunitas. The fire roads here are wide and relatively flat, with only a few gentle hills. They're open to hikers, cyclists, and equestrians, and are easily manageable with a sturdy offroad jogging stroller.
Start your hike in the Lake Lagunitas Picnic Area. At the far end of the parking lot, take the signed trail to your left up to Lakeview Fire Road to the lake's dam. On your way from the parking area you'll see a sign noting all the different species of wildlife observed in the area—from deer to bullfrogs to bobcats to bald eagles—along with dates and locations. We saw a couple deer walking across the trail during our hike, as well as red-tailed hawks and a variety of waterfowl.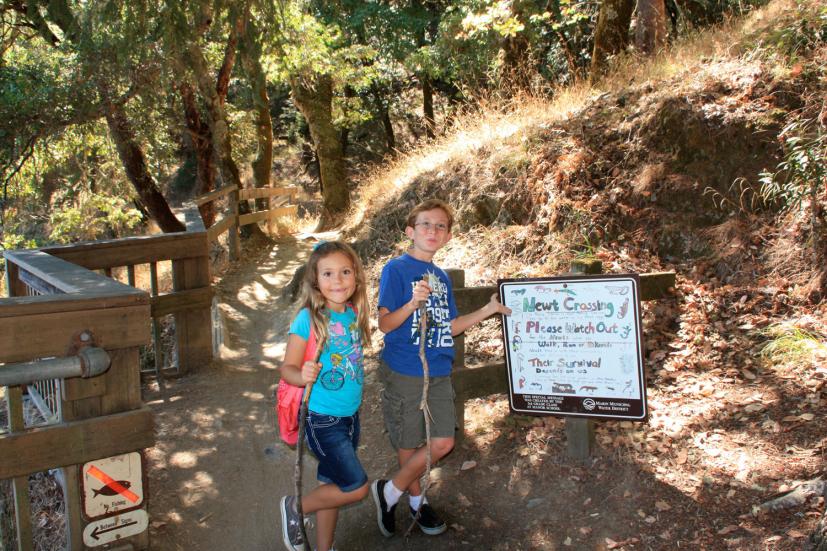 Head right across the dam and turn left onto Lagunitas Fire Road where you see the spillway and the cute newt crossing sign created by local Fairfax third-graders. Follow the road around the lake. On the way you'll be treated to amazing views of Lake Lagunitas and Mt. Tam, and there are frequently placed benches down near the water where you can sit, relax, and take in the scenery. The fire road intersects with several other trails along the way; just make sure you stick to the one that's closest to the lake. The entire hike is around 1.5 miles.
Another easy family hike here is on the Alex Forman and Pine Point Trails along the shore of adjacent Bon Tempe Lake. Take the Alex Forman Trail out of the Lagunitas Picnic Area's parking lot and turn left onto Pine Point Trail, which follows the shoreline of Bon Tempe Lake. Follow Pine Point until it intersects with the Alex Forman Trail again, where you'll turn right and loop back to the Lake Lagunitas Picnic Area.
This easy hike is also under two miles. Pine Point Trail is open to hikers only, and has some rough spots that may be difficult to traverse with an offroad stroller.
Sky Oaks provides access to many additional trails—130 miles' worth in all—so you'll find no shortage of hiking options here. All in all, it's one of our favorite Mt. Tam destinations.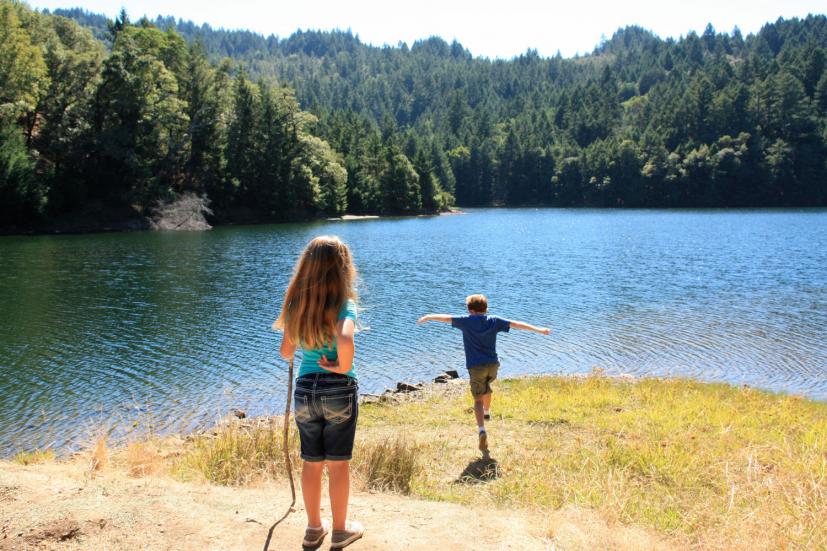 If You Go
Sky Oaks and the Mt. Tamalpais Watershed are open to the public daily from 7 am to sunset; extreme fire danger, such as red flag warnings, may close the area, though.
To get to Sky Oaks, take Sir Francis Drake Boulevard west into Fairfax. Turn left onto Bank Steet at the stop light, then left onto Broadway, then right onto Bolinas Road. Follow Bolinas Road west through downtown Fairfax past Deer Park Villa. Turn left onto Sky Oaks Road—look for the signs directing you to Lake Lagunitas. (If you see the Meadow Club golf course then you've gone too far.) The Lake Lagunitas Picnic Area is about 1.5 miles past the Watershed Headquarters.
Visitors must purchase a vehicle parking pass for $8 at the automated pay station located at the Sky Oaks Headquarters entry kiosk. Note the the pay station accepts credit cards and $1, $5, and $10 bills; $20 bills are not accepted. A yearly pass is available for $60.
Drinking water, picnic tables, charcoal grills, and restrooms are available at the Lake Lagunitas Picnic Area. You'll also find toilet facilities near some of the small parking areas along Sky Oaks Road.
While many of the trails are shaded, it can get hot here during the summer, so hats, sunscreen, and water bottles are a must. As in much of Northern California, you'll find poison oak, stinging nettles, and ticks out among the trees and brush, so make sure everyone stays on the trail.
Dogs are allowed on the trails here, but they must be on a leash and under control of the owner. Dogs (and people, for that matter) are not allowed in the water, which is part of the drinking water supply for much of Marin County.
Fishing is allowed on all of the lakes on the Watershed, including Lake Lagunitas and Bon Tempe Lake. Fishing licenses are required for anyone 16 and older.
For more information on visiting Sky Oaks and to download printable trail maps, visit www.marinwater.org. You can call the Watershed Headquarters (open Monday–Friday 7 am–3:30 pm) at (415) 945-1195.
Sign up for tips & news for Marin families!