Back to top
Summer BBQ Pulled Chicken Sandwiches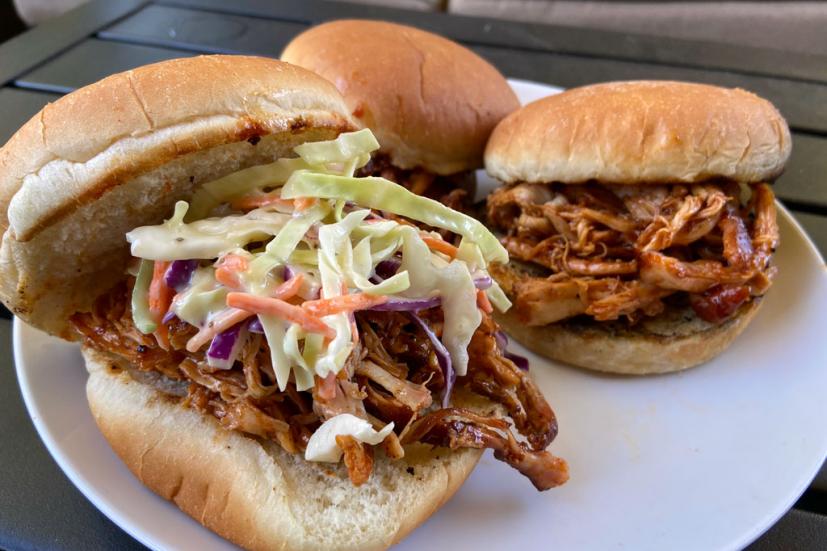 These pulled chicken sandwiches are one of our favorite BBQ recipes. Pulled chicken is similar to — and as delicious as — classic BBQ pulled pork, but requires far less effort and time to make. This is the perfect recipe for feeding a crowd, since it uses inexpensive bone-in chicken thighs, and most of the cooking time is hands-off so you can socialize with family and friends. You get that traditional smoked BBQ flavor in a fraction of the time!
Fire up the grill this Labor Day weekend and make some for your family! We often make a large batch for additional meals during the week since it reheats well. This recipe is designed for a charcoal grill (we used our Weber kettle grill), but you could use a gas one, too, as long as you have a smoking box for wood chips.
Ingredients
2–4 lbs bone-in, skin-on chicken thighs
Dry rub (pre-made or make your own; recipe follows)
Wood smoking chips (applewood or mesquite work best)
Your favorite BBQ sauce
Hamburger buns or rolls
Cole slaw (optional)
Dry Rub
You can use a pre-made commercial dry rub for this (the one sold by Trader Joe's is good), but it's just as easy to make your own. Feel free to tweak this recipe to your liking. This makes enough rub for 4 pounds of bone-in, skin-on chicken thighs (about 8 large ones). Just mix the following ingredients in a small bowl until thoroughly combined.
1/4 cup kosher salt
1/4 cup brown sugar
1/4 cup smoked paprika
2 T ancho chile powder
1 T ground cumin
1 T onion powder
1 T garlic powder
1 t black pepper
1 t dried thyme
1 t dried oregano
1/4 t cayenne pepper (optional)
Directions
Dry chicken thighs with paper towels and sprinkle with dry rub to coat thoroughly. Loosen the skin on each piece and work some of the rub underneath. Make sure you use skin-on, bone-in chicken thighs for this recipe; the skin adds fat and moisture to the meat (you'll be discarding it later) and the bone adds flavor and allows for a longer cooking time. Cover chicken and refrigerate for at least an hour or overnight.
Soak wood smoking chips in a bowl of water for at least 30 minutes. Light a fire in your charcoal grill (we always use a chimney starter for quick lighting and none of that gross lighter fluid), and arrange the coals for indirect grilling. This means you'll put all the coals to one side of the grill. Make sure you place the grill rack with the opening over the coals so you can add smoking chips.
Place chicken skin side up on the cool side of the grill, away from the coals. Scatter a handful of smoking chips on the coals and cover the grill. Adjust the grill vents so they're only open a crack — you want a relatively cool fire, around 300–325ºF if possible (if the temperature is not that consistent, don't worry about it — this is supposed to be easy). Position the lid so the vents is opposite the coals so the smoke will travel over your chicken pieces as it escapes.
Cook chicken for 1 1/2–2 hours or until it's tender and shreds apart easily. The temperature should be at least 165°F when checked with an instant-read thermometer. Check it every 30 minutes or so to see if you need to add more wood chips and flip the chicken after the first hour. You can move it over the hotter part of the grill during the last 20–30 minutes to get a little bit of char on the meat. Otherwise, that's it.
When chicken is cooked to your liking, remove from the grill and let it cool a little. Remove and discard skin, then shred (or "pull") the meat with two forks or your fingers if it's not too hot. Chicken should come apart into shreds easily.
Mix with a little bit of your favorite BBQ sauce (which you've warmed in a sauce pan over low heat) until just coated, allowing diners to add more to taste. You can also serve as-is; the dry rub and smoke add a lot of flavor. Place chicken on toasted hamburger buns or other rolls. You can top with a little cole slaw if you like or serve it alongside.
We get commissions for purchases made through links in this article.
Sign up for tips & news for Marin families!