Back to top
Summer Family Tahoe Fun at Northstar California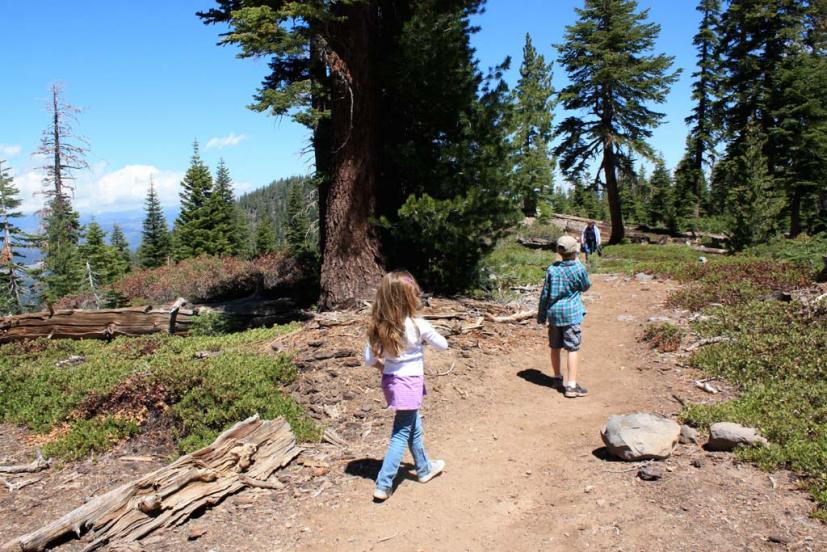 Last week we had the opportunity to head back up to the mountains and experience Northstar California Resort during the summer. When we visited back in the winter, we thought that the summer activities offered at Northstar sounded just as fun as the winter ones, so we were determined to go back once school was out. We did, and we had a fantastic time during our visit!
Northstar is an exciting destination for a family summer getaway, with lots of things to do including mountain biking, hiking, geocaching, roller skating, and more. The summer vibe at Northstar is definitely more laid back than it is during the ski season, but it's still a bustling place, with hikers and mountain bikers gathering by the gondola to head up onto Mt. Pluto for outdoor fun.
When you've had enough of the wilderness, come back down the mountain and take advantage of some of the fun to be had in the Northstar Village.
Outdoor Summer Actvities at Northstar
Northstar is home to the largest lift-served mountain bike park in the US, so it's a mecca for downhill and freestyle bicyclists during the summer. The gondola and most of the resort's lifts are in operation during the summer months, and carry both you and your bike up the mountain, and then you can ride down.
My husband and son are avid cross-country mountain bikers, but new to the downhill version of the sport, so they took advantage of the Bike 101 package offered by the Northstar Bike Academy. The package is geared toward downhill beginners and includes a half-day bike rental, a lift ticket, full-face helmets, gloves, protective gear, and two hours of instruction on the mountain. David, their awesome and knowedgeable bike coach, got them up and running in no time with his excellent tips and guidance. If you're new to downhill mountain biking, it's really a great introduction, and it's a lot of fun, too.
Bike trails at Northstar cater to all levels of riders, from beginner to pro. If downhill riding isn't your thing, there are plenty of gentle and easy trails that are suitable for family riding, too. Bring your own wheels or rent them there at Northstar's Plaza Bikes, which also stocks all the bike supplies and equipment you'll need.
There's even a new Strider Adventure Zone down at the Village for children aged 18 months to 5 years where they can learn to ride a Strider balance bike (no training wheels required!) and have a great time in the process. Bring your own Strider bike or borrow one—bikes are available on a first-come, first-served basis. It's free to ride, too!
In addition to biking, Northstar offers miles of hiking trails. Hikers with a hiking pass can take the gondola and chair lifts up the mountain to access trails for hikers of all ability levels, many of which offer breathtaking views of the High Sierras and Martis Valley. Make sure you take the Zephyr Express chair lift up Mt. Pluto—the views along the way are amazing. It's a must-do during your visit!
Up there, you'll find a great family-friendly trail, the Sunset, that loops through the woods and offers some spectacular vistas along the way. If you're hiking with little ones and don't want to walk all the way back down to mid-mountain, don't worry—you can take the Zephyr gondola back down after your hike.
While hiking on the mountain, families can participate in a geocaching adventure—a high-tech treasure hunt where you use a GPS unit to uncover hidden boxes containing small toys and other trinkets. Your GPS unit will get you to within 20 or 30 feet of a cache, and then it's an all-out hunt to find the box, which is usually secreted away in the trees or rocks on the side of the trail. When you find the cache, write your name in the logbook. It's customary to leave both leave a trinket and take one from the cache. You can rent a GPS unit in the Village or use your own.
We tried it on our visit and had a blast! The kids immediately commandeered the GPS unit and led the way down the trail, and of course were the first ones to bound into the bushes and trees in search of the army surplus ammunition container that contained the cache. We ran into another family doing the same thing, and the kids teamed up, made new friends, and had a great time.
Fun in the Village
The Northstar Village itself is a fun place to hang out on a warm summer day. There's plenty to do there to keep everybody active. While my husband and son were busy bombing down the mountain, my daughter and I went to The Villager Candle Shop, where she made her own candle. Choose a mold and fill it with colored chunks of wax, then choose an overall infill color, and watch as the staff puts your candle in a water bath to cool and harden. It takes about an hour to harden, so feel free to go out and explore the Village while you wait.
You can also paint a ceramic creation while you're waiting for your candle to solidify. Choose from a variety of bisque-fired clay objects and decorate it however you like. They'll fire it in the kiln and mail it to you when it's done. My daughter had a great time creating keepsakes at The Villager Candle Shop. My son thought the candle was so neat that he insisted on making one, so he and my husband marched down after their mountain bike experience to go create a candle.
The ice skating rink that's the centerpiece of the Village at Northstar becomes a roller skating rink in the summer. You can rent skates there or bring your own; admission is free. There's even live music on weekends to listen to as you glide around the rink. The skating rink area is also the optimal place to hang out, chat, people-watch, and roast marshmallows for your s'mores in the fire pits that get going every afternoon.
The skating rink area is also where Northstar's Star Sessions summer concert series takes place. During our visit the headliner was JJ Grey and Mofro performing Southern rock and blues. Concerts are family friendly, and concertgoers can bring low-backed chairs and park themselves on the skating rink in front of the stage, or relax around one of the fire pits. Food and drink are available, too
Staying at Northstar
Lodging options abound at Northstar, but the most convenient choice for families is to stay in one of the new luxury condos located right in the Village. On this visit, we stayed in a two-bedroom unit at One Village Place, run by Tahoe Mountain Resorts Lodging.
Our spacious Tahoe home-away-from-home was beautifully appointed and furnished, with a big gas fireplace, flat-screen TVs, fully equipped gourmet kitchen, deck overlooking the Village, full-sized washer and dryer, and free wi-fi. It was the perfect place to relax after a day on the mountain and plan our next adventure.
Staying in the Village was really ideal. It's nice to be able to park the car in the underground garage when you arrive and not need to move it again for the entire weekend (other than to run into nearby Truckee for groceries one afternoon). Take the elevator down from your condo and you'll find yourself right in the heart of the Village, steps from the gondola to the mountain, dining, and shopping. There's really no reason to ever leave, and not having to drive anywhere for a few days is a nice break.
Besides One Village Place, Tahoe Mountain Resorts offers several different lodging options in the Northstar Village. Unit choices range from efficient studios to large four-bedroom condos. Prices vary depending on unit size, location, and time of year. Visit www.tahoemountainlodging.com for more information, rates, availablilty, and special packages.
If you're looking for more of a hotel experience, consider the luxurious Ritz-Carlton Lake Tahoe, located above the Northstar Village in a spectacular setting on the mountain. It's only a short gondola ride away from the Vllage and just steps away from the lifts and fun mid-mountain.
Dining at Northstar
While things are scaled back a bit for summer, you'll still find plenty of family-friendly dining options at Northstar. At the lodge on mid-mountain, the Downhill Grill serves up delicious fare like gourmet burgers, sandwiches, Baja fish tacos, chicken strips, and more. We had lunch there on each of our outings on the mountain. It's a great place to grab lunch or a snack and take a break from mountain biking or hiking and refuel for more adventure. You can dine inside the lodge or out on the sunny deck. Order at the counter outside and they'll bring your food to your table.
For our nice dinner out during our stay, we took the Highlands Gondola up to The Ritz-Carlton Lake Tahoe and dined at Manzanita, which is helmed by noted chef Traci Des Jardins. Manzanita features inventive dishes crafted from fresh seasonal food inspired by the kitchen garden growing just outside the door. It's great for a date night as well as a family night out, with a children's menu that features some choices beyond the usual suspects. Manzanita is open for breakfast, lunch, and dinner, and it's worth the splurge.
In the Village, you'll find a wide variety of fare ranging from sushi at Mikuni to French-style hot dogs ("Frog Dogs") at the Euro Snack stands to coffee and pastries at Starbucks. For a full list of dining offerings at Northstar, check the resort's online Village Guide.
If You Go
Northstar California Resort is located just south of Truckee at 5100 Northstar Drive. To get there from Marin, take Highway 101 to Highway 37 east. Follow 37 through Vallejo and pick up Interstate 80 east. Head east on 80 into the Sierras all the way to Truckee, where you'll take the exit for Highway 267/North Shore Drive. Follow Highway 267 south and turn right onto Northstar Drive.
Take Northstar Drive into the resort; keep an eye out for signs alerting you to which parking lots are full. If you're staying in the Village, proceed to it where you'll find temporary parking while you check in.
For information, reservations, lift and trail statuses, lodging options, and more, visit www.northstarcalifornia.com.
Thanks so much to Northstar California and The Ritz-Carlton Lake Tahoe for hosting us during our stay at the resort. Photos of The RItz-Carlton Lake Tahoe and Manzanita Restaurant courtesy The Ritz-Carlton.
Sign up for tips & news for Marin families!