Back to top
Swim With AquaMarin Synchro Synchronized Swimming Team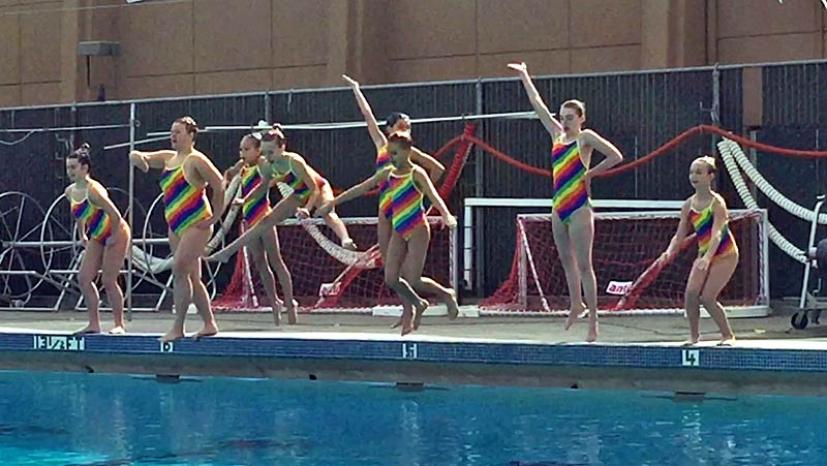 Interested in the sport of synchronized swimming? AquaMarin Synchro, Marin County's only synchronized swimming (or synchro) team offers girls ages 10 to 18 the opportunity to learn the sport's techniques and and even compete against other teams in the area.
Swimmers develop strength, flexibility, artistic interpretation, timing, body awareness and confidence in individual and team competition. They also learn to help each other so good habits in the water get reinforced and bad habits get recognized early so they aren't practiced. Swimmers need to be comfortable in the water year round, love music and enjoy the power and grace that the modern sport of synchro demands.
Competitive events include team (4 to 8 swimmers), duets, trios,  and solos, as well as combo team with 10 swimmers. Figures—the slow, isometric moves that are the backbone of  synchro—are practiced each time, so stability and height in the water can be gained. In the Novice and Intermediate levels there are only four meets between January and June within the seven-team Pacific Association.  
AquaMarin Synchro is run by current synchronized swimming National Masters Champion Chris Schroeder, who studied with the late Marion Kane, the "mother" of the sport who helped get it accepted as an Olympic event. The non-profit independent team meets at the College of Marin Indian Valley Campus pool, located at 1800 Ignacio Boulevard, in Novato three days a week. For more information and a practice schedule, visit their website. You can also call Chris at (415) 233-2955.
Today's Events
Thursday, February 22, 2018