Back to top
Watching the Fireworks in Marin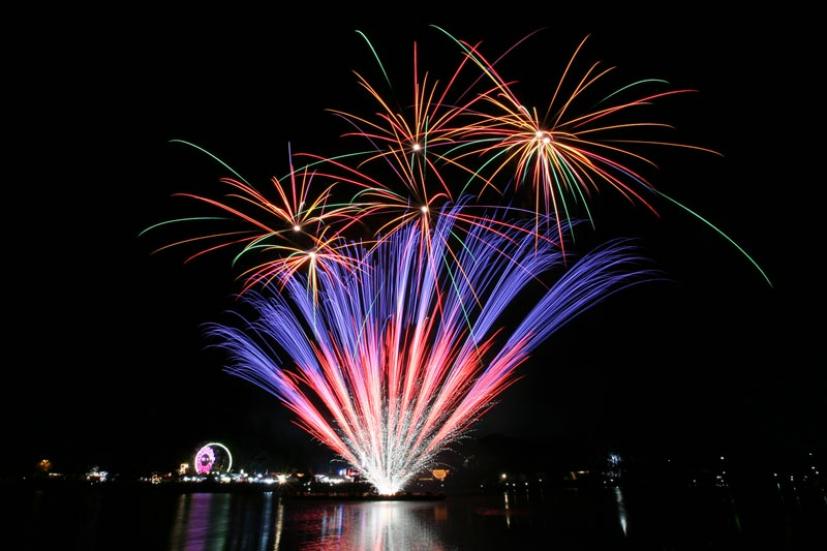 Fireworks at the Marin County Fair. Photo: Marin County Fair
For families with young children, the ritual of watching 4th of July fireworks can be a little inconvenient. Babies and toddlers are often scared of the noise (if you're close enough to hear), the summer sunset at around 9 pm means most kids are up way past their bedtime. It's even worse if you decide to wake them out of a deep sleep in time to see the fireworks (trust me, I've been there). Nothing's quite as crabby and grumpy as an overtired child, no matter how great the fireworks are.
With this in mind, we've sought out places to watch the fantastic fireworks display at the Marin County Fair that don't involve leaving the car, so the little ones can doze in peace. Obviously you can just pay your $20 and go to the fair, but again, if you've got two sleeping children in the car, this isn't going to work. Neither is driving over near the fair—it's hard to see anything from the area along Civic Center Drive, and the resulting post-fireworks gridlock around the fairgrounds is pretty miserable.
On a friend's suggestion, we checked out a fireworks viewing spot up at the Unitarian Universalist Church parking lot, which is on Channing Way off Professional Center Parkway in Terra Linda. It's potetentially ideal, situated on a hill that overlooks the Marin County Fairgrounds. This wasn't bad, but the number of places where you could actually see anything was pretty limited and it became obvious that we weren't the only people there to see the fireworks—it's a pretty popular spot. Those people who could find a spot where they could see through the trees were treated to a spectacular view, though.
After that we tried a new tactic and headed out to McInnis Park, just north of the fairgrounds off Smith Ranch Road. which has a fairly clean line of sight across the marsh area to the fairgrounds. It afforded a direct view to where they were setting off the fireworks, so it really is a good place to go. We like the small parking lot near the main entrance to the park. It's just south of the main part of the park, near the sports fields and the kayak launching spot. The beauty of this spot is you can stand next to your car and watch the show if your kids are asleep inside. If you can leave your car and want to walk out closer to the creek, you can get an even better view of the fireworks display. There are usually a few other families here with the same idea, but it's always been far from crowded.
On Tuesday, July 3 from 8 to 10 pm, Marin County Parks offers its annual Fair to Fireworks and S'more Feast event at McInnis Park, which offers a celebration with s'mores followed by fireworks watching on the hill above the park. It's an easy walk up the hill and a lot of fun! Visit their website for more information.
Of course if you live or have friends in Santa Venetia close the Civic Center, then that would be even better. Then you could just watch from their backyard! The Marin County Fair's fireworks take place every night of the fair (Friday, June 30 through Tuesday, July 4 this year), so if you can take in the fireworks display on an evening when the prime viewing spots are potentially less crowded than they will by on Independence Day itself.
Families in southern Marin might want to make the effort to see San Francisco's fireworks display, which is usually guaranteed to be spectacular, except when it's foggy, which it often is in July. We've watched fireworks from Fort Baker near the Bay Area Discovery Museum, which afforded a pretty good view, but was also pretty crowded. Of course the absolute best viewing spot is from a boat on San Francisco Bay, but that's cold, and of course requires a boat. If you don't have one, the Angel Island Ferry provides a fireworks cruise on the Bay that departs Tiburon at 8:30 pm ($75 adults, $55 children 5–12, and free for kids under 5), and this year, once again, Angel Island itself will be open for fireworks viewing.
Actually, our all time favorite fireworks display is put on by the city of Sonoma (where we actually lived for a short time, pre-kids). There's a really nice home-town feel about the whole thing, and they put on a really superb show. With the kids getting a little older now we're definitely planning go back up there. The only drawback is its popularity. It's great if you have friends or family within walking distance of the field near General Vallejo's house, but if you drive there the traffic jam of people trying to head back out of town can be pretty grueling.
Sign up for tips & news for Marin families!