Back to top
What's for Dinner: Chicken and Broccoli Stir Fry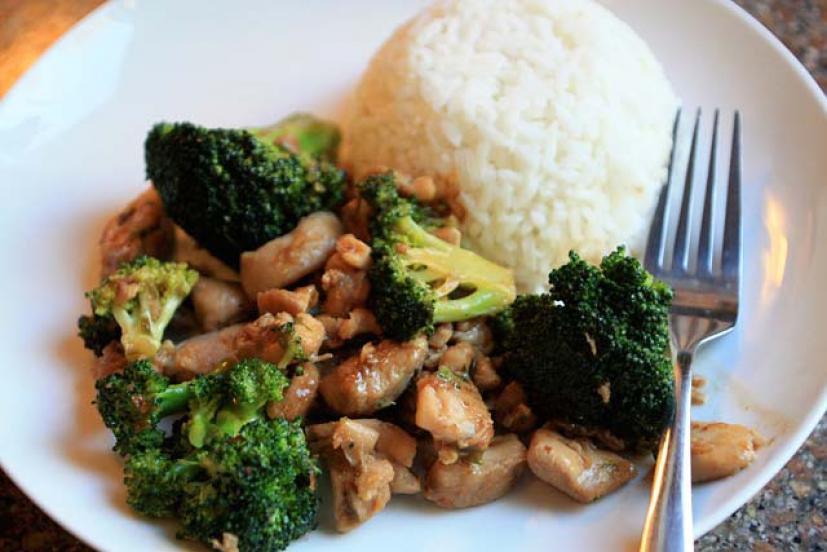 I love it when I find a dish that everyone in the family loves and that's healthy, economical, and easy to make, too. This Chinese-inspired chicken and broccoli stir fry is all of those things. Serve it with some plain rice or Asian noodles and it's a complete dinner that comes together quickly.
Serves: 4
Prep time: 10 minutes
Cook time: 15 minutes
Ingredients
2 tablespoons soy sauce
2 tablespoons unseasoned rice vinegar
1 teaspoon brown sugar
1 tablespoon cornstarch
1 teaspoon toasted sesame oil
2 tablespoons canola oil
1 pound boneless skinless chicken thighs, cut into 1/2-inch pieces
1-inch piece fresh root ginger, peeled and finely chopped
2 cloves garlic, finely chopped
2 scallions, including some of the green part, thinly sliced
1 bunch broccoli, cut into small florets
1/2 cup water or low-sodium chicken broth
freshly ground black pepper
Directions
In a small bowl, whisk together soy sauce, vinegar, sugar, cornstarch, and sesame oil.
In a wok or large skillet, heat vegetable oil over high. Add chicken and stir fry until browned, about 10 minutes.
Add ginger, garlic, scallions and stir fry for another 30 seconds, then and broccoli and cook, stirring frequently, until broccoli turns bright green, about 3 minutes. Add 1/2 cup water or chicken broth, scraping up browned bits on the bottom of the pan with a wooden spoon.
Stir in soy sauce mixture, reduce heat to medium, and cook, stirring, until thickened, about a minute. Season with pepper to taste.
Serve with rice or Asian noodles.
Sign up for tips & news for Marin families!