Back to top
Double-Chocolate Candy Cane Cookies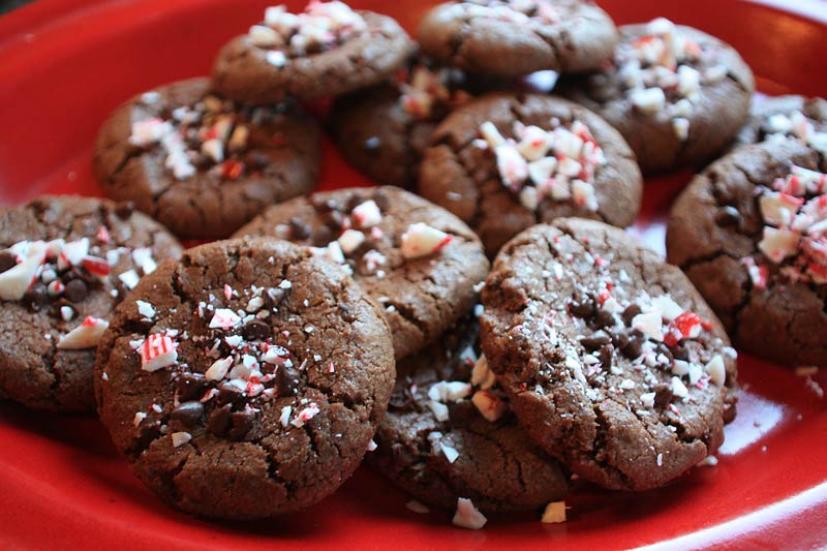 These moist and chewy cookies contain plenty of two iconic holiday ingredients: chocolate and candy canes! They're the perfect addition to a holiday cookie platter, and I bet Santa wouldn't turn his nose up to a couple of them on Christmas Eve. If you really want to supercharge the peppermint flavor, replace the vanilla with peppermint extract. My kids think the crushed candy canes on top of these cookies give them plenty of peppermint flavor, so I usually just leave it at that. These are also great made with whole-wheat pastry flour, but plain old all-purpose flour is fine, too.
Ingredients
1 stick unsalted butter, softened
1 cup sugar
1 large egg
1 teaspoon vanilla extract (or peppermint extract)
1/3 cup cocoa powder
1 1/4 cups all purpose or whole-wheat pastry flour
1/2 teaspoon kosher salt
1/2 teaspoon baking powder
1/4 teaspoon baking soda
1/3 cup chocolate chips, plus extra for sprinkling
1 or 2 candy canes, or a handful of peppermint candies, crushed
Directions
Preheat your overn to 350ºF. Line two baking sheets with parchment paper. In a stand mixer fitted with the paddle attachment, cream butter and sugar. Add egg and vanilla or peppermint extract and continue to beat until light and fluffy. In a medium bowl, whisk together flour, cocoa powder, salt, baking powder, and baking soda. Add bit by bit to wet ingredients until all incorporated. Gently stir in 1/3 cup of chocolate chips.
Roll heaping tablespoons of dough into balls and place on prepared baking sheets about 2 inches apart. Slightly flatten each ball and sprinkle with a few more chocolate chips. Bake for 11–13 minutes. Sprinkle immediately with crushed candy canes and allow to cool on the baking sheet. Makes about a dozen cookies.
Sign up for tips & news for Marin families!