Back to top
10 Favorite Entertainers for Kids' Birthday Parties in Marin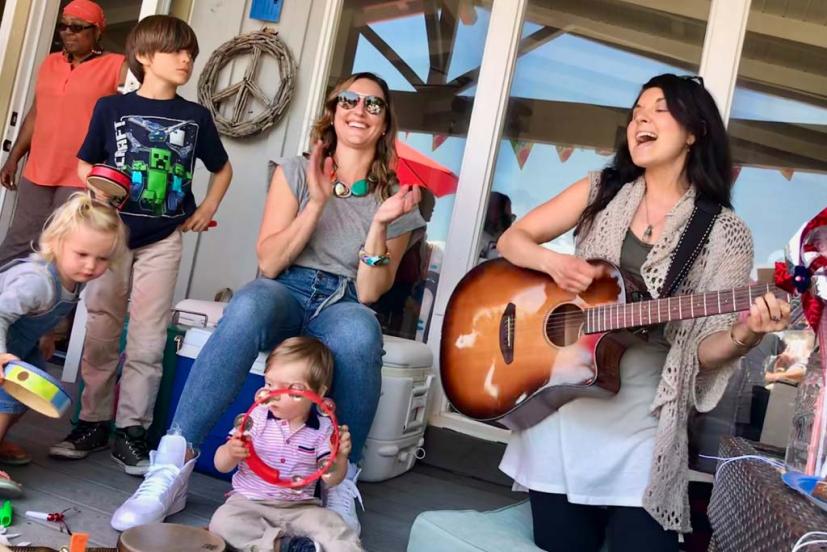 Let the children's music performer Megan Schoenbohm lead the fun at your child's next birthday party.
Sometimes the best birthday parties are the ones with the best entertainment—fantastic performers who care about kids and get everyone involved in the show. We took a look at the most popular entertainers listed in our Marin Birthday Party Guide and created this top-10 list for kids' birthday party performers in Marin.
Popular Bay Area children's musician and music teacher Megan Schoenbohm offers fun musical birthday parties that include 30 minutes of singing, guitar-playing, movement, and dance. Make sure you tell her the birthday child's favorite songs and she'll add it to her play list. Learn more about Megan and listen to some of her music on her website. www.musictimewithmegan.com
Tim Cain, one of Marin's most popular children's entertainers and former member of the classic '60s band the Sons of Champlin, is available for birthday parties when he's not performing around the Bay Area. Check out his website for his performance schedule, music samples, and contact info. www.timcain.com
Mr. Shap's amazing balloon bending and feats of magic have made him one of the most beloved local party entertainers. He makes his amazing balloon creations and performs at parties throughout the Bay Area. www.mrshap.com
The Magic Circus has been entertaining families in the Bay Area for many years with their performances at schools, fairs, festivals, and children's birthday parties. Let them bring comedy, magic, puppet shows, and more to your party. magiccircus.com
Rebecca Nile, the Bubble Lady, puts on a spectacular one-hour interactive bubble show for bubbleicious birthday parties. Experience dancing bubbles, trick bubbles, bubble hairdos, people in bubbles, and more! thebubblelady.com
Known for his popular "Breakfast with Enzo" shows in the San Francisco and Marin, multi-instrumentalist Enzo Garcia sings and plays guitar, banjo, accordion, musical saw, percussion, and even the "enzotar". His tunes are a big hit with the little ones, and, as he says, he's "cheaper than a clown, cleaner than a pony". www.enzogarcia.com
Drummer Mika Scott has performed with a variety of renowned musicians, including Bob Weir, Mickey Hart, and Phil Lesh of the Grateful Dead. His drumming parties get everyone involved in the percussion fun. drummingmagic.com
Marin musician and teacher Melissa Ayotte and her Magic Bus Music Studio are a popular choice for music parties in Marin. Parties are for ages 1 to 4 and include 45 minutes of musical fun followed by pizza from Round Table next door. www.musicwithmelissa.com
Marin Trek's roster of reptilian performers will come to your home or venue of your choice for an awesome birthday party that's sure to be remembered! Marin Treks' exciting hands-on birthday adventures allow the birthday girl or boy and their guests to hold and learn fun facts about the museum's amazing collection of live reptiles. Discuss where they live, what they eat, how they avoid predators, and a whole lot more. www.marintreks.com
Dusty, an amazing performer with Down Syndrome, performs her puppet shows at birthday parties in Marin for kids ages 1 to 4. Partygoers can even take home finger puppet party favors to stage their own shows. www.dustyspuppets.com
Related Articles
Sign up for tips & news for Marin families!