Back to top
2020 Best Books for Kids from the American Library Association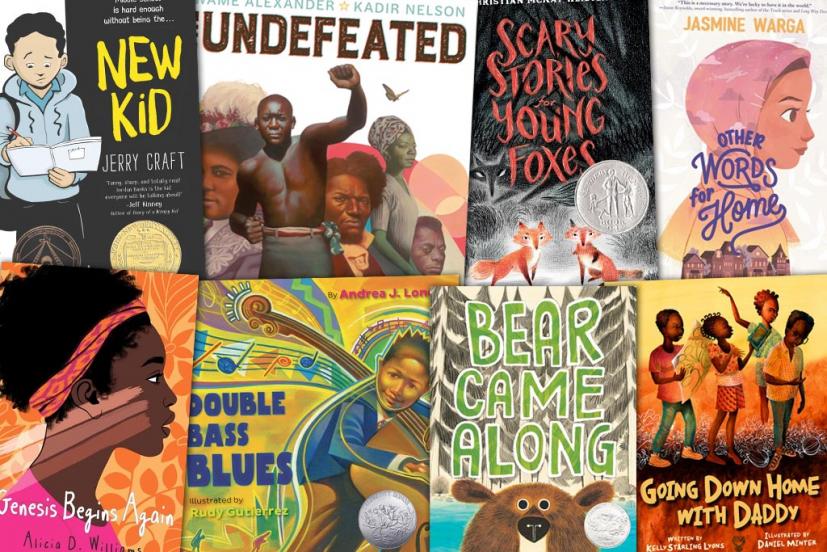 It's awards season: we've seen the Grammys, the Golden Globes, and the Oscars. But did you know it was awards season for kids' books, too? The American Library Association (ALA) announced the winners of its annual youth media awards for 2020, including the prestigious Newbery and Caldecott medals for children's books.
Since 1922, the John Newbery Medal has been awarded to the author of the most distinguished American children's book by the Association for Library Service for Children (ALSC), a division of the ALA. This year, the Newbury Medal goes to New Kid, written by Jerry Craft and published by HarperCollins Children's Books. In New Kid seventh grader Jordan Banks, loves nothing more than drawing cartoons about his life. But instead of sending him to the art school of his dreams, his parents enroll him in a prestigious private school known for its academics, where Jordan is one of the few kids of color in his entire grade. Find it at a local Marin library here.
The 2020 runner-up Newbery Honor Books are The Undefeated by Kwame Alexander and illustrated by Kadir Nelson, Scary Stories for Young Foxes by Christian McKay Heidecker and illustrated by Junyi Wu, Other Words for Home by Jasmine Warga, and Genesis Begins Again by Alicia D. Williams.
The ALSC began awarding the Caldecott Medal, named after 19th-century British illustrator Randolph Caldecott, to the artist of the most distinguished children's picture book in 1938. This year's medal winner is The Undefeated by Kwame Alexander, with illustrations by Kadir Nelson. The Undefeated is an anthem to the courage and genius of black Americans featuring stunning portaits by illustrator Nelson. Find it at the library.
The runner-up Caledecott Honor Books for this year are Bear Came Along, illustrated by LeUyen Pham and written by Richard T. Morris; Double Bass Blues, illustrated by Rudy Gutierrez and written by Andrea J. Loney; and Going Down Home with Daddy, illustrated by Daniel Minter, written by Kelly Starling Lyons.
Find our more about the ALSC 2020 youth media awards and see a complete list of winners at www.ala.org/alsc.
Sign up for tips & news for Marin families!