Back to top
25 Free Things to Do for Families in November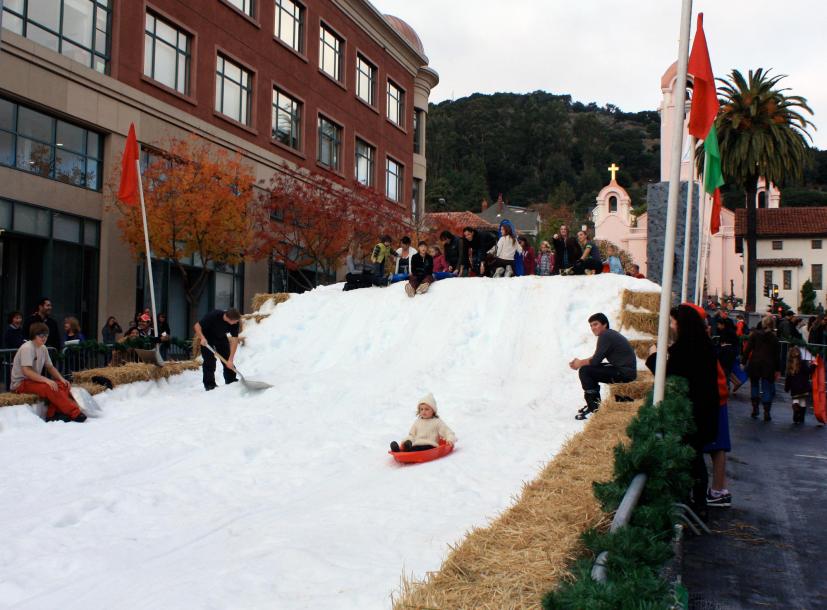 Bring the kiddos for some snow sledding at the Parade of Lights and Winter Wonderland in Downtown San Rafael on Friday–Saturday, November 24–25
This November, you don't have to break the bank to have a great time with the kiddos! Here are 25 great ideas for activities and outings in Marin and the Bay Area in November, all of which are free. Keep in mind some of these activities require advance registration, so check before you go.
Get creative at the Family Garden Party at the Fairfax Library, Friday, November 2, 2–4 pm.
Get hands-on with science at Discovery Day at AT&T Park, San Francisco, Saturday, November 3, 11 am–4 pm.
Marin Ballet Presents the Nutcracker Storytime, Cooperfields Books, Novato, Saturday, November 3, 5 pm.
Enjoy original Chinese dances as the Flying Angels Chinese Dance Company performs, Mill Valley Library, Sunday, November 4, 11 am.

Bring the little ones for a

Special Story Time with Danielle Anderson-Craig - The Magic of We , Book Passage Corte Madera, Monday, November 5, 9:30 am.
Visit the de Young museum in San Francisco for free on

the first Tuesday of the month, November 6, 9:30 am–5:15 pm
Admission to the Bay Area Discovery Museum is free on the first Wednesday of the month. November 7, 9 am–5 pm
Bring the kiddos for Family Game Night at the Corte Madera Library, Wednesday, November 7, 6:30–8:30 pm.
Children can explore another language at Mandarin Storytime, Belvedere Tiburon Library, Thursday, November 8, 3–3:30 pm.
Explore the Marin Headlands, beaches, hiking, Marine Mammal Center in Sausalito.
Bring the family to the Annual Veterans Day Parade and Fly Over, Petaluma, Sunday, November 11, noon–3 pm.
Explore and shop at Holidays Along the Farm Trails in Sonoma County. Daily starting November 14.
Come learn about animals at Wildcare! Raptors at the Larkspur Library, Wednesday, November 14, 4–5 pm
Celebrate nature and things that fall down with a fun torn paper project, San Anselmo Library, Wednesday, November 14, 3 pm
Kick off the holiday season with the Embarcadero Building Lighting Ceremony & Carnival, San Francisco, Friday, November 16, 4–7 pm.
Gather around the campfire and celebrate Thanksgiving with songs and a marshmallow roast at the Sonoma Barracks. Saturday, November 17, 5–6 pm.
Rangers host a fun afternoon of Family Mini Golf for ages 12 and under at McInnis Park Golf Center, Sunday, November 18, 11 am–1 pm
Come for a movie, The Incredibles 2 and free popcorn at the Mill Valley Library, Monday, November 19, 2:30–4 pm.
Attend a spectacular local holiday tree lighting in the Bay Area.
Get a head start on the holidays at the West End Nursery Christmas House in San Rafael.
Watch Disney's Pixar's Coco on the big screen at the San Anselmo Library, Wednesday, November 21, 1–3 pm.
Get active outside on one of our 5 fantastic fall family hikes in Marin.
Enjoy free snow sledding and more at the Parade of Lights and Winter Wonderland, Downtown San Rafael, November 24, noon–8 pm & 25, 9 am–noon.
Build, play, engineer, and destruct together at the Corte Madera Library Lego Club, Tuesday, November 27, 3:30–4:30 pm.
Explore one of the many Christmas tree farms in Petaluma or Sebastopol for some old-fashioned fun; most open the Friday after Thanksgiving, November 23.
Sign up for tips & news for Marin families!