Back to top
The Amazing California Trail at the Oakland Zoo is Now Open!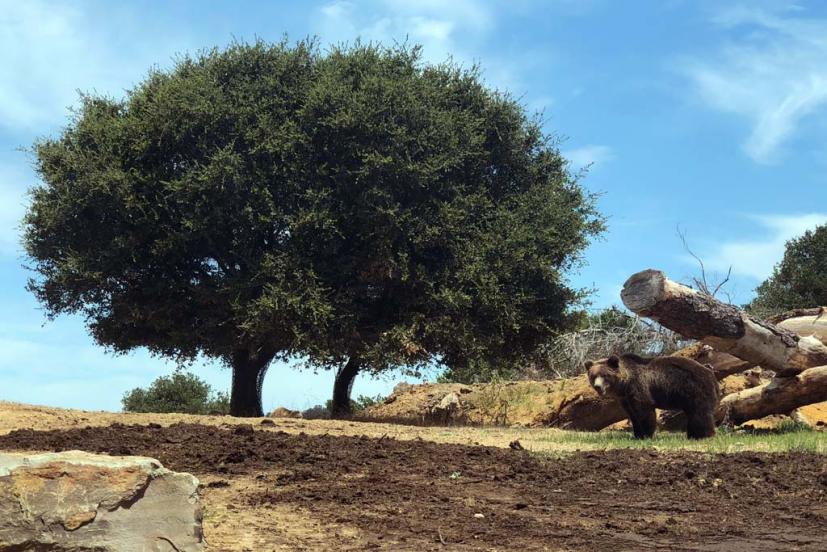 This week the new, long-awaited California Trail expansion opened at the Oakland Zoo, and we got a chance to check it out on its opening day. This incredible new experience offers eight new animal exhibits with a focus on California wildlife past and present, amazing views of the San Francisco Bay Area, the Landing Café restaurant, and even a cool ecology-inspired playground. California Trail doubles the zoo's exhibit space and makes it an even more fun and educational place for a family outing. It's a must-visit destination this summer!
The California Trail exhibit emphasizes the role of humans in shaping the ecology of California and the San Francisco Bay Area and highlights the delicate balance between plants, animals, and human beings and how change affects all of us.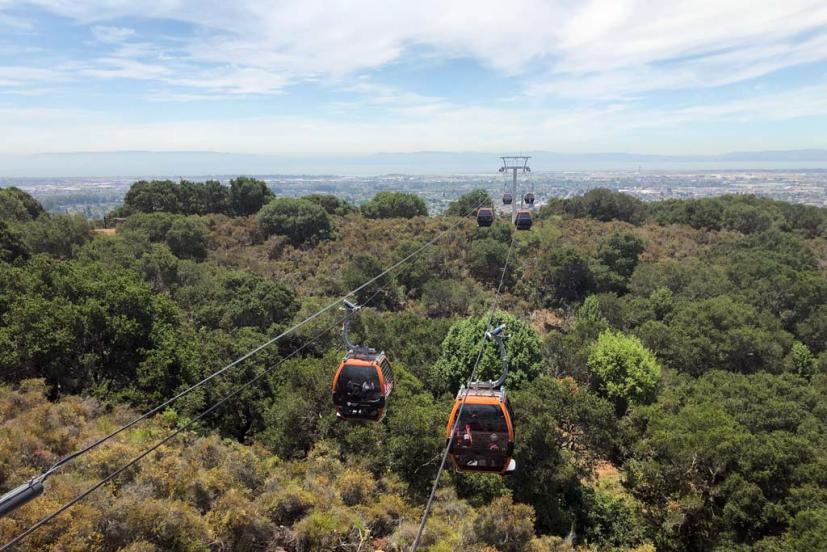 Get on one of the cool ski resort-style gondolas which will whisk you up the hill to begin your California Trail experience. At the top of the hill, get off the gondola and either head up the stairs to the visitor center and the Landing Café or hit the boardwalk right away and go visit the animals.
You'll get up-close-and-personal with grizzly and black bears, mountain lions, bison, bald eagles, California condors, gray wolves, and jaguars. All the animals are rescue animals who otherwise could not be released back into the wild, and they live in expansive, naturalistic California habitats. It was amazing to watch the young grizzlies—our state animal, but hunted to extinction here—run and play in their open habitat, complete with grassy fields, trees, and a water area. My kids and I loved being able to get a close-up view of all the animals.
Make sure you take a moment to visit the San Francisco Bay overlook, where you can take in spectacular sweeping views of San Francisco Bay and the six Bay Area counties. Keep your eyes open for the bison that roam down below.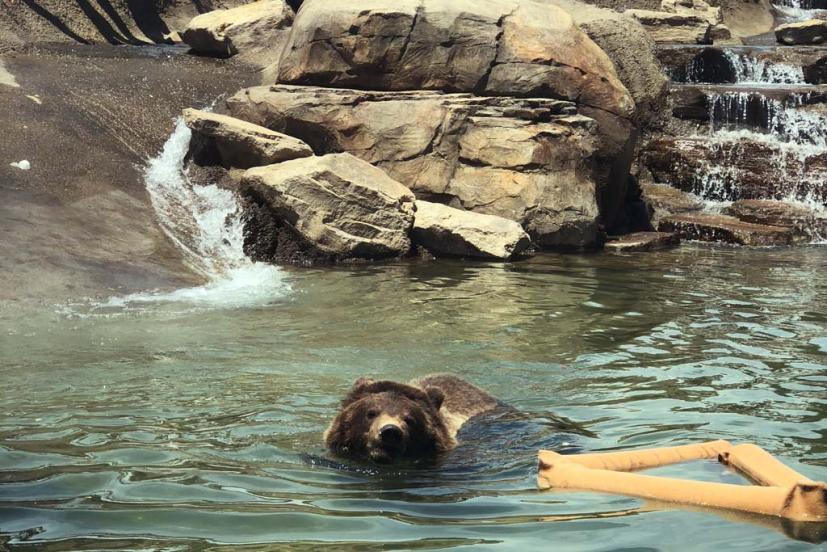 Follow the boardwalk to visit all the animal exhibits. It loops through the whole California Trail area and ends up at the fantastic California Wilds Playground, which features play areas that reflect California's many biomes as well as a zip line. You can also grab a bite to eat at the Landing Café, which offers wood-fired pizzas, burgers, sandwiches, and salads with sweeping Bay Area views from its outdoor dining area.
It's really a wonderful experience for all ages, and makes an outing to the Oakland Zoo even more special than it already is. We spent so much time up at the California Trail that we almost forgot there was a whole other half of the zoo down the hill to visit! Read more about visiting the Oakland Zoo in our article.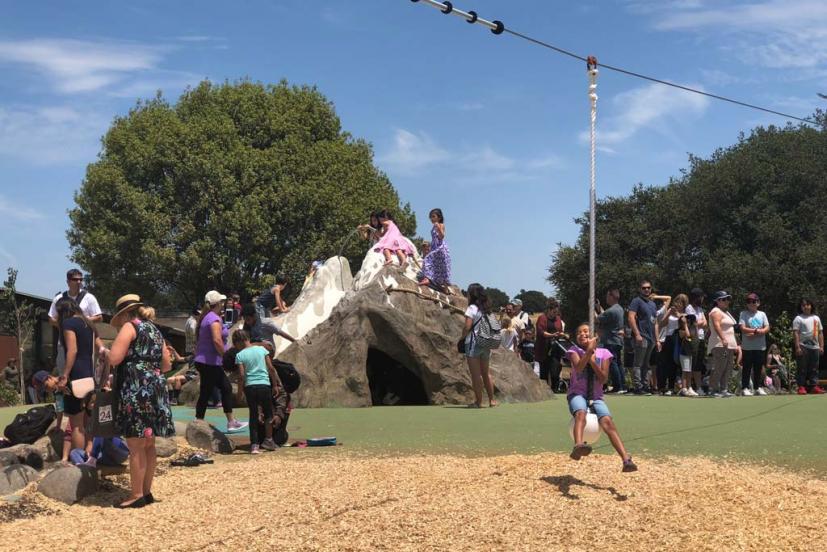 If You Go
The Oakland Zoo is located at 9777 Golf Links Road in Oakland, near San Leandro. To get there from Marin, take 101 to 580 in San Rafael and cross the Richmond Bridge. Follow 580 until it merges with Interstate 80. Head south on 80 toward Oakland, then merge onto 580 after Emeryville (stay in the left lanes). Head south on 580 and take the Golf Links Road exit. Turn left onto Golf Links Road and head east (under the freeway). The Oakland Zoo entrance will be on your immediate right.
For more info, visit www.oaklandzoo.org/californiatrail.
The Oakland Zoo is open daily from 10 am to 4 pm. The gondolas are open from 10 am to 4 pm, and are free to ride with zoo admission. Adventure Landing and its rides are open from 11 am to 4:30 pm on weekdays and 10 am–4:30 pm on weekends. The zoo is closed on Thanksgiving Day, Christmas Day, and during their annual Walk in the Wild fundraiser (June 23, 2018).
Admission is $22 for adults (15–64), $18 for children 2–14 and seniors 65+, and free for children under 2 and seniors 76+. A discount is offered for military families with current military ID. Parking in the Knowland Park is an additional $10 per car. Plenty of parking is available right in the upper parking lot.
The Oakland Zoo is located in the hills above the city, so terrain can be steep and uneven at times. If you're bringing small children a stroller is advised, although you can rent them there if you suddenly decide you need one.
Sign up for tips & news for Marin families!