Back to top
Amazing Family Sleepovers in the Bay Area and Beyond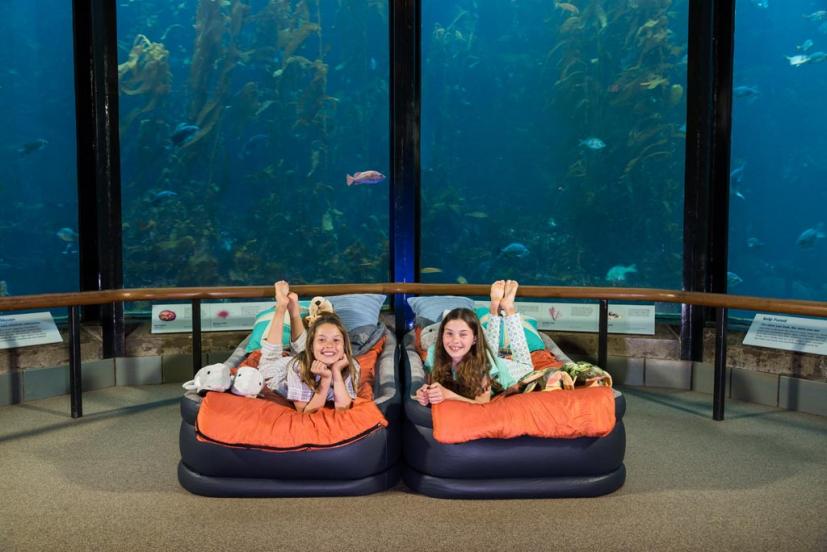 Photo: Monterey Bay Aquarium
If you're looking for a fun and unique overnight experience for the family, try camping out at a museum, aquarium zoo, or wildlife center! Popular family destinations in the San Francisco Bay Area and Northern California like the California Academy of Sciences, the Marine Mammal Center, the Monterey Bay Aquarium, the San Francisco Zoo, the USS Hornet Museum, and Safari West all offer exciting programs where families can spend the night. It's be kind of like the movie Night at the Museum, except that the dinosaurs and dioramas won't come alive after hours (we hope)!
Needless to say, all of these events require advance reservations and have limited space, so register for your awesome overnight adventure soon! Many of these venues also offer overnight programs for scouts, schools, and other youth groups. All information is correct at time of posting; check each location's website for complete information, pricing updates, and a schedule of events.
Penguins+Pajamas
California Academy of Sciences, San Francisco
Sleep over next to your favorite exhibit or creature at the Cal Academy in Golden Gate Park! Overnight guests at the popular Penguins+Pajamas program can explore the Academy after hours, see live animal demonstrations, take in a planetarium show, and then settle in for storytime before bed with cookies and milk. Breakfast is in the Academy Café, and museum admission is included if you want to stay and have more fun. We attended this program a while back and it was a lot of fun!
The Penguins+Pajamas experience begins at 6 pm and ends at 8 am the following morning. The program costs $119 per person or $95.20 for Academy members. Pengiuns+Pajamas is for children between the ages of 5 and 17 accompanied by an adult chaperone age 25 or older. One adult chaperone must be present for every five children. 2019 and 2020 public sleepover dates are October 19, November 9, February 8, March 7, May 2 and 22, June 5. Wait lists are available for sold-out dates. For more information visit www.calacademy.org. The California Academy of Sciences is located at 55 Music Concourse Drive in San Francisco's Golden Gate Park.
Sleepovers at the Aquarium
Monterey Bay Aquarium, Monterey
We know that Monterey isn't in the San Francisco Bay Area, but we love visiting the area and its attractions, especially the Monterey Bay Aquarium. Their Sleepovers at the Aquarium program offers fun activities and a chance to explore the aquarium after-hours (without the daytime crowds!) and bed down next to your favorite exhibit. The experience also includes a late-night nature movie, a bedtime snack, and continental breakfast in the Cafe.
Seashore Sleepovers cost $125 per person or $95 per person for aquarium members, and are for ages 5 up. Anyone under age 18 must be accompanied by an adult. The sleepover experience starts at 7 pm and ends at 8:30 am the next morning. Upcoming 2019 and 2020 sleepovers take place October 19, December 31 (special New Year's Eve sleepover), February 22, March 21, April 18, July 11 and 25, August 8 and 22, September 5, and October 17. For more information, visit www.montereybayaquarium.org.
Family Live-Aboard Experience
USS Hornet Museum, Alameda
On the other side of the Bay in Alameda, the USS Hornet Museum offers a Family Live-Aboard Experience sleepover for families. Board this famous World War II aircraft carrier and spend an exciting evening sleeping in the original crew bunks, eating dinner and breakfast in the crew's mess, and experiencing personalized a personalized ship tour, activities, and a flight simulator ride. The Hornet is a veteran of numerous naval battles and has the distinction of being the ship that recovered the astronauts from the Apollo 11 moon mission in 1969. All participants receive a certificate, a commemorative patch, and a coupon good for a future visit to the museum.
The USS Hornet's family overnight program costs $100 per person or $80 for museum members. All participants must be at least 7 years old. Visit www.uss-hornet.org for more information and to download an application packet, or call (510) 521-8448 x280. The USS Hornet Museum is located at 707 West Hornet Avenue in Alameda. In addition, they host sleepovers for scout and other youth groups and even a STEM-focused overnight program for groups.
Fall Family Campouts
Slide Ranch, Muir Beach
Slide Ranch's Family Campouts are special overnight trips for the whole family featuring farm activities, crafts, and nature exploration. Enjoy a potluck dinner on Saturday night, and gather 'round the campfire for stories and songs, then set up camp in a spectacular coastal meadow under the stars! On Sunday everyone helps with farm work before enjoying a continental breakfast, then makes and bakes treats harvested from the ranch's organic garden.
Family Campouts cost $105 per person; children under 3 are free. Children must be accompanied by an adult. Campouts begin at 10 am on Saturday and end at 1 pm on Sunday. Participants must bring their own camping gear and a dish to share for Saturday night's potluck dinner. These events often sell out, but they'll put you on the wait list in case something opens up. Dates for their 2019 Fall Family Campouts are October 26 and 27 (Halloween) and November 2 and 3 (Dia de los Muertos). For more information, visit www.slideranch.org.
Stay Overnight at Safari West
Safari West, Santa Rosa
We were thrilled when we learned that Santa Rosa's Safari West escaped from the North Bay fires unharmed last fall. They're back up and running and ready for you to enjoy night of family "glamping" in luxury tents at their 400-acre preserve, home to animals like zebras, giraffes, gazelles, rhinos, birds, and more. Take a Safari adventure at the Bay Area's own slice of the Serengeti, then sleep over with the sounds of Africa echoing in your dreams. Family tents at Safari West are equipped with bunk beds and cost $285 to $475 per night, depending on day of the week and season. Safari-style dining is available on-site at the Savannah Grill. Continental breakfast is included. Read about our experience at Safari West.
Overnights at Safari West do not include Safari reservations, which cost between $45 and $115 per person, depending on day and season, although overnight guests receive a discount of $10 for adults and $5 for children. Children must be at least 3 years old. For more information, call (800) 616-2695 or visit www.safariwest.com.
Sign up for tips & news for Marin families!