Back to top
Indoor Fun and Birthday Parties at PlayLand in Sausalito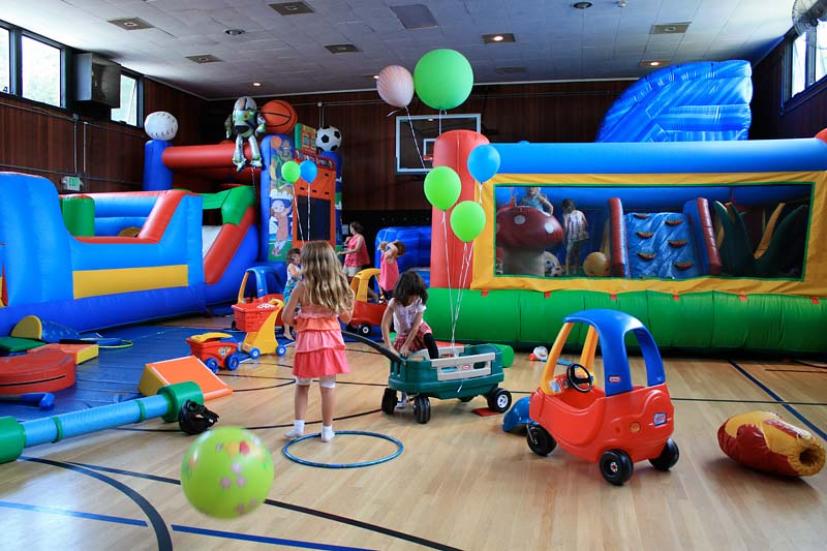 The PlayLand indoor bounce house experience in the MLK Gym in Sausalito is always a blast to visit. Everyone always has a fantastic time, whether it's for drop-in play or an active birthday party—it's definitely a place to consider when planning your next party!
PlayLand is a full-sized gymnasium full of inflatable bounce houses, including a 40-by-20-foot sports arena, a 15-foot slide, a bounce house with basketball hoop, and a toddler bounce zone, as well as air hockey, kiddie cars, balls, train tables, and more. It's open for drop-in play Monday, Tuesday, Thursday, Friday, and Saturday from 9 am to noon. They also offer free classes (after admisson) at 10:30 am, including art classes (Mondays), a reptile show (Tuesdays and Thursdays), and a music class (Fridays).
Admission is $10 for Sausalito residents or $12 for non-residents, which includes up to three hours of play. Families with three kids get half odd admission for the third child. You can also purchase a 12-admission pass and save. Credit cards and checks are accepted. Up to two adults are admitted free with each paid child, and free coffee and tea are available.
For birthdays, PlayLand offers a variety of different party packages for all ages. For younger kids, you can choose from weekday morning jumpy house parties and Saturday morning parties for ages 7 and under and Saturday, and Sunday afternoon private parties for ages 9 and under. Kids ages 12 and under choose from Nerf Blaster or Sumo Battle parties on Saturday and Sunday evenings. Parties also include balloon animals for partygoers as parting gifts.
A private cake room is available with party packages, and guests must bring their own food, drinks, cups, plates, napkins, and servingware. Table covers and balloons are provided. Party costs range from $150 to $435 depending on party package and number children.
For more information on parties, contact owner Jeremy Williams at jeremy@mttamadventurecamps.com or (415) 377-9678, or visit www.mttamadventurecamps.com, party reservations and payments need to be made with the City of Sausalito; contact them at (415) 289-4152. PlayLand offers summer camps and flag football classes, too.
PlayLand is located in the MLK Gym at 610 Coloma Street, Building 6, Sausalito 94965.
Sign up for tips & news for Marin families!