Back to top
Chef Daddy Makes Pizza al Taglio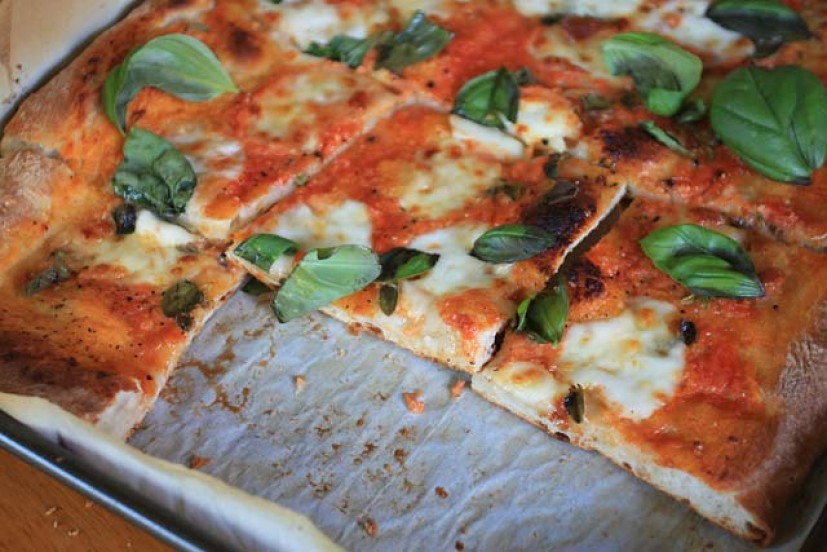 The other day I was craving really good homemade pizza, but I was also feeling kind of lazy and didn't want to deal with making dough, trying to get the pizza onto the pizza stone intact, and the rest of the work that comes with my other homemade pizza recipe. In a moment of inspiration, I thought about pizza al taglio, the thicker pizza that's cooked on a baking sheet and popular as a street food in Rome. What if I tried to make it with Trader Joe's fresh pizza dough?
I ran over to our local TJ's and picked up two packages of their very good and inexpensive refrigerated pizza dough, as well as some fresh mozzarella and of course a bunch of other stuff that I probably didn't really need. At home, I picked some plum tomatoes from the garden and grabbed some fresh oregano and basil, too, and decided that I had everything I needed.
Here's the recipe that I came up with for a simple margherita style pizza al taglio:
Two bags Trader Joe's refrigerated pizza dough
Extra virgin olive oil
1 pound fresh plum tomatoes, peeled and seeded (canned are OK, too)
1 clove garlic, crushed
8 ounces fresh mozzarella cheese
Fresh oregano leaves
Fresh basil leaves
Salt and freshly ground black pepper to taste
Preheat your oven to 500ºF. Line a baking sheet with parchment paper. If you don't have any parchment paper, go get some. It's really helps with your baking and if you play your cards right you don't have to wash the baking sheet. Brush the parchment paper with a tablespoon or two of olive oil.
Let both packages of pizza dough come to room temperature then open them up and put both of them on a floured surface. Combing the dough into one big dough ball, knead for a few minutes, and then roll, stretch, or toss the dough into a shape that approximates your baking sheet in size and shape.
Place the dough in the baking sheet and stretch into shape so it fits the sheet as closely as possible. I made a quick uncooked tomato sauce by whirling the peeled tomatoes with a couple swirls of olive oil, a clove of crushed garlic, and a little salt. Spread a layer of the sauce over the dough. One of the benefits of this kind of pizza is that you can load it up with ingredients and it won't get soggy.
Cut mozzarella cheese into chunks, if necessary, and space them out evenly on top of your pizza. Sprinkle with fresh oregano leaves, salt, and freshly ground pepper to taste, then drizzle with a little more extra virgin olive oil.
Bake pizza for 15 to 20 minutes or until cheese is melted and bubbly and crust is evenly browned. Make sure you check the bottom of the pizza to make sure it's cooked thoroughly. Tear up some fresh basil leaves and scatter them over the top of the pizza.
In Italy, vendors cut this pizza into square pieces with a pair of scissors. It sounds funny, but it works really well, especially because a traditional round pizza cutter won't cut all the way to the edge when it's still in the baking pan.
I plan on trying this recipe out with some other topping variations. Everyone really loved it, it's convenient, and it's easy, so it's definitely a keeper!
Today's Events
Wednesday, February 21, 2018