Back to top
Easy Weekday Meals: Mujaddara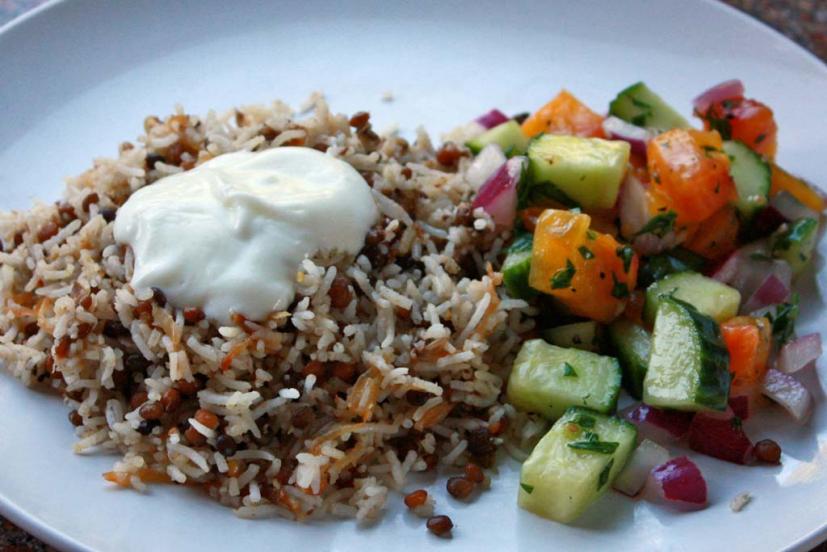 Mujaddara is tasty, easy to make, and my kids love it. This dish is a mix of lentils, rice, and caramelized onions and is a popular comfort food for everyone from Israelis to Palestinians to Egyptians to Jordanians. It's perfect for a vegetarian or vegan main dish (and gluten free, too!) and fantastic as a hearty side dish for kebabs or roast chicken.
Mujaddara is also versatile: it's hearty enough for a chilly evening, but also great served at room temperature as part of a summer lunch. With its subtle spices, mujaddara is an exotic change of pace, but not so much so that your kids won't eat it.
Not only is mujaddara tasty, but it's healthy, too. Lentils are considered one of the super foods—high in fiber, protein, vitamin B, and iron, and when combined with rice make for a complete protein dish. Olive oil and onions have plenty of health benefits, too. We usually accompany mujaddara with one or two different fresh Mediterranean-inspired salads, such as cucumbers and yogurt, or tomatoes, cucumbers, and red onions.
While the traditional version can be a little time consuming to make, we've managed to simplify the recipe considerably using the pre-cooked lentils from Trader Joe's. (Find them in the refrigerator in the produce section, near the salad.) Feel free to make this dish even more healthy by substituting brown rice for the more traditional white rice—since brown rice takes so long to cook we usually make things super easy by using Trader Joe's frozen organic brown rice, which is a staple in our freezer.
Ingredients
1 package (17.6 oz.) Trader Joe's Steamed Lentils
1 cup basmati or other long grain white rice (OR 2 pouches from a box of Trader Joe's frozen organic brown rice)
1 1/2 cups water
1 tsp kosher salt
2 large yellow or red onions, thinly sliced
1/4 cup extra virgin olive oil
1 tsp ground cinnamon
1 tsp ground cumin
Salt and fresh ground black pepper
Directions
Peel onions, cut in half, and slice thinly into half-moon sections.
Heat a large saute pan over medium high heat and add olive oil.
When olive oil surface is shimmery add onions to the pan. Saute for a minute or two then turn heat down to medium and let cook about 20 minutes, stirring occasionally. You want the onions to cook down into sweet, caramelized nuggets of goodness. It's OK if they get a little brown on the edges, but don't burn them.
While the onions are cooking, cook the rice. For basmati rice, rinse rice thoroughly, then add to pan with 1 1/2 cups cold water and a teaspoon of salt. Bring to a boil, then cover and reduce heat to low. Let cook 15 minutes. Remove pan from heat and let it sit with the lid on for another 5 minutes. Of course if you're using frozen rice, you don't have to do anything.
Add cinnamon, cumin, and pepper to the onion mixture in the pan, and stir to mix thoroughly. Cook for another 2 minutes or so.
Open lentil package and add to the pan, breaking them up with a wooden spoon until all the lentils are separated. Thoroughly mix lentils with the onions and spices and cook for a few minutes to heat lentils through.
Add the cooked rice and gently fold into the lentil and onion mixture. If you're using frozen brown rice, cook according to package directions (3 minutes in the microwave on high) first. Add salt and more pepper to taste. Let it all cook over low heat for a few minutes to let the flavors combine.
If we're serving mujaddara as a main dish, we often dollop some plain Greek yogurt on top. Leave off the yogurt and it's suitable for a vegan diet. This recipe serves four (or more) as a main dish or eight as a side.
The salad in the picture is a simple combination of heirloom tomatoes from our garden, chopped Persian cucumbers, chopped red onion, and minced flat-leaf parsley, dressed with a little lemon juice, extra virgin olive oil, salt, and black pepper.
Another great Middle Eastern inspired salad that we often make consists of two to three chopped Persian cucumbers (available at Trader Joe's or Whole Foods; feel free to substitute half an English cucumber) stirred into a cup of thick Greek yogurt. Add a 2 teaspoons or more of dried crushed mint, a small clove of minced garlic, and salt and pepper to taste.
Enjoy!
Sign up for tips & news for Marin families!