Back to top
Explore Golden Gate Park's Stow Lake by Boat!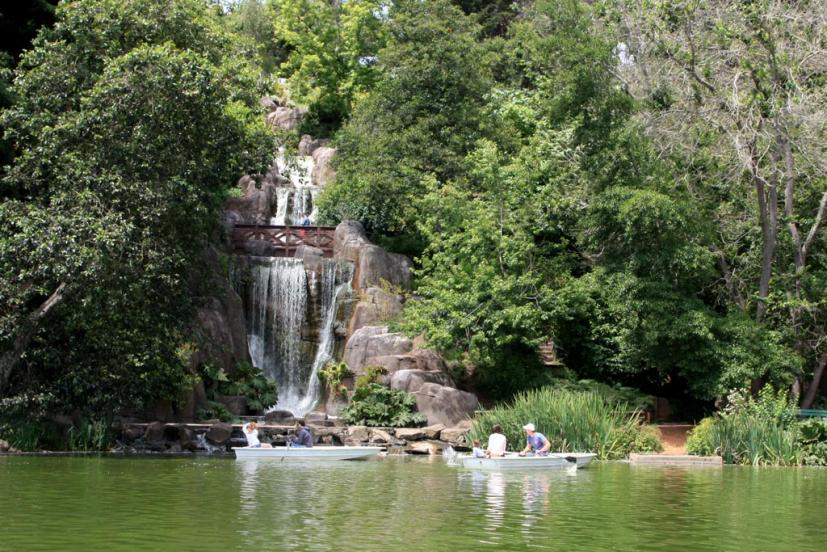 If you're looking to get away for the day and sooth frayed nerves and anxieties in this age of coronavirus, there's nothing better than going on a leisurely boat ride on a calm lake. Fortunately for families in the Bay Area, you can do this right in the heart of San Francisco's Golden Gate Park at Stow Lake! The Stow Lake Boathouse is open for boat rentals and takeout dining, and it's an ideal destination for a social-distanced family outing and to celebrate the 150th anniversary of Golden Gate Park this year.
Boating on Stow Lake is a San Francisco tradition that dates back to 1893, when this man-made lake was created in Golden Gate Park. In the middle of the lake is Strawberry Hill, which is the highest point in the park. The Stow Lake Boathouse, built back in 1946, is a charming building that looks kind of like an alpine chalet. It was recently restored and revamped, offering visitors a new fleet of boats for rent and locally-sourced food from its expanded cafe.
Here you can rent pedal boats ($28.50 per hour), row boats ($22.50 per hour), electrically assisted pedal boats, and large four- to six-passenger pedal boats (both $38.50 per hour). Pedal boats are our favorite, since it held up to four people (two pedaling, two riding in back). All boaters are required to wear life jackets—safety first! Boats and equipment are sanitized between rentals to keep boaters safe during the COVID-19 pandemic.
Stow Lake is a serene oasis of peace in busy San Francisco, and you can paddle quietly past ducks, turtles, the majestic 110-foot Huntington Falls, a colorful Chinese pavilion, and the rustic Stone Bridge, which dates back to when the lake was first created. Kids love looking for turtles sunning on logs and rocks around the lake, and everyone can take turns pedaling and steering your boat.
Afterward, you can walk around the lake and explore some of the areas you saw from your boat. Cross one of the bridges onto the walking paths that circle the lake and take you onto Strawberry Hill Island. The waterfall is even more amazing up close, and you can cross its base on stepping stones and even walk by it further up on a cute wooden bridge.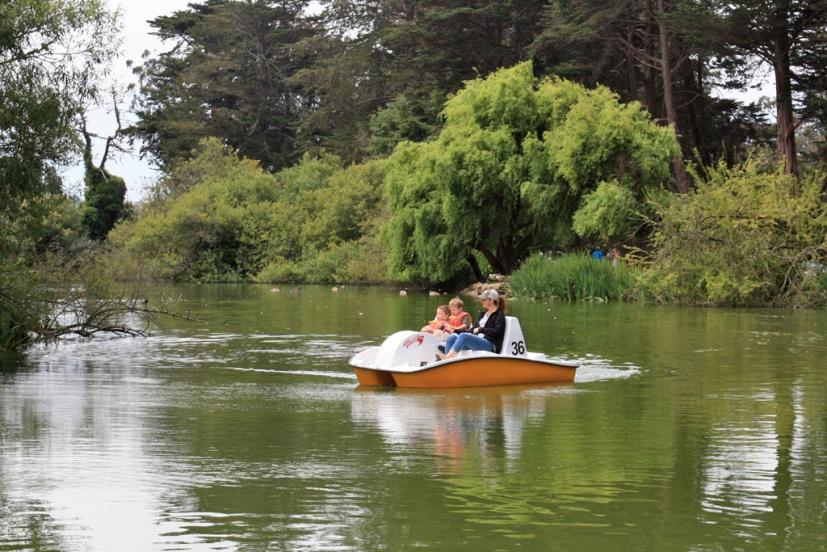 If you're hungry, grab a bite to eat at the Stow Lake Boat House. The cafe there serves locally-sourced snacks and lunch items, including hot dogs, burgers, It's Its, coffee, pastries, and of course the classic pink popcorn (if you grew up in the Bay Area you know what this is).
You'll find plenty of picnic tables in the area around Stow Lake, so you can also bring your own picnic to eat lakeside. Due to COVID-19 the cafe is open for take-out only, which you can pick up at their outdoor walk-up counter.
A visit to Stow Lake makes a great destination for a fun afternoon, or a wonderful adjunct to your visit to Golden Gate Park.
If You Go
Stow Lake is located at 50 Stow Lake Drive near John F. Kennedy Drive in San Francisco's Golden Gate Park. The Stow Lake Boathouse is open daily, 11 am to 5 pm Monday through Thursday and 11 am to 6 pm Friday through Sunday.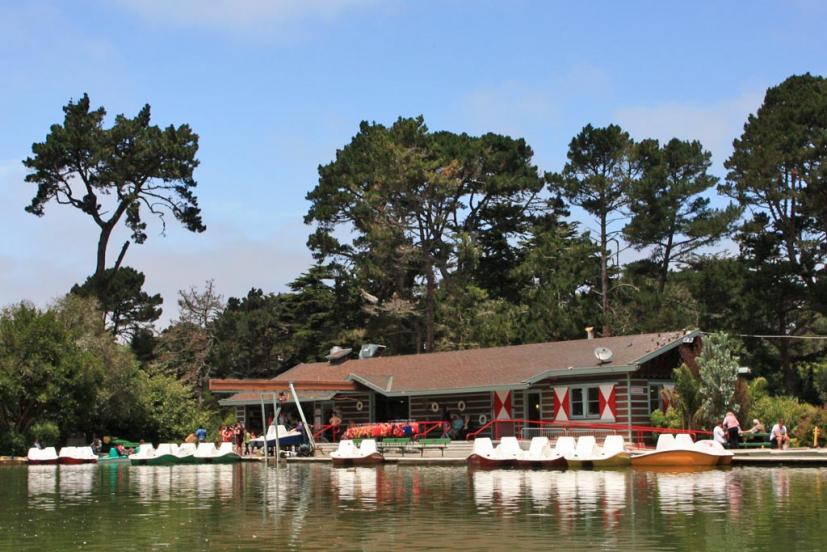 Currently, John F. Kennedy Drive in Golden Gate Park is closed to vehicular traffic. To get there from Marin, take Highway 101 south across the Golden Gate Bridge and take the Park Presidio/19th Avenue exit. Follow Park Presidio through Golden Gate Park where it becomes Crossover Drive. Turn right onto Martin Luther King Jr. Drive and make a U-turn at the first stop sign so you're heading east on MLK Drive. Turn left onto Stow Lake Drive and follow it to the lake.
Free parking is available in the lot near the boathouse or along Stow Lake Drive. It's definitely busier on the weekends than during the week.
Kids aged 14 and under must be accompanied at all times by an adult (18 and up) on the boats. Due to COVID-19, masks or other face coverings must be worn when renting boats, ordering food, or when you can't maintain a six-foot distance from other groups.
Weather in Golden Gate Park can vary, so dress in layers and be prepared for fog or sunshine or anything in between. For more information, visit stowlakeboathouse.com.
Sign up for tips & news for Marin families!