Back to top
Family Farm Tours in Marin and Sonoma County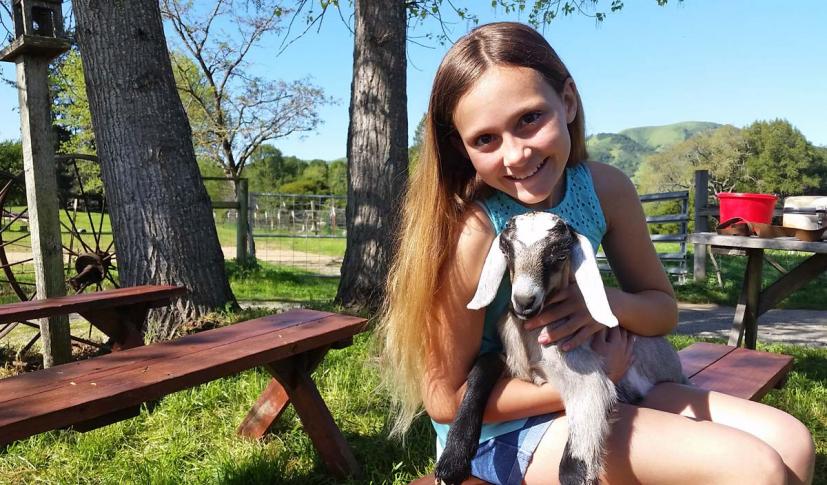 Spring is nearly here, and it's time to enjoy a day on the farm! We're lucky to live in an area that's surrounded by some of the country's top agricultural producers, and some of them offer farm tours for the whole family. On a tour, you can meet animals, learn where your food comes from, and find out about the efforts that local farmers take to provide us with high quality food. My kids love to visit farms, especially at this time of year when there are plenty of baby animals to see.
Here are some of the farms in Marin and Sonoma County that offer public tours. Some are free, and some require advance reservations. Please keep in mind that these are all real working farms, some of which raise animals for human consumption. All these tours are suitable for families.
Blossoms, Bees & Barnyard Babies
On Saturday and Sunday, April 27 and 28, 2019, Sonoma County Farm Trails offers its annual Blossoms, Bees & Barnyard Babies event, where farm hosts will offer tours, activiites, demonstrations, animal petting, crafts for kids, and more. Some farms will offer snacks, lunches, and picnic sites. Admission is free. Learn more and register here.
Slide Ranch
2025 Shoreline Highway, Muir Beach 94965
(415) 381-6155
slideranch.org
Overlooking the Pacific in Muir Beach, Slide Ranch is a real working farm located on the lands of the Golden Gate National Recreation Area. Families can visit and explore the grounds, hike the trails, and have a picnic daily from dusk to dawn. The ranch also offers family programs, including their annual Spring Fling (April 27, 2019), Family Farm Days, campouts, and Toddler Days at various times throughout the year.
Tara Firma Farms
3796 I Street Extension, Petaluma 94952
(707) 765-1202
www.tarafirmafarms.com
Petaluma's Tara Firma Farms is a family-run farm that produces humanely raised chickens, pigs, turkeys, and cattle on 300 acres just across the Sonoma County line. In addition to raising and selling their products, they're committed to educating the public about life on the farm, healthy food, and environmentally sustainable agriculture. They offer fascinating free guided farm tours on Saturdays and Sundays at 11 am. No RSVP required, but please arrive 15 minutes before the tour begins. Private tours are available during the week by advance reservation for $10 per person. Read about our visit here.
Woolly Egg Ranch
503 Tennessee Valley Road, Mill Valley 94941
(415) 388-3051
woollyeggranch.com
Tam Valley's Woolly Egg Ranch is the only working ranch in Mill Valley, and produces eggs, lamb, honey, flowers, plants, and more. The ranch is open most Saturdays from 10 am to 5 pm. You can tour Woolly Egg Ranch on Saturday, March 23, 2019 on their annual Spring Farm Tour. The tour starts at 10:30 am and costs $5 for kids (little ones free) and $7 for adults. See spring lambs, baby chicks, spring flowers, and more! Reserve your spot on the tour through the Tam Valley Community Services District.
Marin Agricultural Land Trust (MALT)
Point Reyes Station, 94956
(415) 663-1158
www.malt.org
Visit some of West Marin's farms and ranches on a MALT hike or tour! MALT is an organization that protects Marin County's agricultural lands, and they offer numerous hikes, picnics, tours, and other events throughout the year. RSVP for the wildflower family hike on Leiss Ranch on April 13, 2019. Most hikes and tours are open to both members and the general public. Prices vary, but kids under 12 are usually free. Advance reservations are required.
Toluma Farms & Tomales Farmstead Creamery
5488 Middle Road, Petaluma 94952
(707) 878-2142
www.tolumafarms.com
Tour this goat and sheep dairy in West Marin and learn about the farm's history, visit animals, hike to the pastures, and see how cheese is made. Guided tours take place the first Sunday of each month from 1 to 3 pm and cost $30 for adults and $20 for children; reservations required. Private tours for groups of 10 or more are available, as well as school educational tours.
McClelland's Dairy
6475 Bodega Avenue, Petaluma 94952
(707) 664-0452
www.mcclellandsdairy.com
Learn about the history of this organic dairy farm, pet baby calves, watch cows being milked in the parlor and milk a cow by hand! After the tour, sample the farm's European Style organic artisan butter and shop for products in the Farm Store. The Traditional Farm Tour is approximately 1.5 hours in length and costs $20 for adults 13 and older and $10 for children 4 to 12; it's free for kids 3 and under. You can also purchase a family pack for two adults and two childen for $50. Reservations are required. Private group tours for 1 to 40 people and school tours are also offered. They have a fantastic pumpkin patch here in the fall, too!
Windrush Farm
2263 Chileno Valley Road, Petaluma 94952
(707) 775-3360
windrushfarm.wordpress.com
This working sheep farm in Chileno Valley offers Lamb Days every spring where families can meet the farm's new babies, see a spinning demonstration, milk the goat, and take part in wool activities. Admission is $20 per adult, free for children under 12. You need to RSVP to attend; the next Lamb Day is Saturday, March 16.
Stemple Creek Ranch
Highway 1, Tomales 94971
(415) 883-8253
stemplecreek.com
This family-run cattle ranch in Tomales offers monthly tours where you can take a walking tour, learn about the ranch's history, and see how their grass-fed cattle are raised. They'll BBQ some samples to taste, too. Feel free to bring a picnic lunch to enjoy on the ranch. Tours cost $15 for adults and $5 for kids 5 to 10; free for children 4 and under. Check their website for dates, times, and directions.
Sign up for tips & news for Marin families!