Back to top
Family Hike at Phoenix Lake
Like Tennessee Valley further to the south, Phoenix Lake is one of Marin's most popular spots for outdoor recreation. Located on Marin Municipal Water District watershed lands, Phoenix Lake sits at the base of Mt. Tamalpais near the town of Ross. It's a great place for a family hike or bike ride with small children, as the trails that lead to the lake and ring it have gentle slopes and relatively short distances that are manageable by most.
There are also numerous more challenging trails accessible from Phoenix lake that are sure to please more advanced hikers or mountain bikers. You'll see a lot of people running and walking dogs (on-leash dogs are allowed on trails) as well as hiking and mountain biking.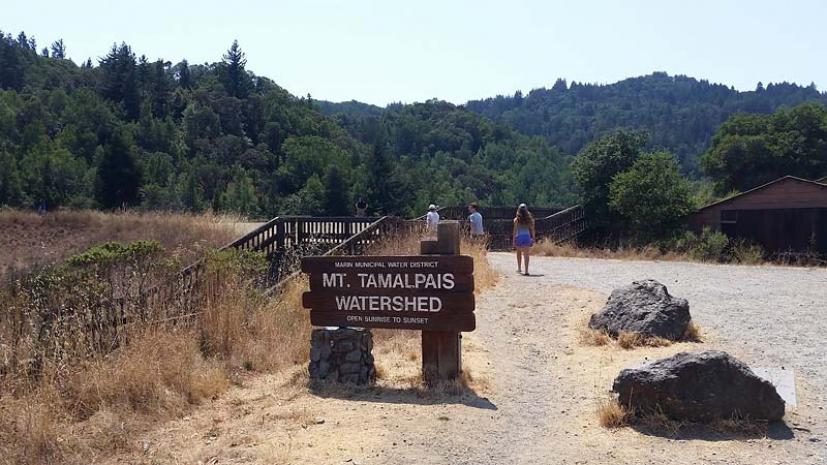 The best access to Phoenix lake is the small parking lot located in Ross's Natalie Coffin Greene Park, located at the end of Lagunitas Road. Since Phoenix Lake is a popular place, the parking lot tends to fill up quickly. On weekends, you'll want to get there well before 11 am, otherwise you'll either need to wait for a spot to open up or park down on Lagunitas Road or around Ross Common and walk or bike up to the trailhead. On weekdays parking is less challenging, but the lot can fill up early on nice days.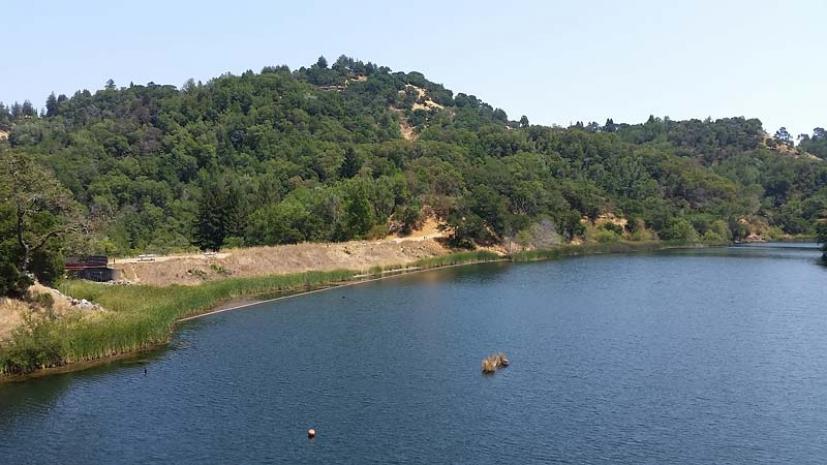 Natalie Coffin Greene Park is pleasant, with a creek, a picnic area, and bridges that kids love to run across. It's a great spot for checking out the goings-on in the creek and wading in the water. Head across the large bridge and uphill on the fire road to get to Phoenix Lake. Near the top of the road, you'll come across the spillway, which during the winter and spring serves as a dramatic artificial waterfall that the kids love to look at.
Once you're at the top of the hill, you'll find yourself at Phoenix Lake. Go either left or right to follow the trail that rings the lake, which is about 3 miles in length. The trial on the right side is wider for much of its distance. A good heavy-duty jogging stroller can be used on much of the trail, although it will be tough to make it all the way around, especially when the trail is wet. Your best bet for hiking with babies and toddler is a baby carrier backpack.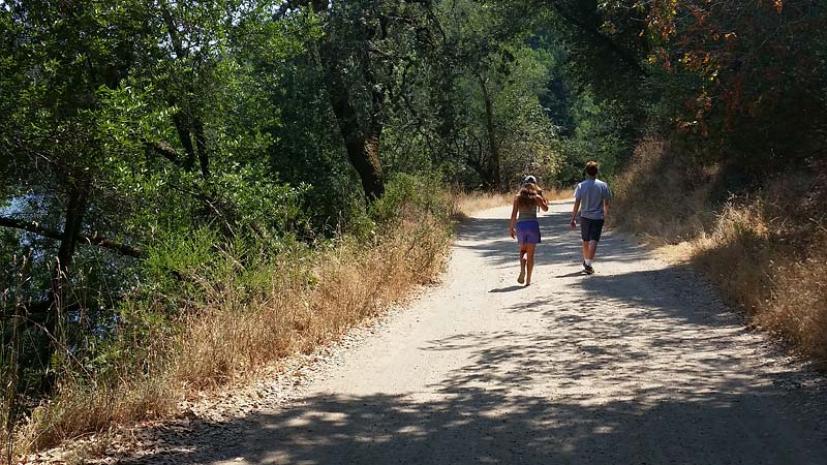 There's a lot for kids to look at here, including turtles and river otters who live in the lake, wildflowers, and numerous birds and other local wildlife. It's a pleasant place to enjoy the outdoors and let the kids run around. There are also benches placed at frequent intervals along the trail.
Getting There
Take Sir Francis Drake Boulevard to Ross and turn into Ross at Lagunitas Road. Follow Lagunitas Road to Natalie Coffin Greene Park at the very end of the road. Pay attention: if there are a lot of cars parked along Lagunitas Road, then chances are the parking lot is full. Keep in mind that the much of Lagunitas is a no-parking zone. There are picnic facilities and portable toilets near the parking lot. Additional pit toilets are located up at the lake.
Sign up for tips & news for Marin families!