Back to top
Family Ski and Snow Fun on the Mountain at Tahoe's Northstar California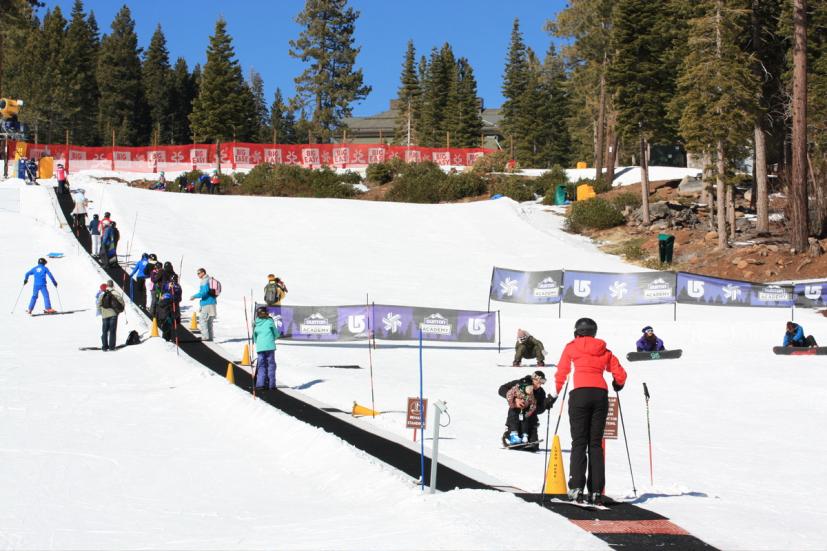 This is the first of two articles on our family ski experience at Northstar California Resort near Lake Tahoe. The second article can be found here.
While it's true that we've been having an unusally dry winter in Calfornia, it's a myth that there's no snow up in the mountains. We spent last weekend at Northstar California, Tahoe's family-friendly ski resort, and they've been busy making their own snow to augment the stuff that's fallen naturally. As a result, the vast majority of their trails and lifts are open, and it's a great time to visit and hit the slopes with the family.
We've been discussing taking a trip up to the mountains for a while, so the kids were really excited to play in the snow and take ski lessons. The fantastic weather, the wide range of family activities and amentities, the magical atmosphere on the mountain and in the Village, and the amazingly friendly and warm Northstar staff all made for a memorable weekend.
As one of the premier family snow sports destinations in the Sierras, Northstar has plenty to do for both kids and adults. The Big Easy, their beginners' area at mid-mountain, boasts gently sloped terrain for a fun learning experience. The Big Easy is also home to Northstar's Ski and Snowboard School and the Burton Snowboard Academy.
Of course if you and your children are looking for something a bit more challenging there are many other skiiing and snowboarding options, from the popular intermediate trails accessed via the Zephyr or Vista Express to the black diamond runs on the Summit or Backside to the enormous 22-foot Superpipe designed by Olympic snowboard champion Shaun White (Northstar is White's home mountain).
I haven't been skiing in quite a few years, but I picked right back up on it. It's amazing how it can all come back to you so quickly. I started out on the Big Easy's beginner runs, and then as my confidence built, I had fun shooting down some of the more advanced trails off the Arrow Express lift. I have to say if felt great to be out on the slopes again, and I can't wait to come back and ski again.
Kids' Ski and Snowboard Fun at Northstar
This was the first time skiing for our children, so they both took a half-day private ski lesson up on the Big Easy. We were amazed at the progress they made, and their awesome and patient instructor, Heather, made sure that they not only learned but had a great time in the process.
A gentle "magic carpet" lift brought the kids up the learning slope; they worked their way up the hill and down and longer and longer runs incrementally through the lesson. By lunch time they were both whizzing down the trail like seasoned skiers. It's actually a kick to hang out by the kids' lesson area and watch as they improve their skiing skills.
Northstar offers half-day and full-day group lessons through its Ski and Snowboard School for kids ages 3–12, and half-day (three hour) and full-day (six hour) private lessons. If your kids don't want to ski or take lessons but you want to get out on the slopes, don't worry—guests at Northstar California can take advantage of the Minor's Camp, a licensed childcare facility that will keep little ones ages 2–6 busy with fun activities and outdoor play while you're skiing on the mountain.
Advance reservations are recommended for all lessons and for Minor's Camp. If you reserve 24 hours in advance you'll get $10 off all kids' group lessons and lesson packages.
If your kids are ready to hit the slopes, they'll find two Kids' Adventure Parks on the mountian. These are areas with kid-sized terrain features that are packed with whoops, bumps, gullies, and slides for plenty of skiing and snowboarding fun.
If you don't have ski or snowboard equipment, you can rent gear for the whole family at Northstar, too. You can even reserve your rental online and pick up your gear in the Village when you get to the resort.
Family Dining on the Mountain
By the end of the kids' half-day lesson everyone was pretty hungry, so we grabbed some lunch at the Day Lodge at mid-mountain. This busy lodge is home to numerous dining options from grilled-to-order burgers to pizza to salads. Needless to say, there are plenty of kids' options on the menu.
Prices are actually really reasonable for a resort, and the food quality and quantity was outstanding. There's almost too much to choose from at the lodge. Make sure you grab a cookie, too—they're really good and heck, you deserve it after a hard morning on the slopes.
If nothing inside the lodge makes you happy, then you can head outside and grab Mexican fare at Chilly Peppers Cantina or a French-style hot dog or hot Belgian waffle at the Euro Snack stand. You're also welcome to bring your own lunch and eat it out at the picnic tables on the deck, although you'll probably want to rent a locker inside the lodge to stash your food and other stuff while you're skiing.
Dining is also available at the brand new Zephyr Lodge, which just opened this winter. Accessed from the Tahoe Zephyr Express lift from mid-mountain, the Zephyr lodge is made from reclaimed wood and looks like it's been on the site forever. The Zephyr Lodge seats 700 diners—500 inside and 200 on the deck, and has a menu that includes a Napa salad bar, gourmet pizzas, and specialty soups and sandwiches, as well as some breathtaking views of the surrounding mountains. If you just want to go up to the Zephyr Lodge to have lunch and enjoy the view, you can take one of the gondolas on the Zephyr Express that you'll find interspersed with the chairs.
Other Family Snow Fun on the Mountain
We also spent a couple of hours on Northstar's tube run. Tubing is an absolute blast, and a fun alternative or adjunct to skiing and snowboarding. We walked up from the gondola to Northstar's cozy tubing yurt, signed in, grabbed our tubes, and got in line. Sit down in your tube and an attendant clips your tube lanyard to a cable that tows you up the hill. The kids thought this was pretty cool, but not nearly as much fun as the ride back down. The tubing run is approximately 200 feet long, and it isn't just a gentle slope, but a bobsled-style course with plenty of turns and banks for fast
and thrilling ride down the hill.
My husband and son declared this their favorite activity of the trip, and while my daughter professed that the ski lessons were the highlight of her visit, we also made note of the fact that she made more tubing runs than anyone else there during our time slot!
Tubers must be at least 36 inches high and able to grab the tube handles on their own. Everyone has to ride in his or her own tube, although parents can hold on to a child's tube and they can go down the run together that way.
If you haven't ever been tubing, it's a lot of fun, and quite possibly worth a trip up to the mountains just to do it. Tubing at Northstar costs $30 an hour, and it's best to reserve your time slot in advance because it's pretty popular and can get crowded on busy days. The Tubing Center is open weekdays from noon to 4 pm and weekends from 10 am to 4 pm.
Northstar also offers cross-country skiing and snowshoeing on 40 kilometers of groomed trails at its Cross-Country, Telemark, and Snow Shoe Center. You can rent all the cross-country equipment you need there, too.
Relive Your Northstar Experience with Epic Mix
While you're on the mountain, you'll see men and women dressed in bright green snow suits and carrying digital SLRs. They're there to take you photo for Epic Mix, a cool new feature at Northstar. Epic Mix tracks the ID chip in your lift ticket, and every time it's scanned at a lift or you have a photo taken, it's recorded and posted online for you to retrieve later.
At the end of the day, you can log in to your account at EpicMix.com, review your statistics, and see all the photos of your time on the mountain. Photos can be shared on social networking services like Facebook and Twitter, and if you like some of them (and you probably will), you can download high-resolution versions for $20 each.
Relaxing in the Northstar Village
When you're done with your day on the slopes, head back down to the Northstar Village—you can either ski or snowboard down or ride in the gondola—and relax. There are plenty of opportunities to do just that, and we'll cover life in the Village in the next article in our series.
If You Go
Northstar California Resort is located just south of Truckee at 5100 Northstar Drive. To get there from Marin, take Highway 101 to Highway 37 east. Follow 37 through Vallejo and pick up Interstate 80 east. Head east on 80 into the Sierras all the way to Truckee, where you'll take the exit for Highway 267/North Shore Drive. Follow Highway 267 south and turn right onto Northstar Drive.
Take Northstar Drive into the resort; keep an eye out for signs alerting you to which parking lots are full. If you're staying in the Village, proceed to it where you'll find temporary parking while you check in.
Lift ticket prices start at $52 for kids and $88 for adults; you'll get the lowest price by ordering them online in advance. For information, reservations, lift and trail statuses, lodging options, and more, visit www.northstarcalifornia.com.
Many thanks to Northstar California for hosting us during our stay at the resort. We can't wait to come back!
Sign up for tips & news for Marin families!