Back to top
Best Family Camping Spots in Marin
Kids love to go camping, and to many people there's nothing quite like sleeping in a tent, toasting marshmallows over a campfire, and spending some time in the great outdoors. Fortunately, here in Marin County we have quite a few fantastic campgrounds right in our backyard. Here are five of our favorites that are perfect for family camping.
I know we're in the middle of a pandemic and we're all sheltering at home, but eventually this will all be over and you and your family are going to want to get out of the house and into the outdoors this summer.
Many of these campgrounds are booked up for summer weekends months in advance, but you can often find reservations during the week, and cancellations are common, too. Most of the California State Parks, like China Camp and Samuel P. Taylor require reservations through Parks' ReserveCalifornia website. Some of these camp sites, however, are first-come, first served, so if you're lucky you can score a great spot to pitch your tent and enjoy the outdoors.
Samuel P. Taylor State Park, Lagunitas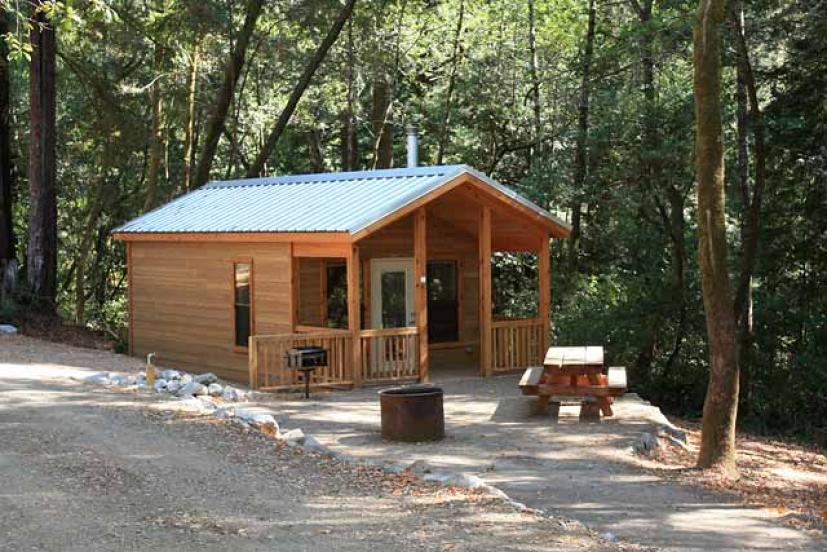 Samuel P. Taylor State Park near Lagunitas offers one of Marin's most popular camping experiences. The park's campgrounds, many sited under majestic redwood trees, include tent and RV sites, as well as the new Madrone Cabins, which offer a more civilized camping experience. Samuel P. Taylor State Park is close the Point Reyes National Seashore and makes a great base for exploring the area.
Tent camping costs $35 per night and cabins are $100 per night with a $100 cleaning deposit. Campsites and cabins are available on a first-come, first-served basis from late September through March; reservations are required during the spring and summer. Campsites include fire rings and charcoal barbecue grills. Drinking water, restrooms, and showers are available. For more information, visit www.parks.ca.gov or call (415) 488-9897. Make online reservations on ReserveCalifornia.
China Camp State Park, San Rafael
China Camp State Park, located east of San Rafael, is just minutes from the freeway but feels a world away. The Back Ranch Meadows campground offers 30 well developed campsites. You'll need to pack in your gear a short distance from the parking area, and the tent sites are private and shady, with fire pits, picnic tables, anti-critter food lockers. Clean restrooms are available on-site. Ranger-led campfire programs take place in a nearby amphitheater during the summer.
China Camp is home to numerous hiking and mountain biking trails, as well as the historic China Camp Village, where you'll find a visitor center, beach, and the Quan Brothers' Snack Shop, open on weekends only, where you can get sandwiches, clam chowder, ice cream bars, cold soft drinks and beer, and other snacks.
Tent camping costs $35 per night. Make reservations through ReserveCalifornia. For more information, visit www.friendsofchinacamp.org or call (415) 456-0766.
Mt. Tamalpais State Park
Mount Tam is one of Marin's most popular spots for outdoor fun, and you can even camp right in the heart of the mountain at the Pantoll, Bootjack, and Steep Ravine campgrounds.
Pantoll Campground offers 16 walk-in campsites on a first-come, first-served basis. Each site has a table, rock barbeque, and food locker, and there are flush toilets and water nearby, and firewood is available for sale. No fewer than eight hiking trails converge on this spot, and it offers easy access to the nearby sites like Mount Tam's East Peak, the Rock Spring trailhead, and the Cushing Memorial Amphitheater (home of the Mountain Play). Bootjack Campground has 15 campsites. Sites here are first-come first-served. Bootjack sites have tables, rock barbeques, and food lockers. Drinking water and flush toilets are nearby. Walk-in tent camping costs $25 per night.
At both these campgrounds, you'll need to pack in your gear a short distance from the parking area. Call the Pantoll Ranger Station at (415) 388-2070 for current rates and availability (the rangers will not hold a campsite for you though).
At Steep Ravine Environmental Campground, families can camp in rustic cabins on a marine terrace near Stinson Beach. Each cabin has a small wood stove, picnic table, sleeping platforms, and an outdoor barbeque. There is no running water or electricity. Pit toilets, water, and firewood are nearby. Cabins cost $100 per night. Make reservations through ReserveCalifornia.
Visit www.friendsofmttam.org for more info on camping opportunities on Mt. Tam.
Angel Island State Park
Located in San Francisco Bay just off Tiburon, Angel Island is a favorite place for day trips, hiking, bicycling, and picnics at Ayala Cove. You can also pack your gear onto the ferry and camp out overnight on the island at one of its several environmental campsites. Campsites include picnic tables, charcoal grills, drinking water, food lockers, and pit toilets,
Getting to these campsites involves a hike of one to three miles from the ferry dock, so they're probably more suitable for families with older children. But then where else can you camp with a view of the Golden Gate Bridge and San Franciso Bay? Bicycles are allowed, which can make the trip easier.
Camping on Angel Island costs $30 per night. If you happen to have a boat, you can moor off Ayala Cove and stay overnight for $30. We're looking forward to the camping cabins that are planned for the island, too! For more information, visit www.angelisland.org. Make reservations through ReserveCalifornia.
Olema RV Resort & Campground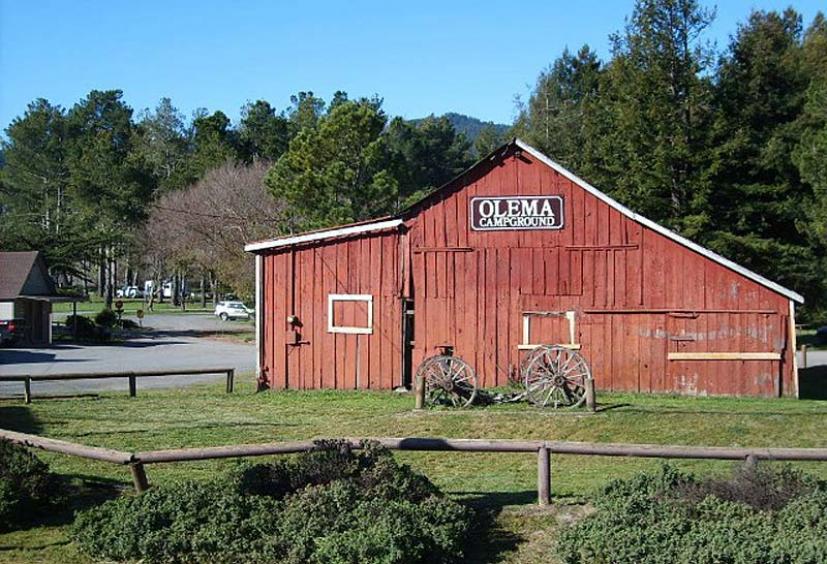 While largely catering to the RV crowd, the Olema Campground also offers 107 tent sites on its property between Point Reyes Station and Olema, bordering Olema Creek and Highway One. Each site has a fire ring and picnic table, and onsite amenities include a bathrooms and showers; a playground; games like horseshoes, shuffleboard, and volleyball; a general store and post office; and even wifi access. No, you're not really roughing it here, but it might be good for an introduction to camping. Plus the Point Reyes National Seashore is right next door!
Camping here costs a bit more than at the state parks mentioned above, but then none of them have an on-site laundromat, do they? Tent sites cost between $40 and $49 for two people, depending on the season and day of the week; extra campers cost $3 each, and children under 3 are free. More info and reservations at (415) 663-8106 or www.olemaranch.com.
Sign up for tips & news for Marin families!