Back to top
Fun, Sun, and Sand at Pismo Beach and the SeaCrest Oceanfront Hotel
One of the great things about living in California is that you don't have to go far for an amazing family getaway. Whether it's up to the mountains or down to the seashore, you can get where you want to go in just a few hours at most.
We love to explore California's coast, and one of our go-to destinations is the Central Coast town of Pismo Beach. Located about four hours south of the San Francisco Bay Area on Highway One, Pismo Beach is one of those classic California beach towns that encourages you to just unwind and take things a little slower.
Being a tourist town means there's no shortage of places to stay in Pismo Beach. From high-end luxury resorts to budget-friendly motels, there's something for every taste and price range. We like to stay at the SeaCrest Oceanfront Hotel, a fantastic spot for families. We always have a wonderful time at this relaxed and friendly beachside hotel, which is celebrating its 60th anniversary this year.
When you walk through the lobby and onto the hotel's grounds, you feel like you're in Hawaii or another tropical paradise. Everyone at the SeaCrest is friendly and helpful and always makes sure we have an amazing stay.
Families can opt for one of SeaCrest's family suites, which consist of a large room with a king bed and sitting area and a smaller room with two twin beds for the kids. My kids love having their own room with their own TV, and we love the spaciousness of the suite, which also has a mini-fridge, microwave, and a Keurig coffee maker. The hotel also provided complimentary snacks and bottled water.
Most of the rooms at the SeaCrest have a stunning ocean view and are decorated in a cool midcentury-modern beachside look. The SeaCrest is also one of the few hotels in the area that is pet-friendly, so feel free to bring your furry friend along on the trip.
Our favorite part of the SeaCrest Oceanfront Hotel are the grounds and common areas. The hotel's spacious outdoor area includes five acres of lawn, majestic palm trees, three spas, a swimming pool, and plenty of places to hang out, relax, and enjoy the view and ocean breezes. Gas firepits dot the grounds, which hotel staff light when the sun goes down.
As an added bonus, the hotel has gas BBQ grills available for guest use near the swimming pool. These are available on a first-come, first-served basis, and you can borrow BBQ tools from the front desk. We usually pick up some food at the Trader Joe's in nearby San Luis Obispo and grill our dinner outside while the kids swim in the pool, then dine at one of the outdoor tables. After dinner, head to the firepits to toast marshmallows for s'mores! In addition, there's a breakfast offered in the morning, with pastries, fruit, cereal, and more.
Access to Pismo Beach itself is via a staircase that winds down the bluffs. You can walk for miles along this beautiful sandy beach, down to past the historic Pismo Beach Pier. Look for shells, fly a kite, build a sandcastle, and watch the surfers ride the waves.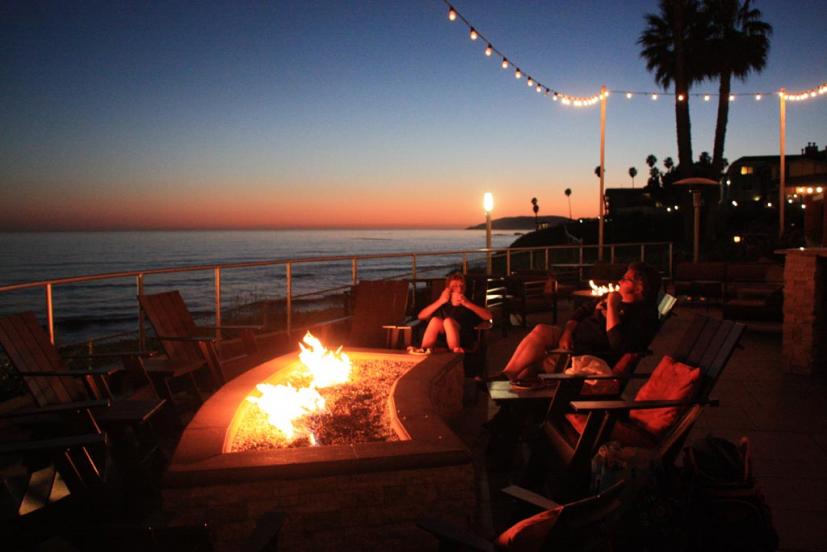 If you don't want to cook for yourself, don't worry, plenty of restaurants can be found nearby. We love Zorro's Cafe and Cantina located just north of the SeaCrest in Shell Beach, at 927 Shell Beach Road. Zorro's serves up fantastic Mexican food and hearty breakfasts and is a favorite with visitors and locals alike. Another of our Pismo Beach faves is the Cool Cat Cafe (198 Pomeroy Avenue, Downtown), an outpost of the Maui restaurant and offers burgers, fish tacos, sandwiches, milkshakes, and more. We didn't get a chance to try the on-site restaurant, Blast & Brew, but lots of guests were picking up takeout and bringing it to the hotel's outdoor tables to eat.
Things to Do
While you could just hang out and relax at the hotel all day and not actually feel like you had to do anything, families will find plenty of activities in the Pismo Beach area. You can explore the miles of beach that are accessible right from the hotel grounds, and even rent beach cruiser bikes at the SeaCrest and pedal into Pismo Beach or nearby Shell Beach.
Close by is Dinosaur Caves Park, a neat little local park with amazing ocean views, walking paths, a cool dinosaur- and sea life-themed playground, and even an amphiteater that hosts an annual family-friendly concert series in the spring and summer. You'll also find a nature center and Monarch butterfly sanctuary at Pismo State Beach. More adventurous types can kayak in the waters offshore and ride an ATV or dune buggy at the Oceano Dunes offroad area south of town.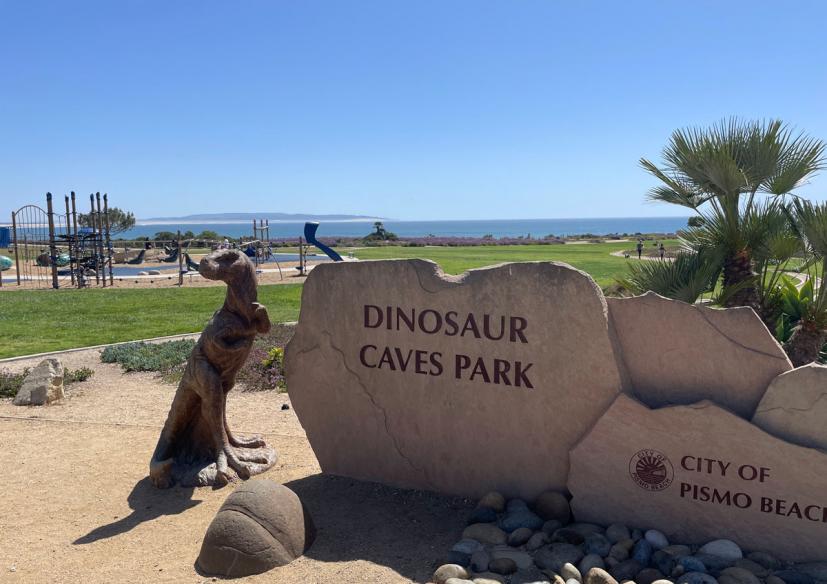 About 10 minutes up Highway 101 is the college town of San Luis Obispo, where you'll find fun in the form of a real-live drive-in movie theater (when is the last time you've been to one of those?), the famous (or infamous?) Bubblegum Alley, a narrow alley downtown where generations of visitors have stuck their used chewing gum to the walls, plenty of shopping, and the historic 1772 Mission San Luis Obispo de Tolosa.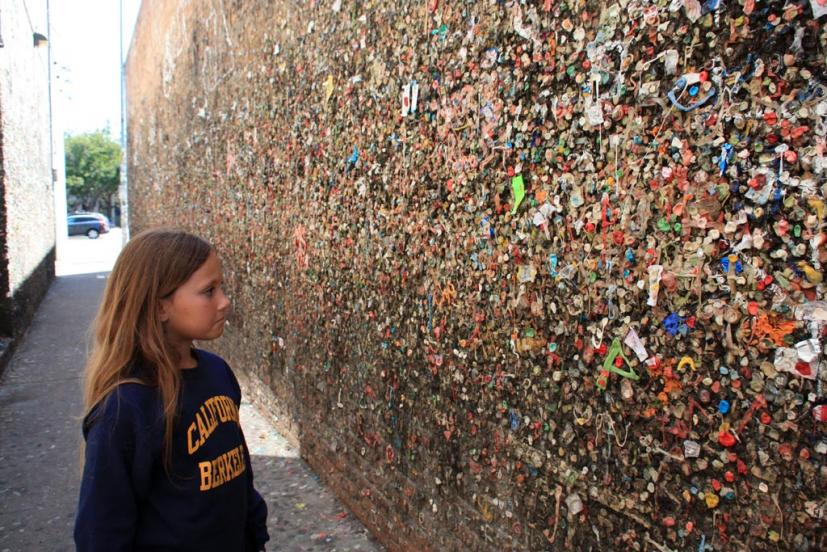 Hearst Castle, media magnate William Randolph Hearst's opulent hillside estate, is in nearby San Simeon. It's about an hour's drive north of Pismo Beach, but it's well worth the trip. Hearst Castle has been closed for a long time due to COVID and then emergency road repairs but it's back open and scheduling tours now. Check out our article about visiting Hearst Castle here.
If you still don't know what to do, the staff at the SeaCrest can offer plenty of recommendations. If you forgot anything like sand toys, frisbees, and kites—no problem. You can buy them in the lobby. You can learn more about activities and events in Pismo beach at www.pismobeach.org.
If You Go
Pismo Beach is about a four-hour drive south of the San Francisco Bay Area. To get there from Marin, head south on Highway 101 across the Golden Gate Bridge and through San Francisco to I-280. Take 280 to San Jose, where you'll head south on 101 again. Follow 101 as it goes through the Salinas Valley all the way to Pismo Beach.
The SeaCrest Oceanfront Hotel is located at 2241 Price Street, Pismo Beach 93449. To get there, take the Price Street/Shell Beach exit off 101 at the north end of Pismo Beach. Turn left at the stop sign onto Price Street and follow it a brief distance; the SeaCrest will be on your right overlooking the ocean.
The SeaCrest is pet friendly and offers a limited number of rooms that accomodate dogs. Breakfast, consisting of pastries, toast, cereal, bagels, oatmeal, yogurt, juice, waffles, and fruit, is included with the price of your room. The hotel offers fresh baked cookies in the afternoon. For more information or to make a reservation, visit www.seacrestpismo.com or call (800) 782-8400.
Sign up for tips & news for Marin families!