Back to top
Great Back-to-School Books for Kids of All Ages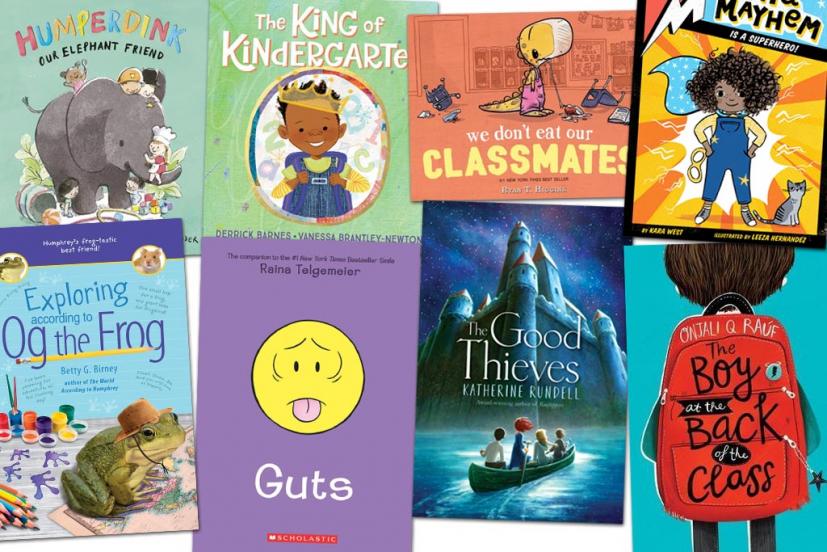 School's back in session and that means everyone needs a great book to read. Clare Doornbos, children's event coordinator at Book Passage in Corte Madera has put together a great list for us with some of the best recent books for kids of all ages. Find them all at your local Marin County library or bookstore.
Ages 1–5
Humperdink Our Elephant Friend by Sean Taylor
When Humperdink the baby elephant joins the children's playgroup, he seems friendly enough, but it soon becomes clear that he's very different and the day doesn't go quite as planned. This beautifully illustrated and humorous title helps children learn the key skill of playing with and accepting new friends, whatever their size, shape,... or species! Exploring themes of empathy and imaginative play, this title is a must-have for young readers seeking to understand the world around them.  
King of Kindergarten by Derrick Barnes
Starting kindergarten is a big milestone—and the hero of this story is ready to make his mark! He's dressed himself, eaten a pile of pancakes, and can't wait to be part of a whole new kingdom of kids. The day will be jam-packed, but he's up to the challenge, taking new experiences in stride with his infectious enthusiasm! And afterward, he can't wait to tell his proud parents all about his achievements—and then wake up to start another day.
We Don't Eat Our Classmates by Ryan T. Higgins
It's the first day of school for Penelope Rex, and she can't wait to meet her classmates. But it's hard to make human friends when they're so darn delicious! That is, until Penelope gets a taste of her own medicine and finds she may not be at the top of the food chain after all… Readers will gobble up this hilarious new story from award-winning author-illustrator Ryan T. Higgins.
Ages 5–8
Mia Mayhem is a Superhero by Kara West
Mia Macarooney is a regular eight-year-old girl who finds out that she's A SUPERHERO! Her life literally goes from totally ordinary to totally super when she's invited to attend the afterschool Program for In-Training Superheroes a.k.a. THE PITS! With easy-to-read language and illustrations on almost every page, the Mia Mayhem chapter books are perfect for emerging readers.  
Exploring According to Og the Frog by Betty G. Birney
Og loves the kids in Room 26, but he's awfully curious about the human world outside his tank! His friend Humphrey has no problem getting out and about, but it's harder for Og because he can't climb the way a hamster can. In the second book in the Og the Frog spinoff of the Humphrey series, Og is ready for adventure and is jumping at the chance to help kids be brave!
Ages 8–12
Guts by Raina Telgemeier          
Raina wakes up one night with a terrible upset stomach. Her mom has one, too, so it's probably just a bug. Raina eventually returns to school, where she's dealing with the usual highs and lows: friends, not-friends, and classmates who think the school year is just one long gross-out session. It soon becomes clear that Raina's tummy trouble isn't going away, and it coincides with her worries about food, school, and changing friendships. What's going on? Raina Telgemeier once again brings us a thoughtful, charming, and funny true story about growing up and gathering the courage to face—and conquer—her fears. For tickets to our event with Raina on Saturday, September 21, visit www.bookpassage.com/telgemeier.
The Good Thieves by Katherine Rundell
Fresh off the boat from England, Vita Marlowe has a job to do. Her beloved grandfather Jack has been cheated out of his home and possessions by a notorious conman with mafia connections. Seeing Jack's spirit is broken, Vita is desperate to make him happy again, so she devises a plan to outwit his enemies and recover his home. She finds a young pickpocket, working the streets of the city. And, nearby, two boys with highly unusual skills and secrets of their own are about to be pulled into her lawless, death-defying plan. From the amazing author of The Rooftoppers.
The Boy at the Back of the Class by Onjali Rauf
There used to be an empty chair at the back of Mrs. Khan's classroom, but on the third Tuesday of the school year a new kid fills it: nine-year-old Ahmet, a Syrian refugee. The whole class is curious about this new boy—he doesn't seem to smile, and he doesn't talk much. But after learning that Ahmet fled a Very Real War and was separated from his family along the way, a determined group of his classmates bands together to concoct the Greatest Idea in the World—a magnificent plan to reunite Ahmet with his loved ones. This accessible, kid-friendly story about the refugee crisis highlights the community-changing potential of standing as an ally and reminds readers that everyone deserves a place to call home.
Sign up for tips & news for Marin families!