Back to top
Indoor Playground & 3rd Wave Coffee at Fox & Kit!
Marin Mommies presents a sponsored article from Fox & Kit, a coffee house and play space in downtown San Rafael.
Fox & Kit is one of Marin's newest additions and one that has everybody talking. Equal parts 3rd wave coffee haus and playground, Fox & Kit caters to both parents and children so no one feels left out.
The moment you walk in the door you know you've come some place special. You're greeted by the smell of fresh ground coffee beans, delicious pastries, and delectable savory eats and a warm welcome from a happy barista. You take in the large airy space and modern Scandinavian-inspired design while soft Bossa Nova jazz dances around you, and you begin to relax—except you're with your child and this doesn't feel like the kind of place you'd normally bring a child.
Then, for some odd reason, the employees seem just as happy to see your child as they are to see you and that's when you see it: on the other side of a floor-to-ceiling wood beam and soundproof Plexiglas partition waits a whole different space; a play space! And not just any play space, a space designed and built to engage children and their imaginations completely.
As the sounds of birds chirp, the space slowly reveals all its hidden nooks and crannies. You watch children sliding like otters down a rolling grass hill and then dart into a tunnel under the hill that leads to a beautiful color changing cave resonating ethereal sounds. You notice how many children are coming out of the costume room dressed as pirates, vikings, and princesses. You see kids giggling as they read a story in a tucked away book nook filled with pillows. You spot little climbers making their way up the tower, scaling the all wood climbing wall and traversing the grassy hill. You admire the child sharply focused on creating an impressive sculpture out of large blue geometric cushions and boulder sized rock pillows.
You sign a waiver, then have to make a choice between having your coffee in a special playground tumbler so you can hang with your little one in the play space or have your coffee in beautiful ceramic mugs, presented on a tray and side of water à la European coffee haus, while your little is monitored by a playground "life guard" as you sit and enjoy your friends, a book or magazine, or get some work done.
Full service birthday party packages are available. For more info see Marin Mommies birthday party guide or visit our website www.foxandkit.com.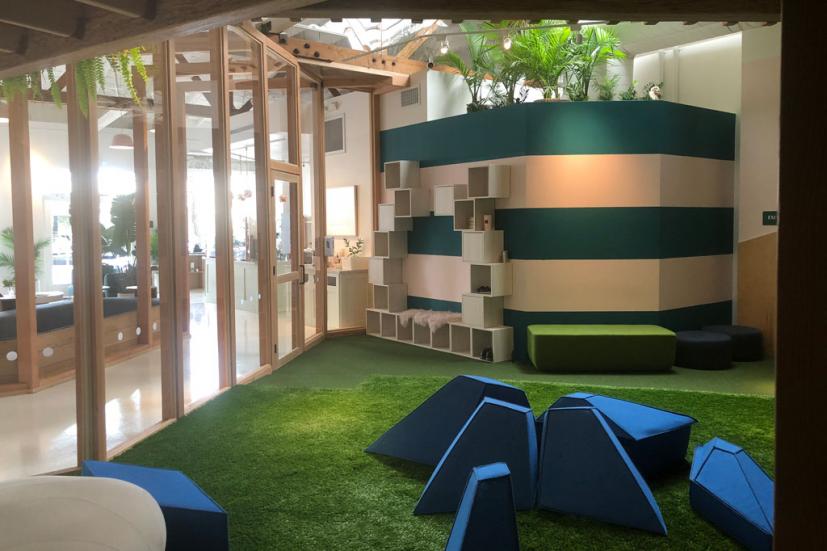 If You Go
Admissions (2.5 hours max; sibling discount 15%, last hour special 50%)
9–23 months $10
24–36 months $12
3–11 years $15
Group discount and memberships coming soon!
Tuesday–Friday 7:30 am–5:30pm
Saturday & Sunday 8 am– noon
Closed weekend afternoons for private birthday parties
Closed Mondays and major US holidays
Fox & Kit is located at 1031 C St. in beautiful downtown San Rafael. Parking garages available across the street and at C St and 3rd.
Sign up for tips & news for Marin families!