Back to top
It's So Nice to Have the Mountain Play Back with "Hello, Dolly!"
L to R: Mrs. Dolly Gallagher Levi (Dyan McBride), Barnaby Tucker (Zachary Frangos), Minnie Fay (Julia Ludwig ).
After a two-year hiatus, the Mountain Play is back, this time with the Broadway classic Hello, Dolly! We are thrilled to see live theater up on the mountain again, and this year's offering is a fun, colorful, and thoroughly enjoyable production that the whole family can enjoy. It's so nice to see the Mountain Play back where it belongs, and it's so nice to be up there on beautiful day, too!
Hello, Dolly! follows the adventures of Dolly Gallagher Levi, matchmaker, meddler, and "woman who arranges things", who sets out to marry Horace Vandergelder, the celebrated Yonkers half-millionaire (unbeknownst to him). Throw in Horace's beleagured employees, a serreptitious trip to New York City, and plenty of misunderstandings, and you have a funny and colorful musical spectacle.
Jerry Herman's classic, feel-good score, performed by a 20-piece live orchestra, features such memorable songs as "Put on Your Sunday Clothes," "Ribbons Down My Back," "Before the Parade Passes By," "Elegance," "It Only Takes a Moment," and of course the famous title song "Hello, Dolly!"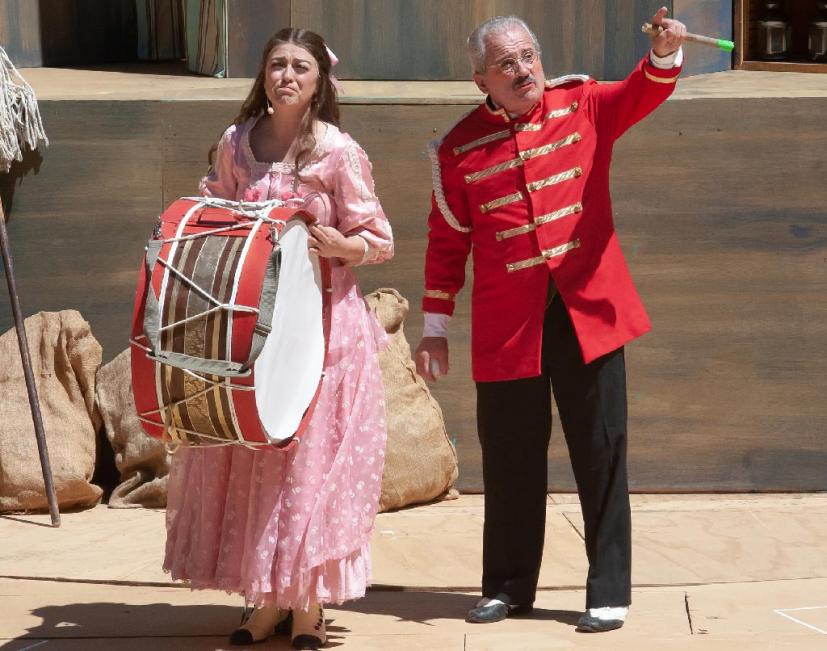 L to R: Ermengarde (Jill Jacobs) and Horace Vandergelder (Randy Nazarian).
Hello, Dolly! is directed by Jay Manley (who also directed the last four Mountain Play offerings Grease, West Side Story, Beauty and the Beast, and Mamma Mia!), musical direction is by David Möschler leading a live orchestra, and the exciting and energetic choreography — some of the best we've seen in a Mountain Play production — is by Zoë Swenson Graham.
We loved the performance by leads Dyan McBride (who previously starred as Donna in the Mountain Play's 2018 Mamma Mia!) as matchmaker Dolly Levi, and Mountain Play veteran Randy Nazarian as crabby Yonkers half-millionaire Horace Vandergelder. They both made the roles their own and had great comic timing. Other standouts included Chachi Delgado as Cornelius Hackl, Jen Brooks as Irene Malloy, Zachary Frango at Barnaby Tucker, Julia Ludwig as Minnie Faye, and Jill Jacobs as Vandergelder's sob-prone neice Ermengarde.

L to R: Barnaby Tucker (Zachary Frangos), Minnie Fay (Julia Ludwig), Cornelius Hackl (Chachi Delgado), Irene Molloy (Jen Brooks). 
As always, it's a wonderful live musical theater production for everyone in the family, and a classic Marin County experience. My family and I look forward to going to the Mountain Play every year. Great tickets are still available for all Mountain Play performances on May 29 and June 5, 11, 12, and 19. All shows begin at 2 pm, but there's plenty of pre-show entertainment for everyone so make sure you get there early.
If You Go
General seating tickets to the Mountain Play are $45 for adults, $40 for seniors 65+, and $25 for youths 4–25 plus a 10% state park access fee; children 3 and under are free. Reserved seats are also available. Order tickets online here or by phone at (415) 383-1100. You can also buy your tickets at the gate; the box office opens at 9 am, and tickets are an additional $5 for adults and seniors.
Performances start at 2 pm and end around 4:30 pm, but of course you'll want to get there early for maximum fun, with pre-show entertainment beginning at 12:30 pm.
When you go, make sure you're prepared for any kind of weather. Even if it's foggy in Mill Valley, the Rock Springs and amphitheater area can be above it all and bathed in bright sunlight. Of course it can be windy and foggy, too. There are some areas of shade in the amphitheater, but they're available on a first-come, first-served basis.
Hats, sunscreen, and layered clothing are a must at the Mountain Play. Make sure you bring plenty of drinking water, too, although drinking fountains and drink concessions are available at the play. Amphitheater seats are all stone blocks, so stadium cushions, pillows, blankets, and other forms of padding are a good idea, too. You can rent pads at the amphitheater, and reserved seats have pads in place already.
The Mountain Play takes place at the Cushing Memorial Amphitheater in Mount Tamalpais State Park. While you can park up at the amphitheater, which is located near the Rock Springs trailhead and parking area, parking there is very limited, and fills up early in the day.
The traditional way to get to the Mountain Play is to take one of the shuttle buses ($10 adults, $5 youth) up from Tamalpais High School or the Manzanita Park-and-Ride Lot (near the Buckeye restaurant). Buses leave approximately every 15 minutes starting at 10 am (last bus is at 12:45 pm), and will take you back down the mountain after the play.
For more information on how to get to there, read our Insider's Guide to the 2022 Mountain Play. You can learn more about the Mountain Play at www.mountainplay.org or (415) 383-1100.
All photos by Robin Jackson, courtesy the Mountain Play.
Sign up for tips & news for Marin families!