Back to top
Let the Farm Come to You With a CSA or Organic Grocery Delivery in Marin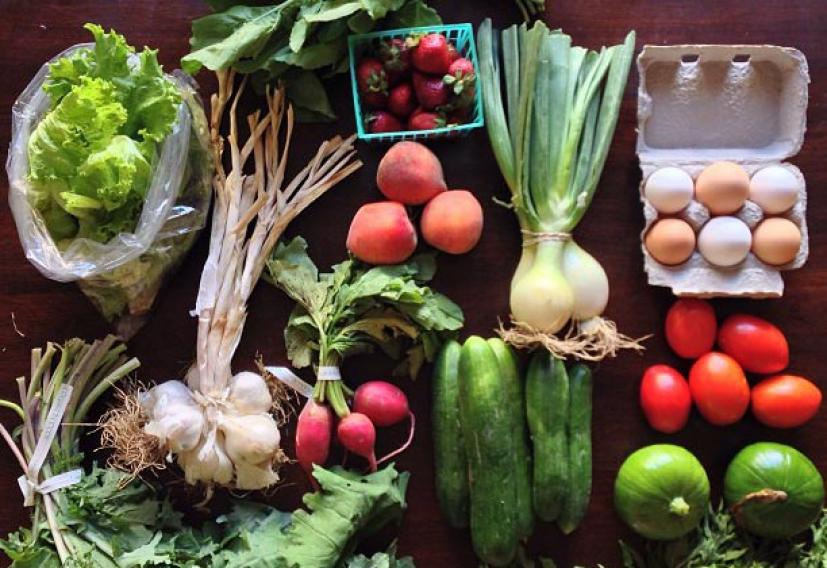 Photo: Eatwell Farm Box, Flickr/Lindsay Eyink, CC BY 2.0
It's the new year, and that usually entails resolutions about being more healthy. But families are busy, so simple tasks like just going grocery shopping for healthy food can be inconvenient, if not downright difficult. (This goes double for new parents!) Fortunately, you can get healthy, organic food delivered right to your doorstep or to a convenient local pickup area here in Marin County through a local farm's CSA or an organic grocery delivery service. These services all feature locally grown or produced sustainable food—perfect for the healthy locavore family!
Local Farm and Fishery CSAs
What's a CSA? CSA stands for "community supported agriculture", and it's a way for consumers to get involved with local farms and food producers, support their efforts, and get great seasonal food, too. Every week, or month, or whatever time period you choose, you'll get a box full of fresh produce, eggs, meat, and more, ready to be incorporated into your family meal plan. Some farms, like Petaluma's Tara Firma Farms, offer other benefits to their CSA members, like special events and farm tours.
Most of the time, the farms choose what goes in subscribers' boxes, but that's usually a good thing, since they know what's at the peak of season. Prices for CSA boxes vary depending on the farm and the size and frequency of the box.
Sound interesting? Here's our list of local CSAs that deliver to areas within Marin County. Many of them deliver or offer drop off sites in San Francisco, Sonoma County, and the East Bay, as well (check their websites for exact locations). We've made sure to note which CSAs offer delivery right to your door, too.
West Marin's pioneering producer of grass-fed beef and other sustainable pasture-raised meats provides CSA subscribers with packages that include either meat or poultry. Since Marin Sun Farms raises a variety of livestock, you might receive beef, chicken, lamb, pork, goat, and duck. CSA boxes are delivered directly to your door. More info: www.marinsunfarms.com
Based out of Monterey, Real Good Fish is like an agriculture CSA, but for seafood. Real Good Fish works with local fishermen and promotes sustainability. Offerings include rockfish, petrale sole, black cod, squid, sardines, Dungeness crab, and oysters. Current Marin pick-up locations are in Sausalito and Mill Valley. We got a chance to try some of their fish and it was fantastic! More www.realgoodfish.com
DailyFreshFish.com was created by Pucci Foods, which has been distributing seafood in the Bay Area for nearly a century. Since Pucci supplies mainly to the restaurant industry, the seafood you get from DailyFreshFish.com is of the same quality. They're also committed to green practices and sustainability—packaging is 100% recyclable and they support the Monterey Bay Aquarium Seafood Watch and the NOAA FishWatch programs, among others. dailyfreshfish.com
Petaluma's Tara Firma Farms offers CSA subscriptions that include its sustainably and humanely raised beef, pork, chicken, and eggs, as well as fresh veggies from nearby organic producers like Marin's County Line Harvest. Other local products like butter, cheese and bread are available, too. Members are encouraged to visit the farm for one of their great events, or just to come and spend the afternoon. More info: www.tarafirmafarms.com
First Light Farms in Petaluma delivers its CSA boxes right to your door or to drop sites in Novato, San Rafael, Fairfax, and Mill Valley. Boxes contain a variety of certified organic veggies and fruit. Deliveries are on Wednesdays. More info: www.firstlightcsa.com
Full Belly Farm is a 350-acre certified organic farm located in the Capay Valley in Yolo County. Their CSA boxes contain a variety of seasonal fruits and vegetables. Deliveries to Marin drop-off sites, located in Mill Valley, San Anselmo, and San Rafael, are on Thursdays. More info: www.fullbellyfarm.com
Eatwell Farm near Dixon in Yolo County delivers its CSA boxes to pick-up sites in San Rafael and Mill Valley on Thursdays. Boxes include a variety of fresh produce, and eggs are available as an add-on. Their website even offers recipes using the food included in each week's box! More info: www.eatwell.com
Capay Organic in Yolo County's Capay Valley was one of the pioneers in the local organic foods movement. They deliver their farm boxes with fresh seasonal fruits and veggies directly to homes and office in Marin County at various times during the week. Offerings include a traditional local CSA box, mixed fruit and vegetable boxes, all veggie, all fruit, a no-cooking box with easy-to-prepare fruits and vegetables, or even and organic snack pack for the office. More info: www.farmfreshtoyou.com
Frog Hollow Farm, a family-run organic farm in Brentwood, offers delivery of seasonal organic fruit bi-weekly on Tuesdays in Marin County through its Happy Child CSA. Marin pick-up locations are Mill Valley Community Center and Marin Country Mart in Larkspur. Add-ons include veggies, granola, olive oil, honey, dried fruit, baked goods, eggs, and more. More info: happychildcsa.com
Organic Grocery Delivery Services
If you want a little more choice over what you get, as well as a wider selectioin of groceries, consider using one of these organic grocery delivery services. They often offer products from the same local farmers and producers that you visit at the farmers market, but deliver them right to your doorstep. Some of these services offer pick-up at convenient local locations, too.
Did you know your local Whole Foods offers grocery delivery? Place your order online and expect delivery withing one hour from grocery delivery service Instacart. You can choose from thousands of products, including organic produce, meat and fish, pantry goods, bakery and deli items, and more. Get free delivery with your first order. More info: wholefoodsmarket.com
Good Eggs, based in San Francisco, bills itself as an online farmers market. Select foods from local growers and producers, and they'll deliver them right to your door. You get to see who grew or made your food, and order directly from them. Order everything from meat, seafood, dairy products, and eggs to fruits and veggies to meal kits, prepared meals, pantry staples, and baked goods. They also offer gifts and goodies like fresh flowers, plants, and candy. Good Eggs offers free delivery to homes and businesses in Marin County (as far north as San Rafael) Monday through Friday. More info: www.goodeggs.com
GrubMarket allows you to choose organic fruits, veggies, dairy, eggs, meats, and more from a variety of different farmers and producers, as well as natural products, home goods, snacks, drinks, and more. Delivery is right to your door. More info grubmarket.com