Back to top
Let the Farm Come to You With a CSA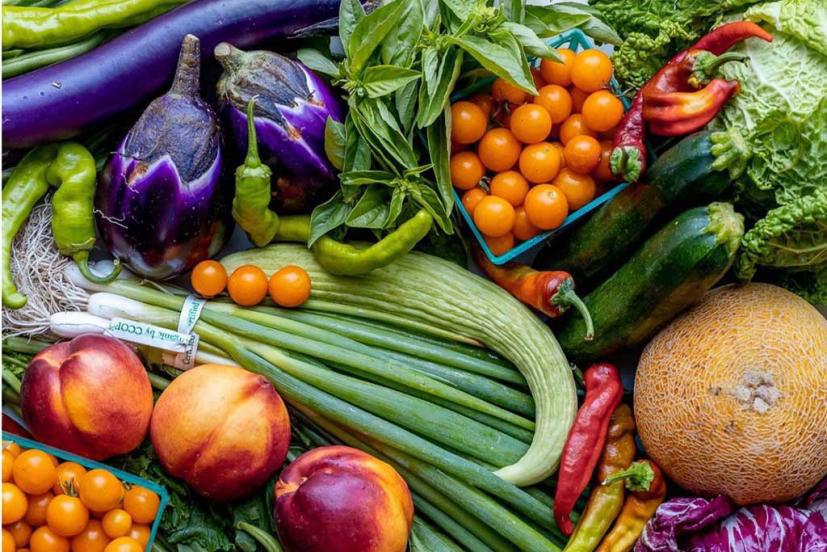 Photo courtesy of Real Good Greens
Skip the lines at the grocery store and get healthy, organic food delivered right to your doorstep or to a convenient local pickup area here in Marin County through a local farm's CSA!
What's a CSA? CSA stands for "community supported agriculture", and it's a way for consumers to get involved with local farms and food producers, support their efforts, and get great seasonal food, too. Every week, or month, or whatever time period you choose, you'll get a box full of fresh produce, eggs, meat, and more, ready to be incorporated into your family meal plan. Some farms, like Petaluma's Tara Firma Farms, offer other benefits to their CSA members, like special events and farm tours.
Most of the time, the farms choose what goes in subscribers' boxes, but that's usually a good thing, since they know what's at the peak of season. Prices for CSA boxes vary depending on the farm and the size and frequency of the box.
Sound interesting? Here's our list of local CSAs that deliver to areas within Marin County. Many of them deliver or offer drop off sites in San Francisco, Sonoma County, and the East Bay, as well (check their websites for exact locations). We've made sure to note which CSAs offer delivery right to your door, too.
Petaluma's Tara Firma Farms offers CSA subscriptions that include its sustainably and humanely raised grass-fed beef, pork, and chicken. Other items like eggs, fresh veggies, butter, cheese and skin care products are available, too. Members are encouraged to visit the farm for one of their great events, or just to come and spend a Sunday afternoon. More info: www.tarafirmafarms.com
Mill Valley-based Real Good Greens works with independent Bay Area farms to deliver organic produce right to your doorstep or a convenient pickup location. They were born last year during COVID shelter-in-place to help support local farmers. Box contents vary depending on what's in the field, and you can add on other items like bread, cheese, eggs, flowers, and wine. Right now, delivery is limited to Marin, San Francisco, and parts of the East Bay and South Bay. More info: www.realgoodgreens.com
Full Belly Farm is a 350-acre certified organic farm located in the Capay Valley in Yolo County. Their CSA boxes contain a variety of seasonal fruits and vegetables. Deliveries to Marin drop-off sites, located in Mill Valley, San Anselmo, and San Rafael, are on Thursdays. More info: www.fullbellyfarm.com
Eatwell Farm near Dixon in Yolo County delivers its CSA boxes to pick-up sites in San Rafael and Mill Valley on Thursdays. Boxes include a variety of fresh produce, and eggs are available as an add-on. Their website even offers recipes using the food included in each week's box! More info: www.eatwell.com
Capay Organic in Yolo County's Capay Valley was one of the pioneers in the local organic foods movement. They deliver their farm boxes with fresh seasonal fruits and veggies directly to homes and office in Marin County at various times during the week. Offerings include a traditional local CSA box, mixed fruit and vegetable boxes, all veggie, all fruit, a no-cooking box with easy-to-prepare fruits and vegetables, or even and organic snack pack for the office. More info: www.farmfreshtoyou.com
Frog Hollow Farm, a family-run organic farm in Brentwood, offers delivery of seasonal organic fruit bi-weekly on Tuesdays in Mill Valley and Saturdays at Marin Country Mart. Add-ons include veggies, granola, olive oil, honey, dried fruit, baked goods, eggs, and other artisan foods. More info: www.froghollowcsa.com
Based out of Moss Landing, Real Good Fish is like an agriculture CSA, but for seafood. Real Good Fish works with local fishermen and promotes sustainability. Offerings include rockfish, petrale sole, black cod, squid, sardines, mussels, and oysters. Current Marin pick-up locations are in Sausalito, Larkspur, San Anselmo, San Rafael, and Fairfax. Direct home delivery is available, too. We got a chance to try some of their fish and it was fantastic! More www.realgoodfish.com
Sign up for tips & news for Marin families!