Back to top
Make a Bowl of Guacamole for Game Day
For some reason, guacamole seems to be perpetually linked to the Super Bowl. Come February, the pebbly-skinned green fruits go on sale at the supermarket, inviting you to make a big bowl of delicious creamy guacamole to snack on or add to recipes.
When it comes to guacamole, I think simpler is better. There are so many recipes out there, often including ingredients ranging from tomatoes to mayonnaise (yuck!) to those seasoning packets you find in the supermarket containing who-knows-what. The New York Times cooking section even recently published a recipe that included green peas! Most traditional guacamole recipes eschew these ingredients in favor of simplicity, allowing the flavor and unctuous texture of the avocado to be the star. I think my favorite guac recipe which I'm sharing here does just that.
It's almost a shame that we all feel the need to make guacamole during the Super Bowl, given that California's avocado season runs from March through October. The imported Mexican ones seem to be a decent substitute, but I've found that the avocados from Peru and other South American countries aren't as good.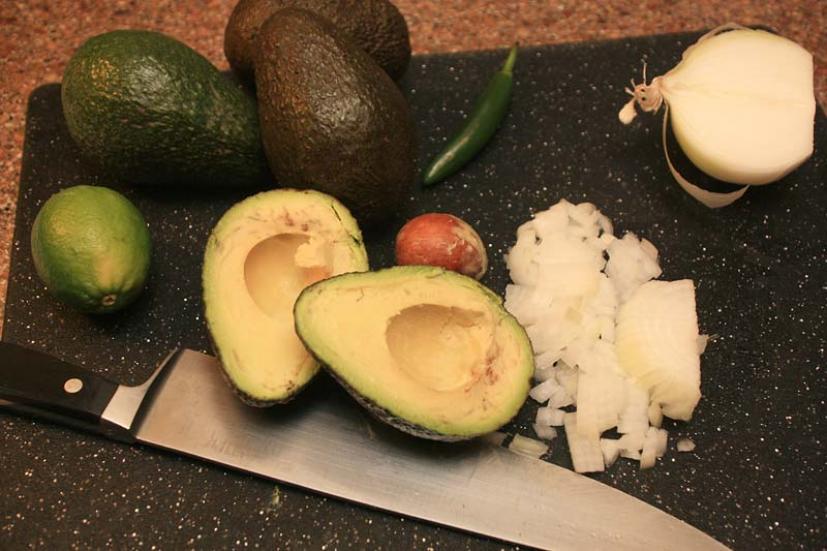 Ingredients
4 ripe Hass avocados
3 tablespoons white onion, finely chopped
1–2 serrano or jalapeño chiles, seeded and finely chopped
1/2 cup finely chopped cilantro
1–2 limes
Kosher salt to taste
Directions
Cut avocados in half lengthwise and remove pits by striking them with your knife blade and giving them a twist. Scoop the pulp out with a spoon and put in a mixing bowl. Mash with a large fork or potato masher to your desired consistency—I like it a little chunky.
Stir in chile and onion, then add juice of half a lime and season with salt. (Tip: put the chopped onion in a colander or strainer and rinse with cold water to get rid of much of the strong onion taste and bite.) Taste guacamole and adjust seasoning, adding up to 2 limes' worth if you need more acid.
Finally, stir in the cilantro and you're ready to go. Serve with warm tortilla chips, or as a topping for tacos, tostadas, and other dishes.
Today's Events
Wednesday, March 21, 2018