Back to top
Make Your Own Holiday Gingerbread House
There aren't many things that invoke the holidays more than a timeless gingerbread house. Sure, you could buy a kit and put the pieces together, but it's actually pretty easy to make your own. It's fun, too, and the kids love getting involved, of course.
First thing you have to do is come up with a design for your house. We created a template for a basic gingerbread house that's simple to create and put together. (You can download our template, formatted for two letter-size sheets of paper; get page one here and page two here.) You can embellish and elaborate on this little house and make it your own special creation.
Make the Gingerbread House Pieces
Next, make your dough. It's similar to the dough you use to make gingerbread cookies, except that it contains more flour to make it sturdier and better suited for architectural use. It's perfectly edible, though, as my kids will attest to. I adapted the following gingerbread dough recipe from King Arthur Flour, and it turned out really well.
Gingerbread Dough Ingredients
3/4 cup buttermilk
6 tablespoons (3/4 stick) unsalted butter, melted
1 cup dark brown sugar, packed
1/2 cup dark molasses
1 large egg
5 cups all-purpose flour
1 teaspoon baking soda
2 teaspoon pumpkin pie spice
1/2 tsp salt
Directions
Combine melted butter and buttermilk in a large bowl and mix for a minute or two, then add brown sugar, molasses, and egg and beat until thoroughly combined.
Whisk together dry ingredients in a medium bowl. Note: I used the pumpkin pie spice mix from Trader Joe's, since I've had good luck with it before, and we were not disappointed. You can also just use a teaspoon each of ground ginger and cinnamon.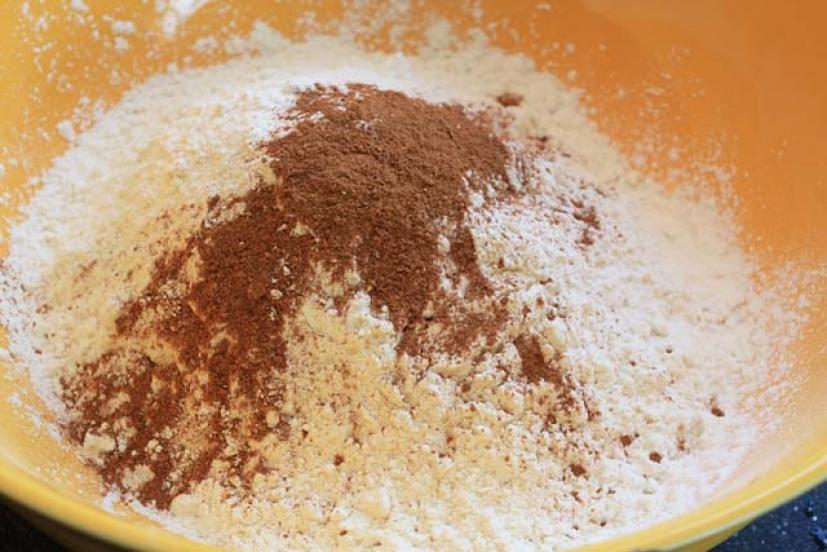 Add dry ingredients bit by bit into the wet mixture until it's all incorporated. The dough will be smooth and stiff, but not overly sticky or crumbly.
Scoop dough out onto a floured board or baking sheet and divide in half. Wrap each half loosely in plastic wrap and flatten slightly with a rolling pin, then chill in the refrigerator for at least an hour.
To make the gingerbread house components, preheat your oven to 350ºF, and print and cut out the paper template pieces. Prepare at least two baking sheets by lining them with parchment paper or greasing them lightly.
Roll out your dough to into a rough rectangle about 1/4 inch thick. Using a sharp paring knife, trace around each of the template pieces (grown-ups will probably want to help with this). You'll need one base, two gable ends, two roof panels, and two sides.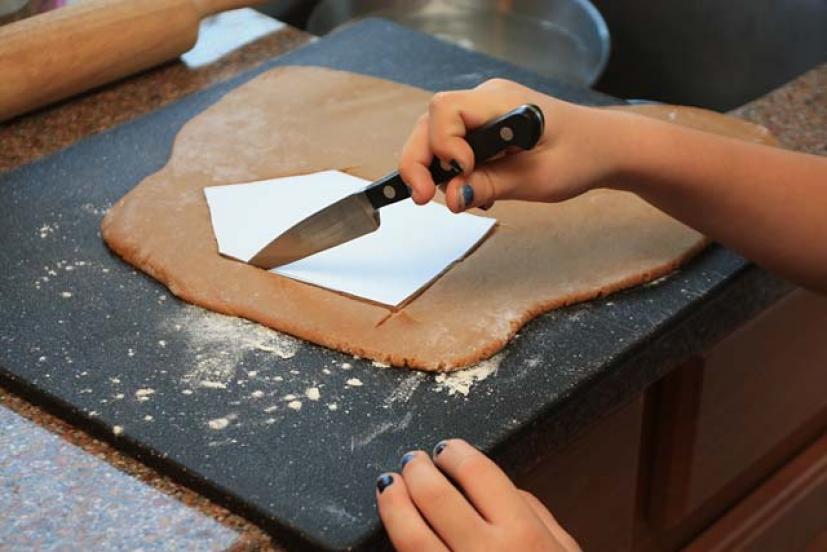 Now's the time to add windows and doors to your house. We put a star-shaped window in each gable end, and cut a door and two square windows in one of the side pieces.
After cutting out the pieces, carefully transfer them to the prepared baking sheets. You might have to re-shape them a little after you transfer them. Make sure there's at least a half-inch between each piece, since they'll expand a little when baking. Bake for 15–18 minutes or until the edges begin to brown. Remove from oven and allow to cool thoroughly before you assemble your house.
You should have plenty of dough left over to make gingerbread people, animals, trees, and other accessories for your house.
Putting it All Together
While you're waiting for your gingerbread to cool, make the royal icing that you'll use to glue the house together. This sticky white icing is made with egg whites and powdered sugar, and will harden firmly after a few hours. Like the gingerbread house components, it's perfectly edible, too. Feel free to add a few drops of vanilla or peppermint extract to it if you like. You can also add food coloring, too.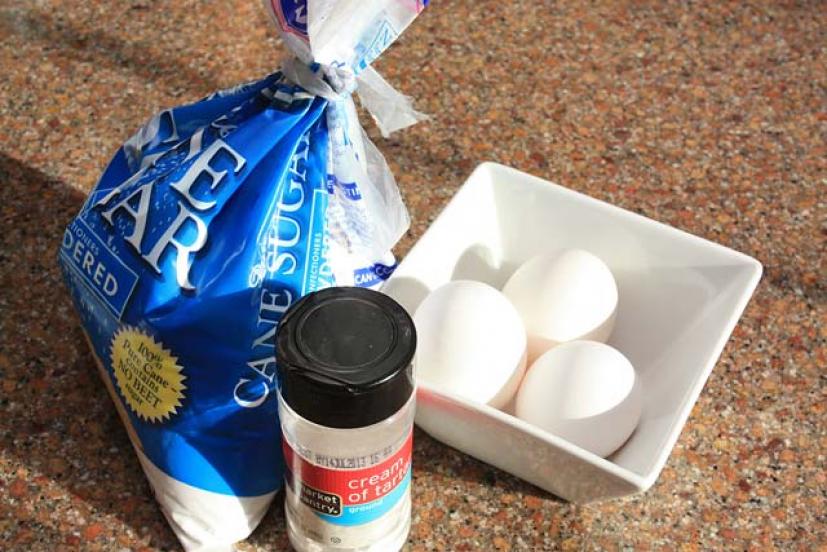 Royal Icing Ingredients
3 egg whites
1/2 teaspoon cream of tartar
4 cups powdered sugar
Directions
In a large bowl, beat egg whites and cream of tartar until they're foamy. Add powdered sugar bit by bit until it's all thoroughly incorporated. The more you mix the icing, the stiffer it will get. You want it to be of a smooth, flowing consistancy that will be easy to pipe onto your gingerbread house pieces.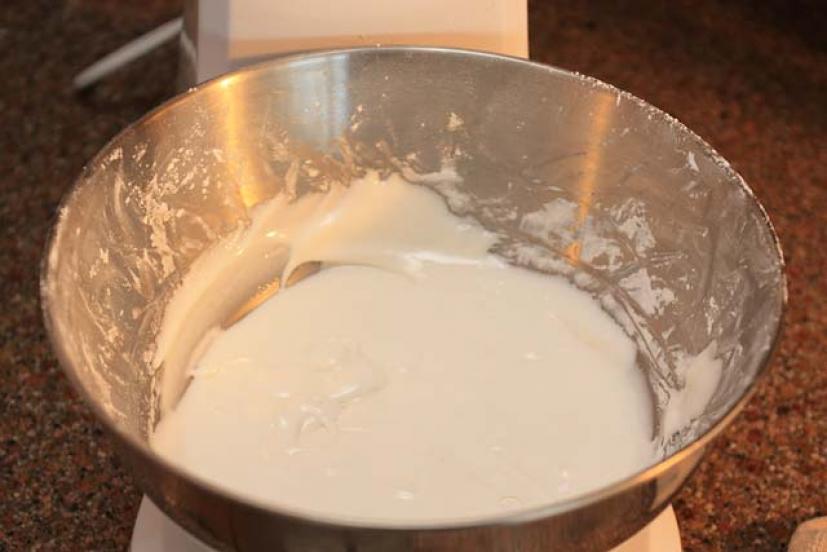 Don't make the icing too far in advance, or it will harden and be difficult to work with. I poured it into plastic zip-lock bags, which served double-duty as pastry bags for piping, too.
When you're ready to assemble your house, place the base piece on a flat plate or tray, or even a piece of cardboard. Snip off the end of a zip-lock bag and use it to pipe a row of icing on the sides of base. Arrange the four walls around the base, making sure they're as straight as can be. You can use some props here (like boxes or cans) to hold the walls in place while the icing hardens; about 15 to 20 minutes.
Once the walls are firmly in place, glue on the roof panels. Use plenty of icing, since it not only holds the house together, but looks pretty, too.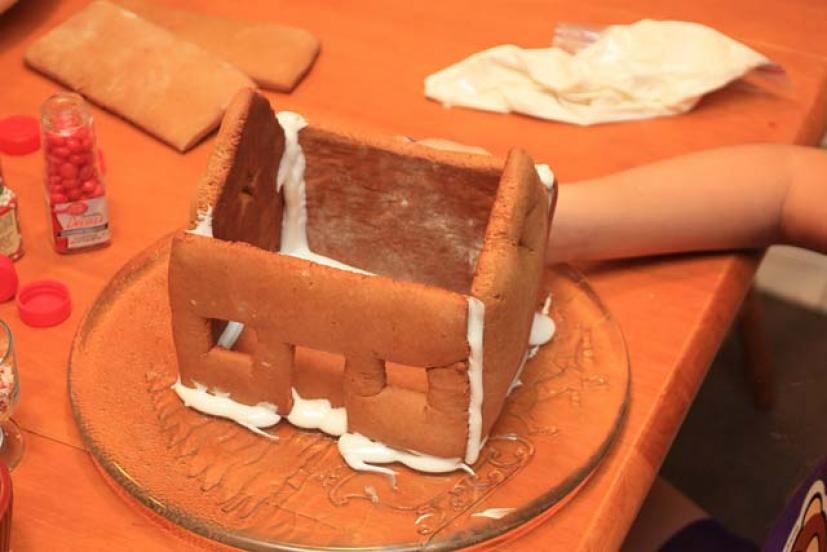 Decorating Your Gingerbread House
Now's the time to get creative! Decorate your gingerbread house with candies and sweets, using royal icing to glue them to the walls and roof. The only limit here is your imagination. Marshmallows, candy sprinkles, gumdrops, nonpareils, red hots, chocolate chips, M&Ms, and peppermint candies all work well as gingerbread house decorations.
My daughter took over the whole decorating process and did it herself, and I think she did a fantastic job! Use the leftover dough to make gingerbread people, animals, snowmen, and trees to add some character to your house.
Your finished gingerbread house makes a terrific holiday table decoration or centerpiece. Or, if you like, you can eat it. (We actually managed to resist that tempation this time around, probably because we at plenty of cookies made from the leftover dough.)
Sign up for tips & news for Marin families!