Back to top
Marin Weekend Family Fun for April 19–21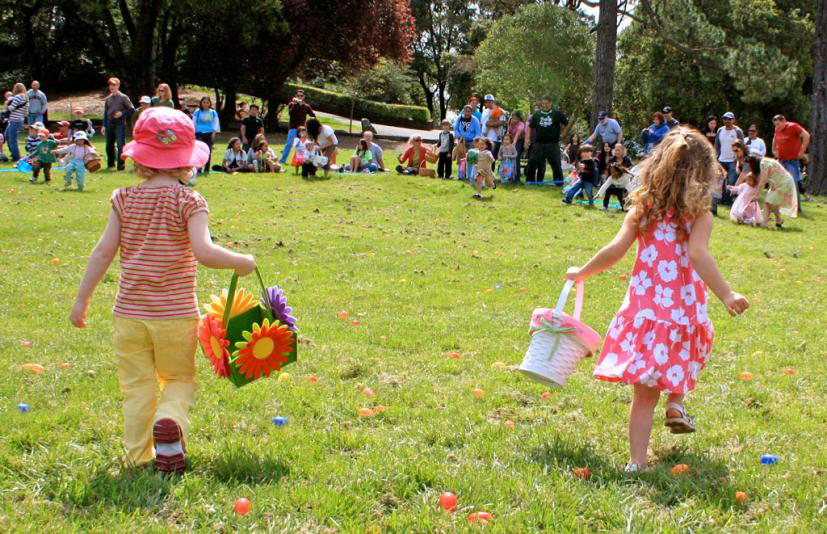 Here are our picks for a variety of festive events, brunches and other activities for children and families this weekend. Find more events for the whole week in Marin and beyond in our Family Events Calendar.
Friday, April 19
Sing and Dance with Miss Kitty!
San Rafael City Hall (next to Library)
Friday, 10:30–11:15 am

We are pleased to announce the return of Miss Kitty to the San Rafael Public Library! Miss Kitty is back for a series of fun family concerts that are just right for kids birth to 8 years old. No registration, no space limitations, all are welcome! Location: San Rafael City Hall City Council Chambers, next to the downtown Library at 1400 5th Avenue.

Event details.

Goat Yoga at the Mart
Larkspur Landing
Friday, 11 am, 11:35 am, 12:10 pm

Meet us at the Mart for Goat Yoga led by Karly Railsback! All levels, no yoga experience necessary. Goat yoga is not only a fun way for you to experience a little playtime with our barnyard buddies, but it socializes the little goats as well! Cost: $40; reservations required. Location: 2257 Larkspur Landing Circle.

Event details

Open Studio: Egg Decorating
Little Tree Studio, San Anselmo
Friday, 3:30–5 pm

Little Tree Studio open studio projects today will be decorating an egg using a wax kistka. Reserve your spot on their website under drop-ins. For ages 2.5–5 with adult. Location: 14 Ross Avenue, San Anselmo. For more info, call (415) 295-7037 or

visit their website.

Ocean Warriors Earth Week Clean Up
McNears Beach Park San Rafael
Friday, 3:30–5:30 pm
Our third grade Ocean Warriors are hosting a Clean Up in celebration of Earth Week! We are inviting everyone to McNears Beach (North of the pool) to help clean the beach and enjoy activities including: Micro-Classes on Tidal Ecology, Plastic Pollution, Naturalist Talk, Mindfulness, Water, and Habitat Restoration. More activities to come! :) RSVP please! Location: 201 Cantera Way, San Rafel. Event details.
Movie Night-In Search of Greatness
Sports Basement Novato
Friday, 6–9 pm
Through the eyes of the greatest athletes of all time, "In Search of Greatness" is a cinematic journey into the secrets of genius. Top athletes, including Michael Jordan, Pelé, Jerry Rice and Wayne Gretzky, explore the importance of nature versus nurture in determining athletic ability. There will be complimentary beverages, snacks, and raffles throughout the duration of the evening. 100% of the proceeds from this night go back to the Friends of Stafford Lake Bike Park. Come join us for an amazing evening of inspiration and celebration! Tickets: $5. Purchase tickets here. Location: 100 Vintage Way, Novato. Event details.
23 Elephants: The Monkey King
The Playhouse in San Anselmo
Friday, 7 pm, Saturday, 2 pm & 7 pm, Sunday, 2 pm
A brand new musical based on the famous Chinese fairy tale! A theatrical retelling of an ancient Chinese folktale, The Monkey King is originally part of the Ming Dynasty epic novel, "Journey to the West."  Be a part of the West Coast Premiere of Common Man Musicals modern twist on this classic tale! Written by Jonathan Fadner and Kimberly Sau Wai Fadner.  Tickets: $15 general, $28 reserved. Location: 27 Kensignton Road, San Anselmo. Event details

Pippin
Berkeley Playhouse
Friday, 7 pm, Saturday, 1 & 7 pm, Sunday, 2 pm

Prince Pippin, son of King Charlemagne the Great, is on a quest for the secret to true happiness and fulfillment. Unable to gain insight from his father, Pippin decides that experience and adventure is the path to enlightenment. He heads into war as a soldier, explores relationships without love, tries his hand at artistry—he even becomes the king of the land! And yet happiness eludes Pippin. Tickets: $20–$45.

Event details

Annual Flashlight Egg Hunt
Memorial Park, San Anselmo
Friday, 8:15 pm sharp
Back by popular demand, the annual Flashlight Egg Hunt returns on Friday at 8:15 pm sharp! Bring your basket and a good flashlight. For youth ages 8 and up. Egg hunt lasts for about 5 minutes, so don't be late. Sponsored by San Anselmo Parks and Recreation. For more info, call (415) 258-4640. Event details
Flashlight Egg Hunt
Piper Park, Larkspur
Friday, 8:30 pm sharp
Grab your flashlight and basket and join us at Piper Park for the Flashlight Egg Hunt! Eggs stuffed with goodies will be spread across a section of the Park. When the horn sounds, flashlights will turn on and the search begins! The hunt will begin at 8:30 pm so don't be late! Separate area for 6 and under. Location: 250 Doherty Dr, Larkspur. Event details
Saturday, April 20
Free Entrance Days in the National Parks
Muir Woods National Monument, Mill Valley
Saturday, April 20
Come experience the national parks! On four days in 2019, all National Park Service sites that charge an entrance fee will offer free admission to everyone. Event details
Breakfast with Bunny & Egg Hunt
Corte Madera Community Center
Saturday, 8–10 am
Breakfast with Bunny includes a delicious breakfast and an egg hunt. Get your tickets early for Breakfast with Bunny because they do sell out. Cost: $10 per person. Call or register online using code #510. Location: 300 Tamalpais Drive, Corte Madera. Register by calling (415) 927-5072 or online here.

Basics of Freshwater Fishing


McInnis Park, San Rafael
Saturday, 9–11 am
Join us at McInnis Park where rangers will teach tips and tricks of the trade of freshwater fishing at the park's pond. This event requires a short walk up and down a large a hill to reach the park's pond. All skill levels are welcome, and no experience is necessary. Dress in layers and wear sturdy shoes. Don't forget to bring a fishing pole. A fishing license is required for participants 16 and over. Friendly dogs are welcome but must be leashed. Rain will cancel. Location: 310 Smith Ranch Road, San Rafael. Event details.
Earth Day at Hal Brown Park
Hal Brown Park at Creekside, Greenbrae
Saturday, 9 am–noon
Join us to clean up litter from the Corte Madera Creek watershed and restore habitat at Hal Brown Park at Creekside. All skill levels are welcome and no previous experience is necessary. All ages are welcome; anyone under the age of 18 must be accompanied by a supervising adult. Dress in layers you can get dirty, wear sturdy shoes, and bring water and a pair of gloves. Snacks will be provided. Location: Meet across from Marin General Hospital at Hal Brown Park at Creekside (at the pedestrian bridge near the bike path). Questions or to RSVP: Contact Volunteer Coordinator Kirk Schroeder at (415) 763-2977. Event details.
Novato Clean & Green Day
City of Novato Civic Green
Saturday, 9 am–1 pm
Bring the family and celebrate Earth Day by cleaning up our beautiful town.

Help remove litter from schools, city streets, median strips, creek banks, parks & bike paths. Some supplies will be provided. Sponsored by the Novato Streetscape Committee.

For more information or to register, please leave message on the Clean and Green hotline (415) 899-8244.

Meet at Novato Civic Green, 901 Sherman Avenue. Event details
Volunteer at Presidio Earth Day
Fort Scott Field, San Francisco
Saturday, 9 am–1 pm
Join us for Presidio's annual volunteer event devoted to celebrating Earth Day! We're excited, yet again, to be a part of the Golden Gate National Recreation Area's Earth Week celebration.. As a part of this event, Presidio volunteers are invited to bring friends and family for a morning of stewardship projects with a BBQ potluck and lawn games to follow. All ages are welcome. Registration is required. Event details
Mt Tam Earth Day: Bald Hill Broom Bust
Bald Hill Open Space Preserve, San Anselmo
Saturday, 9 am–1 pm
Please join MMWD, Marin County Parks, and One Tam for their annual Bald Hill Broom Bust! Volunteers will focus on containing the spread of French and Scotch broom monocultures and also eradicate pioneer patches. Volunteers can meet at Deer Park and hike, bike or carpool to the site. Group leaders will depart Deer Park at 8:45 am. Or just meet the group at the site! This is a family-friendly event. Lunch provided. Event details
US Coast Guard Open House
USCG Station Bodega Bay
Saturday, 9 am–3 pm
Bring the family to the United States Coast Guard Open House for lots of free demos. Free to the public. Search and rescue demos, boat vehcile and helicopter tours, K-9 demos, games, food and drink. Location: 355 Doran Beach Road, Bodega Bay. Event details.
Berkeley Spring Egg Hunt Extravaganza
Willard Park, Berkeley
Saturday, 9:30 am–1 pm
Spring Egg Hunt Extravaganza all ages. Egg hunts will be divided by ages with a scavenger hunt for kids 11 and up. The day will be filled with tons of fun activities, including a petting zoo, a visit with the Spring Bunny, spring-themed arts and crafts, an interactive kid's carnival with fun prizes, and Bunny Hop Dance Lessons! Youth participants will receive a basket to collect all their spring goodies. Admission: $10 youth. Location: 2720 Hillegass Avenue, Berkeley. Event details.
Easter Celebration & Easter Egg Hunt!
Marin Country Mart Farmers Market
Saturday, 9:30 am–2 pm
Come to the Marin Country Mart Farmer's Market for an egg hunt and Easter fun. Egg hunt starts at 10:30 am for ages 3 and under and 10:45 am for ages 4 and up. There will be an Easter art project and egg dying, too. Event details.

Las Gallinas Lions Egg Hunt at Marinwood Marinwood Community Center, San RafaelSaturday, 10 am sharp!

Children will enjoy a free Egg Hunt (at 10 am sharp) hosted by the Las Gallinas Lions Club and the Johnnys Doughnuts food truck will be on hand! Location: 775 Miller Creek Road.

Event details

Fairfax's Annual Easter Egg Hunt Bolinas ParkSaturday, 10 am sharp!

Come join the Easter bunny in a hunt for eggs at Bolinas Park!  There will be music by James K, face painting, bubbles, and more fun! For ages 8 and below. Don't forget your basket!

Event details

39th Annual Easter Egg Hunt
Ives Park, Sebastopol
Saturday, 10 am sharp!

Every year, the Saturday before Easter, the Kiwanis Club of Sebastopol hosts the Annual Easter Egg Hunt at Ives Park in Sebastopol! Children of all ages are invited to find treats and colored eggs! The Easter Bunny will be present and loves to pose with kids . Get there early for lots of treats and surprise eggs! The free event starts at 10am sharp! Location: 154 Jewell Avenue, Sebastopol.

Event details

Easter Parade and Egg Hunt
Parade at 10:00 am down Caledonia - Line-up at 9:45 a.m. at the Johnsons Street Fire Station (egg hunt at Robin Sweeny Park)
Saturday, 10–11:30 am
Sausalito's old-fashioned Easter celebration starts with a parade on Caledonia Street at 10 am, followed by an egg hunt at Robin Sweeny Park at 10:10 am (Easter Egg Hunt: Round 1 - 6-9 year olds, Round 2 - 3-5 year olds and Round 3 - 0-2 year olds) Enjoy music by Tim Cain at 10:30 am and an Easter bonnet contest at 11 am. Dunphy Park is located on Bridgeway between Napa and Litho Streets. Free. Event details
Spring Family Mountain Biking Festival
China Camp State Park, San Rafael
Saturday, 10 am
Come out and celebrate Trips for Kids Marin! Featuring youth mountain bike skills courses, bike-themed games, and beginner trail rides. We'll have a gear raffle, snacks, refreshments, and fun for all ages. Bring your friends and family for a great time in one of our beloved local parks. Free, but donations welcome. Register here.
Naturally Dyed Eggs
UC Botanical Garden at Berkeley
Saturday, 10–11 am
This hands-on workshop will introduce children to the joy of natural dyes while they make their own patterns on eggs with brilliant plant-based colors. Price includes 4 eggs per participant. Registration required: Children must be accompanied by a registered adult. $18; $15 members. Register by calling (510) 643-2755 or by emailing gardenprograms@berkeley.edu. Event details.
Earth Day Beach Cleanup hosted by Aquarium of the Bay
Aquatic Park, San Francisco
Saturday, 10 am–1 pm
Aquarium of the Bay will celebrate with a special beach cleanup at Aquatic Park alongside longtime partner SF Maritime National Historical Park. Event details.
Wildcare's Family Nature Day Honoring Elizabeth Terwilliger
Stafford Lake Park, Novato
Saturday, 10 am–2 pm
Celebrate Earth Day and learn about our local wildlife "Mrs. T-style." Go for a naturalist-led hike (bilingual Spanish hike also offered). Catch and release frogs and newts using dip-nets. Meet WildCare's live non-releasable, educational, Ambassador Animals. Explore and touch taxidermy from WildCare's Nature Van. Do a "Nature Scavenger Hunt Challenge". Create a wildlife-themed arts and crafts project. Bring a picnic to enjoy on the lake shore. Location: Novato Boulevard, Picnic Area #2. There is a $5 parking fee at Stafford Lake. Event details.
Alcatraz Cruises Earth Day
Pier 33, Alcatraz Landing, San Francisco
Saturday, 10 am–2 pm
Alcatraz Cruises is committed to maintaining the lowest possible impact on the environment. Our Earth Day Festivities highlight our sustainability efforts with interactive exhibits teaching how to make small changes that can have a positive impact on our environment. The event is free and open to the public at Pier 33 Alcatraz Landing and will include music, entertainment and fun for the entire family. Event details.
Earth Day Salmon Fest
SPAWN Headquarters, Olema
Saturday, 10 am–2 pm
This Earth Day, join hands-on habitat restoration to save Marin County's endangered coho salmon! The event focuses on increasing the diversity of native vegetation in newly created channels along the Lagunitas Creek floodplain to create great habitat for butterflies, birds, amphibians, and fish, and features guest speakers and activities for the whole family. Snacks and drinks provided. Free. Event details.
Free Create-with-Nature Earth Day Celebration
Stinson Beach
Saturday, 10 am–3 pm
Celebrate Earth Day by creating art on the beach! Join in as community members, professional artists, and passers-by construct sculpture using sand, rocks, shells, seaweed and other beach treasures. The event starts with beach cleanup (bags and gloves supplied). Event details.
The Jumpin' Bunny Festival
Dunsmuir Hellman Historic Estate, Oakland
Saturday, 10 am–3 pm
This annual celebration features jumpers for tiny tots and older kids alike. The event includes great egg hunts, games, entertainment, face-painting and crafts; as well as a petting zoo, mansion tours, gift shop, food, entertainment by Prescott clowns, tap dancing bunnies, and the celebrated appearance of the Bunny himself! Families are also able to tour the Historic 117-year-old mansion. Location: 2960 Peralta Oaks Court, Oakland. Event details.
Bunny Weekend
Children's Fairyland, Oakland
Saturday & Sunday, 10 am–4 pm
Come meet one of Fairyland's own bunny stars and spend time with Critters By The Bay's walk-around bunny characters! There will also be puppet shows, performances, arts and crafts, and more. Free after park admission. Event details.
John Muir Birthday–Earth Day Celebration
John Muir National Historic Site, Martinez
Saturday, 10 am–4 pm
Celebrate Earth Day and John Muir's 181st birthday. The celebration will include misc, stories, recycled fashion show, silent auction and a birthday cake. Location: 4202 Alhambra Avenue at Highway 4 in Martinez. Event details
Kids Free Day
Charles M. Schulz Museum, Santa Rosa
Saturday, 10 am–5 pm
Celebrate spring with free admission for children (when accompanied by an adult) and hands-on crafts for the family. Browse the current exhibition Peace, Love, and Woodstock and enjoy a special Woodstock-inspired photo op. Plus, at 2:00 pm, meet cartoonists Ben Costa and James Parks, creators of the Junior Library Guild Selection fantasy graphic novel series Rickety Stitch and the Gelatinous Goo. Location: 2301 Hardies Lane, Santa Rosa. Event details.
Earth Day Celebration
San Francisco Zoo
Saturday & Sunday, 10 am–5 pm
Every day is a reason to celebrate the earth at San Francisco Zoo & Gardens, but a special Earth Day celebration will occur April 20 through April 22 with the topic of climate change taking center stage. On Saturday, April 20, local green vendors will be on hand, and through Earth Day, April 22, stroll around the zoo to encounter globes of information on how every Zoo visitor can help save the planet, one action item at a time! Free with zoo admission. Event details.

Spring Faire and Candy HuntStrawberry Recreation DistrictSaturday, 10:30 am–noon

Bounce, hop and jump into the season with SRD's annual Spring Faire. Play carnival games, get your face painted, ride the train and bounce in the jump house. Don't forget your baskets and follow the bunny to the egg hunt. This event will go on rain or shine. $9 per child; free for adults. Location: 118 East Strawberry Drive.

Event details.

Easter Eggstravaganza
Trinity Lutheran Church, San Rafael
Saturday, 10:30 am–12:30 pm

You are invited to a free community event at Trinity Lutheran Church that is fun for the entire family (but especially children and youth)! This Easter event offers games, candy and prizes, cookie decorating, crafts, and a special Easter Celebration presentation. Location: 333 Woodland Avenue, San Rafael.

Event details

Children's Spring Egg Hunt and Camp Fair
Memorial Park, San Anselmo
Saturday, 11 am
Get in the spring spirit by participating in the annual San Anselmo Children's Egg Hunt! We'll split the kids into three age groups for this hunt, and we set the kids off at the sound of the fire truck's siren! Parent assistance is allowed in the 0–2 age group, otherwise please let your kids hunt! For children 7 and under. Egg hunt starts at 11 am sharp. The Summer Camp Fair will be held in the upper lawn at Memorial Park from 10:30 am–1 pm. For more info, call the San Anselmo Parks and Recreation Department at (415) 258-4640 or visit their website.

Annual San Marin Neighborhood Easter Egg Hunt and Family Picnic
All Saints Lutheran Church, Novato
Saturday, 11 am sharp!
Bring your kids, grand kids and family for our traditional Easter Egg hunt and meet the Easter Bunny! There will be three age groups - 0-2, 3-5, 6-9. We will also have potato sack race, egg toss and 3-legged race for the kids. Dennis Hagerty will be the Master of Ceremony with San Marin High/Marin School of Arts Students assisting the Hunt and games. Kona Shave Ice truck and the Kona Mascot add to the festivities for the Easter Egg Hunt! All Saints church will be cooking up some BBQ for sale benefiting their youth group. Location: 2 San Marin Drive, Novato. Event details.

Family Matinee w/ Gerald Clayton Trio
SFJazz Center, San Francisco
Saturday, 11 am
GRAMMY-nominated pianist and composer Gerald Clayton hails from jazz royalty as the son of esteemed Los Angeles bassist/arranger John Clayton and nephew of alto saxophonist Jeff Clayton. An interactive Family Workshop follows this performance and is FREE to matinee ticket-holders, led by musician, educator and Orff music expert Doug Goodkin. Cost: $5, $10 and $23. Purchase tickets here. Location: 201 Franklin Street, San Francisco. Event details.

Easter Eggstravaganza
Adobe Christian Church, Petaluma
Saturday, 11 am–12:30 pm
Every year the Adobe Chrisitian Center in Petaluma puts on an Easter Eggstravaganza with a massive egg hunt and tons of other fun activities for the kids. Enjoy games, police and fire vehicles, and giant slide, as well as delicious food available for purchase. Location: 2875 Adobe Road. $10 per carload. Event details or call (707) 763-2012.
Eggstraordinary Egg Hunt and Train Ride
Roaring Camp Railroads, Santa Cruz
Saturday & Sunday 11 am, 12:30 & 2 pm
Hop on Board! The Easter Bunny makes a stop at Roaring Camp. After riding Roaring Camp's real 1880s steam train under the majestic redwoods, over Indian Creek Trestle and through the Santa Cruz Mountains, your kids are going to have the time of their lives scavenging for chocolate eggs at the top of Bear Mountain. Tickets: $29 adults; $22 children. Event details.
Hopping Spree
Town Center Corte Madera
Saturday, 11 am–1 pm
Everyone is invited to celebrate Easter at Town Center Corte Madera's annual "Hopping Spree" Easter-themed event. Free to attend, the Easter bunny will roam the shopping center to greet families, pose for selfies and share Easter goodies with the little ones. Children are also invited to enjoy a Howie Didit Magic Show, live kid-friendly music. Location: 100 Corte Madera Town Center. Event details.
Easter Bunny at Bon Air
Bon Air Center, Greenbrae
Saturday, 11 am–2 pm
Families and friends are invited to hop into Bon Air for an Easter celebration. Put on free floppy Bunny ears and pose for a complimentary framed instant photograph with the Easter Bunny in its sweetly decorated Bunny Burrow. Free balloons for all children. Merchants and restaurants will offer demos and sidewalk specials. Time for a new kitten or puppy? Woodlands Pet Food & Treats will be hosting a pet adoption fair. Look for the Bunny Burrow in front of Mollie Stone's Market. Event details.
Earth Day San Francisco
Civic Center Plaza, San Francisco
Saturday, 11 am–7 pm
Celebrate the 49th year of Earth Day in San Francisco's sunny Mission District. The theme for this year's Earth Day is "Celebrate the Green New Deal". Talks, demos, and workshops will go throughout the day with topics including conservation, climate change, recycling, and the intersection of politics, technology, and the environment. Event details
3rd Annual Spring Festival & Egg Hunt
Angel Island
Saturday, 11:30 am
Angel Island Ferry's Captain Maggie & Crew invite you to hop on for free family fun duing the 3rd Annual Island Spring Festival. Enjoy the following free activivites: 11:30 am egg hunt, noon–2 pm live music and wine and beer tasting. There will be hourly egg hunts on the ferry on April 21 and 22, too. Event details.
Skating with the Easter Beagle!
Snoppy's Home Ice, Santa Rosa
Saturday, 12:30–3:30 pm
Celebrate Spring with Snoopy The Easter Beagle! Skating, prizes, Easter Eggs, and spring pictures with the Easter Beagle! Cost: $5 skating admission includes skate rental. Location: 1667 West Steele Lane, Santa Rosa. Event details.
Campfire Program
Sonoma Barracks Courtyard, Sonoma
Saturday, 6 pm
It is springtime and our monthly campfire program is blooming! Come have fun and learn about our parks, nature, and history. Join us in the Sonoma Barracks Courtyard for a short talk, campfire songs, and a toasty marshmallow roast! All ages welcome, free of charge. Steady rain cancels. Location: 98 E. Spain Street, Sonoma. Event details.
Indoor Power Play
Cal Star Gymnastics, Novato
Saturday, 6–9 pm
Drop the kiddos ( K-8 th grade) for some indoor fun. They can run, jump and play in an open gymnastics environment. Bring the kids in on a rainy day or any day to burn some energy. Cost: $30 per child. Location: 70 Digital Drive, Suite #3 in Novato. Event details.
Sunday, April 21
Sign up for tips & news for Marin families!