Back to top
Mompreneur: Leslie Dempsey and GYMGUYZ Marin County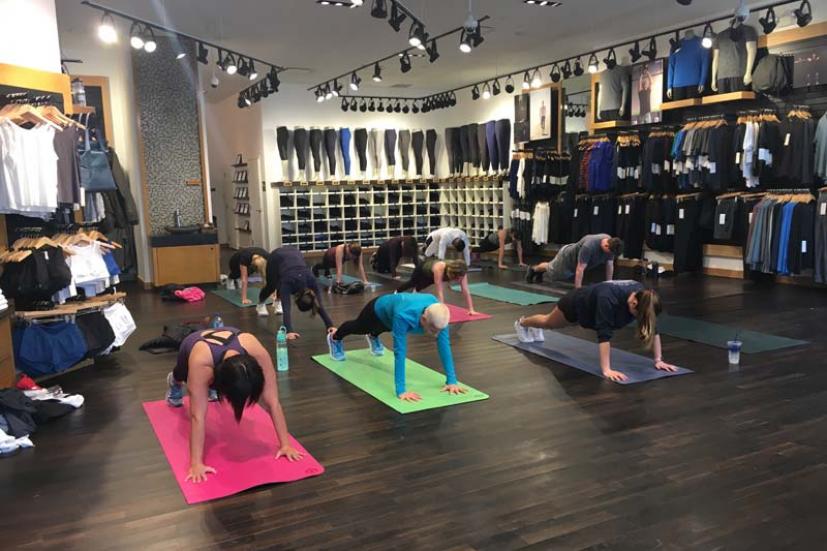 After having kids, Marin mom and mompreneur Leslie Dempsey went on a fitness journey that led her to become the owner and operator of GYMGUYZ Marin County, a mobile personal training business that brings the gym to you. Leslie answered a few questions for us about her, her business, and her family.
Please tell us a little about yourself, what's your background?
My name is Leslie Dempsey and I am the owner and operator of GYMGUYZ Marin County. While it has always been a priority for me to be in shape and exercise, I am new to the fitness industry. My background is in psychology. I am a licensed marriage and family therapist and I received my master's in counseling psychology with a double emphasis in marriage and family therapy and school counseling from St. Mary's College of California.
 
My husband and I will be celebrating our 10 year wedding anniversary in June and we have two beautiful children together. Layla is 5 ½ and she goes to Mary Silvera, Jack is 2 ½ and he goes to Marin Formative Christian Preschool, and we have a 4 ½ year old beagle, Moose, whom we rescued from a pharmaceutical lab in 2013.
What inspired you to start your business?
 
After having the kids, my body changed in a way that I was not prepared for. After I was done breastfeeding Jack, I went on a fitness journey on a whole other level. My whole life I have been a dancer and having participated in various sports, but dancing has always been a passion. This passion always kept me in shape. However, I was finding that in order to change my body and metabolism, I had to learn about new forms of exercise.  This new knowledge coupled with the motivation to tone and shape my body led me to be in the best shape of my life. People in my life noticed and asked what I was doing in terms of my fitness routine and eating habits. I felt a responsibility to empower those around me into being the healthiest they can be. Then GYMGUYZ was presented to us and I knew that being an owner in this incredible franchise is what I needed to be doing.

 
How does your business work? What's it all about and how is it unique?
We are a the number-one mobile personal training franchise company and we pride ourselves on providing convenient, customized and creative workouts. We have mobile units that house 365 pieces of gym equipment inside. Our vans travel to the setting of our client's choice, be it their home, work, park or anywhere in the community they desire to train. You can train with us from 5 am to 10 pm and we work with all age ranges and abilities. We do individual, group and large classes. We also do corporate wellness programs and are currently doing a program for Bigge Crane and Rigging Company. As the owner, I perform a very detailed body assessment on all our clients.
Unlike gyms, we don't have a monthly membership; instead, we have several class packages that the client may choose from. The packages also includes a meal plan and a 15 week reassessment where we do another body assessment to measure the progress made. From there, I pair them with a trainer that is best skilled at working with that client, their fitness goals and other needs. What makes GYMGUYZ unique is the convenience factor. While there are trainers that go to clients homes and bring some equipment; we have a proven system that is supported by a national recognized and award winning franchise.  GYMGUYZ has been recognized in the New York Times, Forbes, People, Entrepreneur, and Inc magazine. The CEO is 100% dedicated to empowering us me to with the resources, knowledge and support to benefit our clients.
What's your favorite thing about your business and clients?
 
My favorite thing about my business is that we are in the business of changing lives and we do so with the utmost compassion. The reason I chose to become an MFT is because I want to help people. This is the same reason I wanted to be a GYMGUYZ owner. When you feel good about yourself it makes you a happier person…healthy body, healthy mind, happy life. It all goes hand in hand. I love all my clients and am so proud of each of them. Their drive, positive attitudes, humor and their willingness to open up their lives to myself and my trainers is such a beautiful and special thing. One of my clients told me the other day that we have changed his life. I went home and cried because I am so elated that our work is making that big of a difference.
What do you and your family love about living in Marin?
 
We have lived in Marin nearly our entire lives.  What my family and I love the most about Marin is getting to enjoy the beautiful beaches and hiking trails that this county has to offer. We take advantage of this as often as we can. Another aspect of Marin we love is our community. My community supports me, my family, and GYMGUYZ. I feel so blessed to have such a strong force behind me!
Today's Events
Sunday, February 25, 2018