Back to top
New Indoor Baseball and Softball Facility in San Rafael!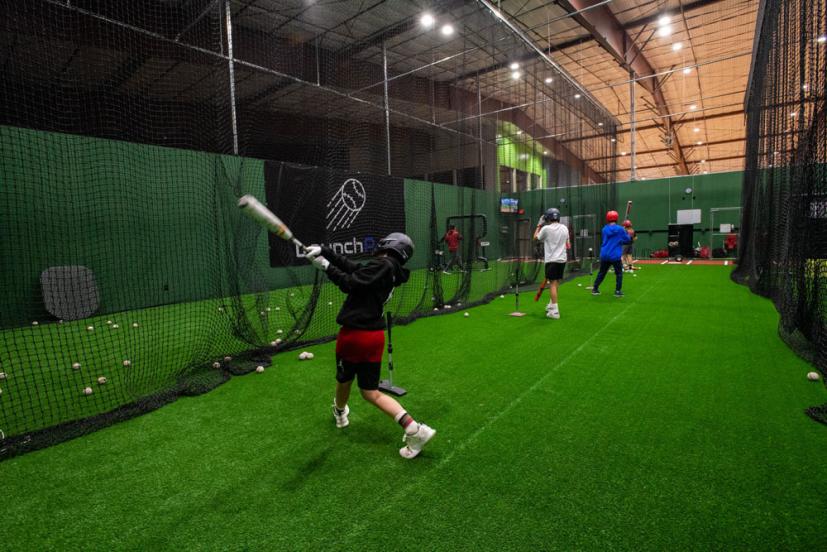 Marin Mommies presents a sponsored article from LaunchPad Marin, a new indoor baseball and softball training facility offering summer camps, birthday parties, skills clinics, token and rental cages.
Welcome to LaunchPad Marin!
LaunchPad Marin is a new indoor baseball and softball training facility in San Rafael. Our goal is to provide the perfect spot for players of all ages and abilities to come and improve their skills. We offer a wide range of programs and rentals that are great for individual players and teams!
Facility
Our facility has four state of the art practice areas/cages (70 feet long and 19 feet high) available for teams or players to practice hitting, fielding or pitching. We also have a full weightroom for strength and conditioning programs.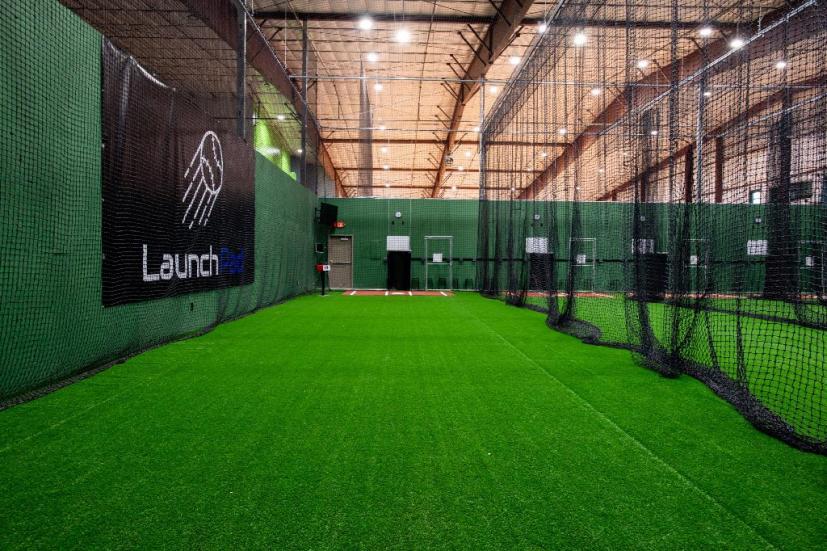 HitTrax
In two of our four cages, we offer HitTrax, a baseball simulation technology which is a great tool for both training (providing hitting,  pitching and catching metrics) and gaming.  In the gaming mode  your player can hit at Oracle Park, just like the SF Giants do, and play simulated games against other players.  This is projected on a big screen TV so all can enjoy!    This is our #1 requested party activity for all ages!
Token and Rental Cages
Our cages are available for rental by the half hour with optional additions of automatic feeder pitching machines and HitTrax! This gives players the freedom to utilize the cage as they see fit. 
Our first cage is also a token-based system allowing the customer to purchase sessions, with 14 pitches per session. Our pitching machine is top of the line, throwing baseballs or softballs and allowing the player to customize pitch speed, pitch type, and pitch location for each session. Following each swing, the HitTrax technology will project the metrics and location of each ball being hit at the Major League Stadium of your choice! This cage is available for walk-in use at certain times of the day.
Clinics
We periodically offer baseball and softball skills clinics for all ages to improve your players' hitting or fielding technique. Clinics provide each player tailored instruction and practice while learning from our experienced coaches. 
Camps
During spring break and throughout the summer we will be hosting all sports camps. These camps will feature baseball-related skills games as well as plenty of other activities to keep kids engaged and having fun! While we are a baseball and softball-forward facility our camps include dodgeball, HitTrax games, football, kickball and many other fun activities.
Birthday Parties
LaunchPad hosts birthday parties, which are a great way for kids to play HitTrax games and have fun. Our typical birthday party operates for 1.5-2 hours and hosts up to 12 kids. Staff members facilitate the games of the birthday person's choosing. Popular party activities include playing simulated baseball or softball games on the HitTrax technology and dodgeball. 
If you have questions or would like more information on scheduling, pricing, or our programs feel free to look at our website or give us a call! LaunchPad Marin is located at 440 Smith Ranch Road, San Rafael CA 94903.
For more info, visit www.launchpadmarin.com, call (415) 907-0557, or check out their Instagram @launchpadmarin.
Sign up for tips & news for Marin families!