Back to top
An Overnight Wildlife Adventure at Safari West
Wouldn't it be great if you could take your family on an amazing African Safari adventure, but still have the convenience of being in the Bay Area? Safari West, a wildlife preserve and private zoo located near Santa Rosa offers just that!
Tour this 400-acre preserve in Sonoma County's rolling hills and get up-close-and-personal with giraffes, rhinos, zebras, monkeys, cheetahs, and a huge variety of birds and African antelopes. Not only can you tour Safari West, but you can stay overnight in one of their luxury "glamping" tent cabins. We had a chance to stay over at Safari West and take one of their Classic Safari tours, and it was an unforgettable experience.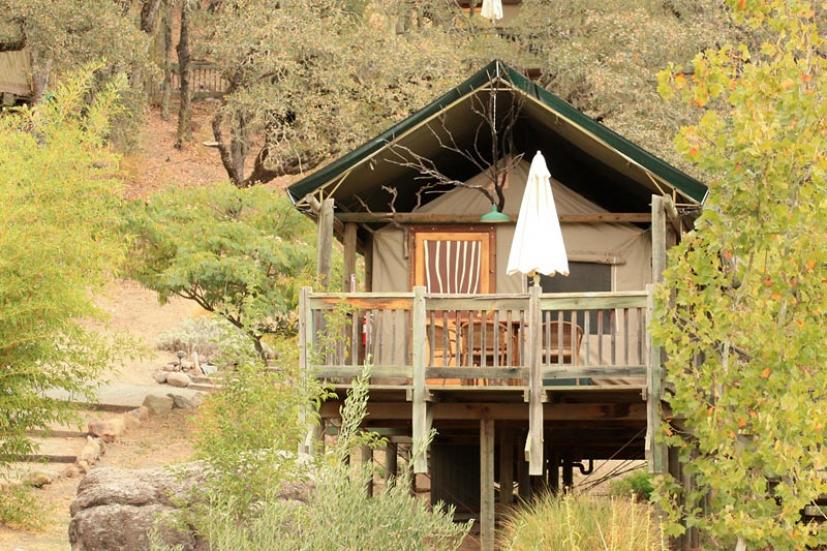 We began our adventure at the office where a staff member picked us up in a Jeep and whisked us and our luggage up to our tent. The tents are scattered around a small lake and a wildlife enclosure where giraffes and antelope roam. Our tent was located up on the hill above the lake, and had fantastic views of the preserve from its deck.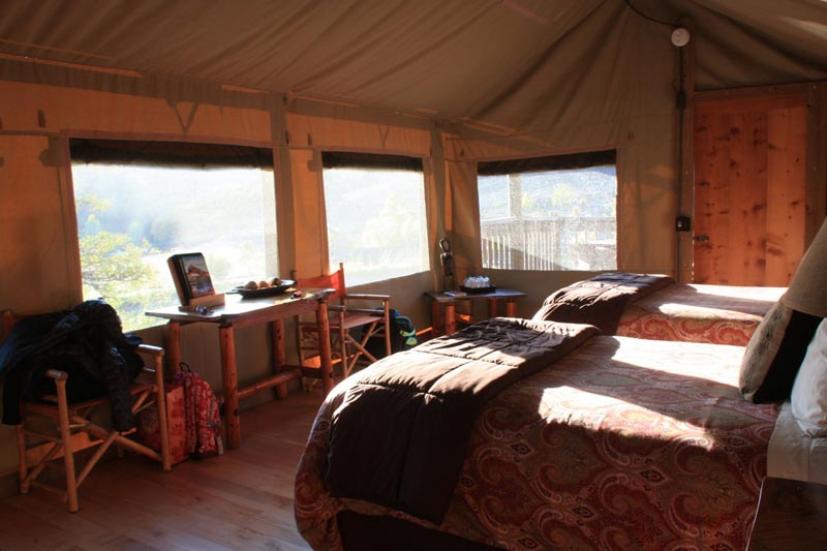 Each tent has wooden floors, rustic African-inspired furniture and decor, and running water and electricity. While they're well appointed and cozy, they're still tents, and each one comes with plenty of blankets (including electric blankets) and a space heater to keep things warm and comfy. Safari West even provides a cooler, ice, and complimentary bottled water. Bathrooms, equipped with showers, sinks, and toilets, are semi open-air and can get a bit chilly at night. We loved relaxing on the deck, complete with furniture and an umbrella, and watching the animals down below.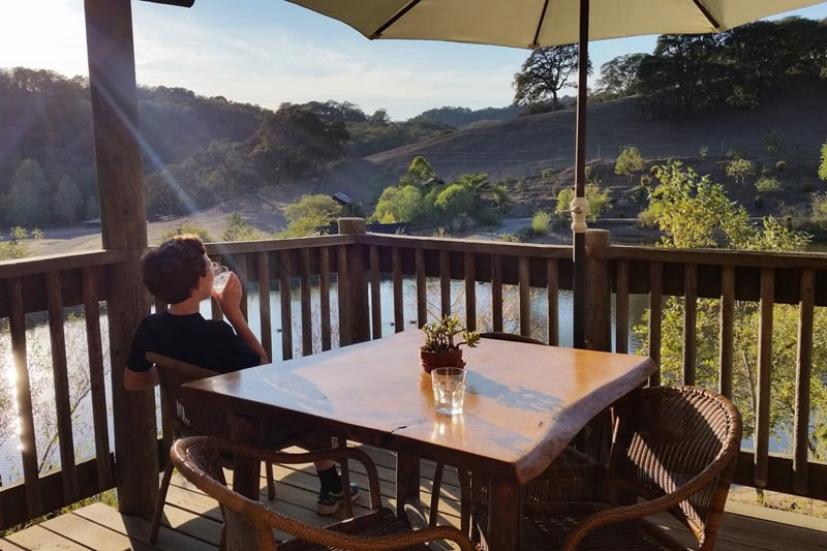 At 5:30 pm we headed down for dinner at Safari West's on-site restaurant, the Savannah Grill, which is centered around a traditional African fire pit or motu. Served buffet-style, dinner included smoked chicken and beef brisket along with green salad, clam chowder, macaroni and cheese (which my daughter declared to be the best she's ever had), vegetables, rice, and bread.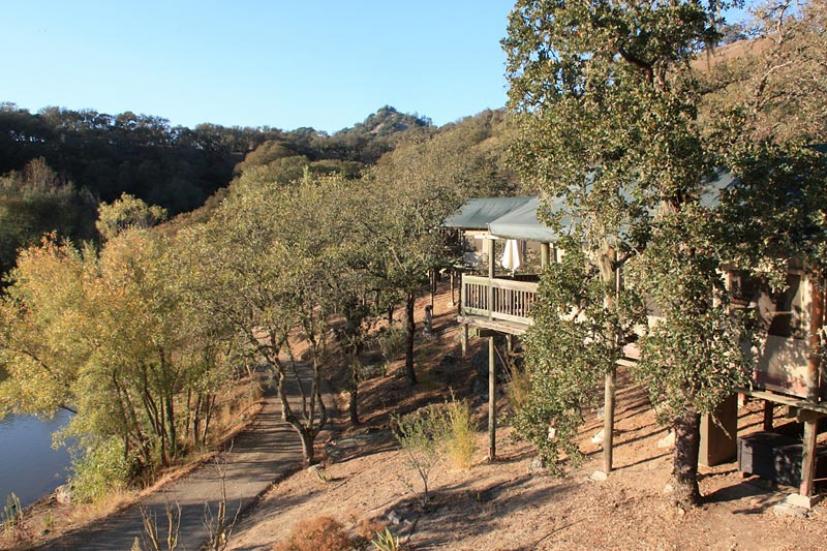 Beer, wine, and soft drinks were available for purchase at the bar, and coffee, tea, and hot chocolate were included. After dinner everyone was provided with forks and marshmallows to roast over the fire.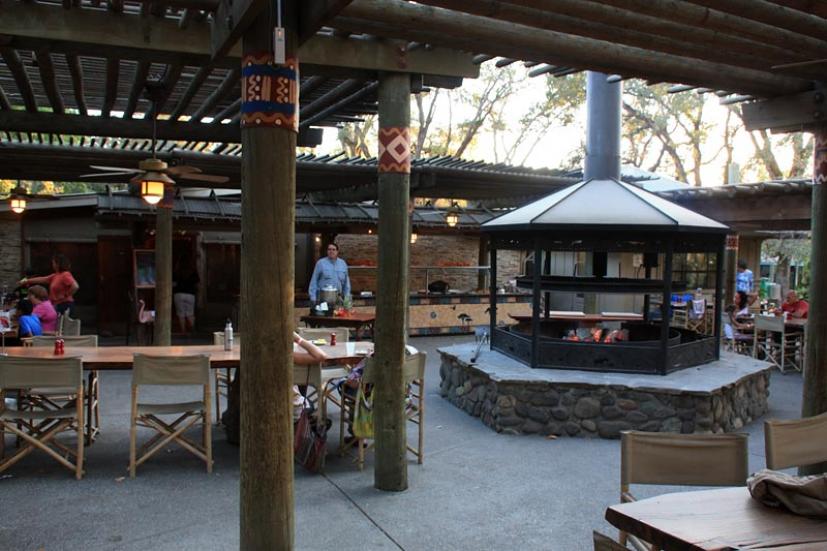 After dinner we explored the grounds and then returned to our tent, where we got a good night's sleep in anticipation of our adventure the next morning. There's nothing quite like drifting off to sleep to the exotic animal sounds coming from across the grounds.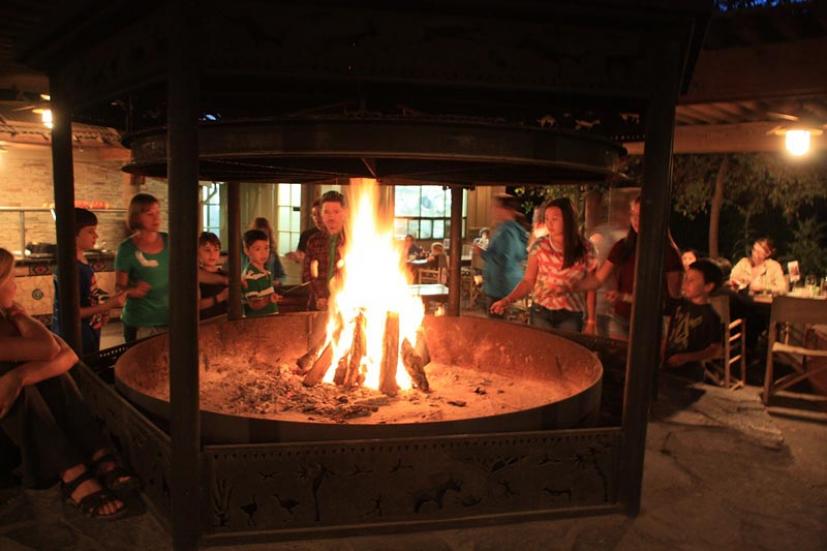 The next morning, after breakfast, we assembled for our 10 am tour. Our guide, Leslie, was extremely knowledgable and informative, and led us first on a walk through the aviaries and to see the cheetahs, monkeys, lemurs, African porcupines, and even cute little dwarf antelopes called blue duikers.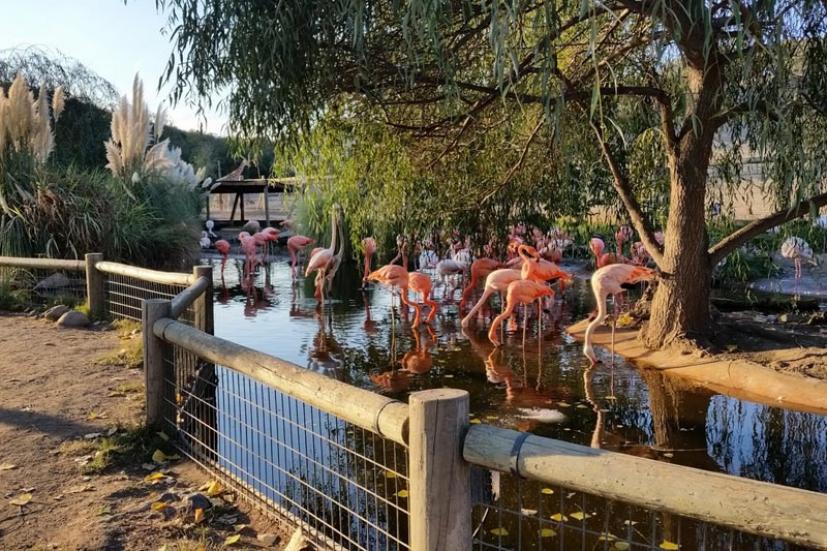 We then climbed aboard one of the vehicles from Safari West's fleet of Korean-war-era Dodge Power Wagon off-road trucks. Participants can sit both inside on the truck bed and up above the cab on elevated seats for an unparalleled view of the animals in the preserve. The guides will make sure everyone who wants to gets a turn sitting in the upper seat. The morning was a little chilly, so fleece blankets were offered to everyone, which was a thoughtful touch.
The ride through the preserve was slow but not boring, and we found new animals—including rhinos, zebras, Watusi cattle, elands, cape buffalo, and wildebeest—around every corner. In many areas there were no fences between you and the animals, which really gave the whole experience that authentic safari feel.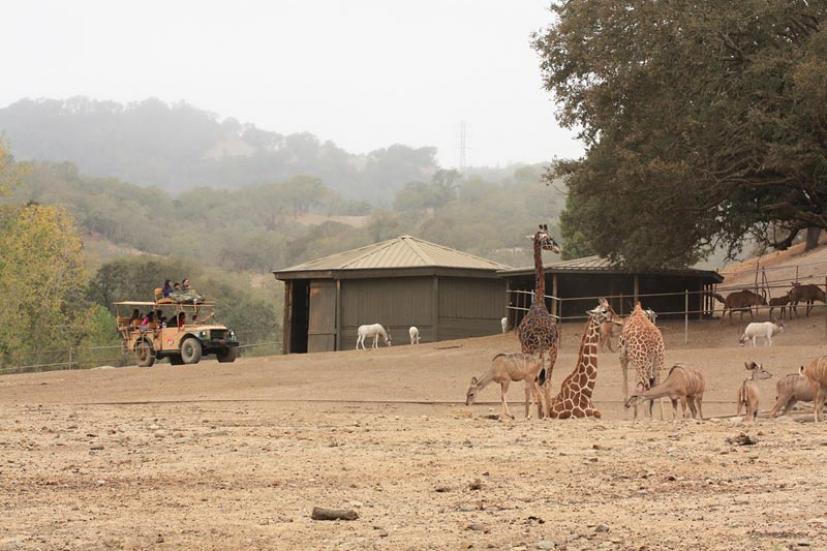 Leslie, our guide, took the time to explain the background of the preserve and tell us about the animals, their behavior, and personalities. Many of the animals at Safari West are endangered species, and some are even extinct in the wild.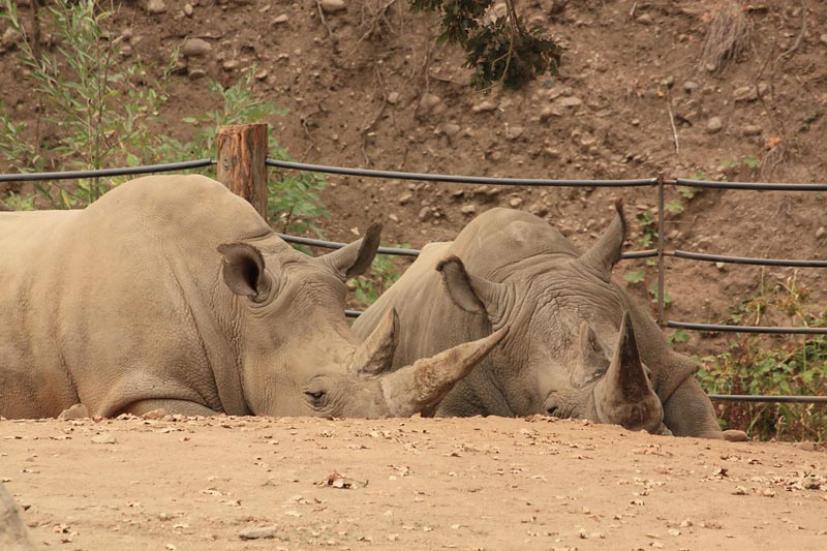 We had a terrific time on our overnight adventure at Safari West, and we all agreed it was one of the most fun and rewarding activities we've done. The atmosphere was really magical, and the accommodating, friendly staff made us feel at home and really went out of their way to make our stay wonderful. We can't wait to go back and experience it again!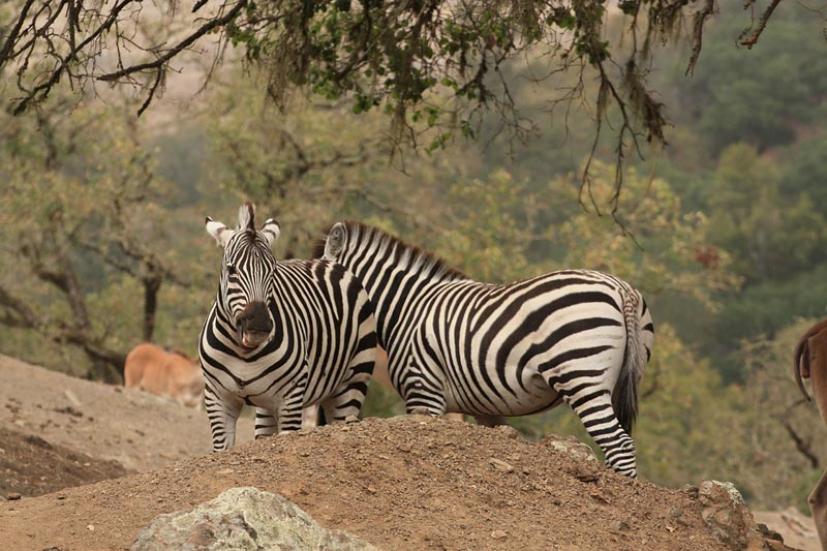 For more information or to make reservations, visit www.safariwest.com or call 1 (800) 616-2695.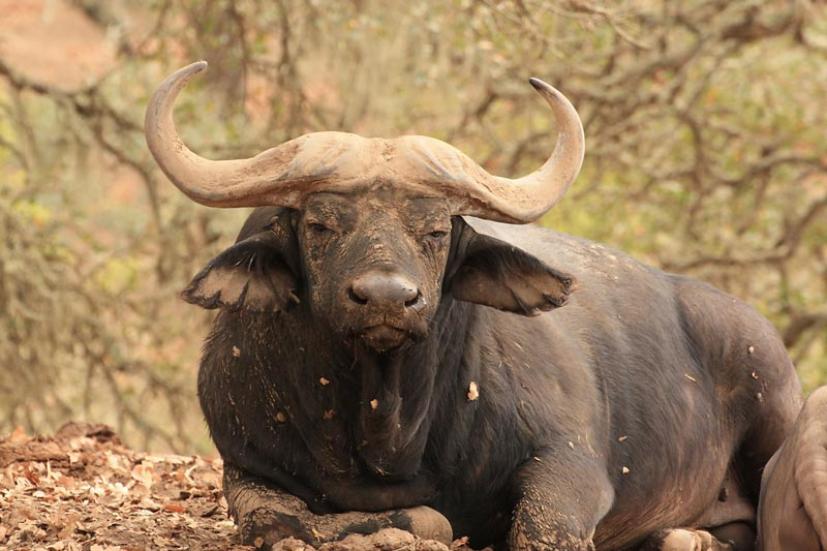 If You Go
Safari West is open throughout the year by advance reservation only. Classic Safari prices range from $83 to $115 for adults depending on the season, and are a flat $45 for kids ages 3 to 12. Children must be 3 years or older to go on a safari tour, and it's probably best for kids 5 and up. Other safari packages are available, too. The Classic Safari involves a two-hour ride over rough off-road terrain in an antique Dodge army truck, so pregnant women and those who might be uncomfortable on such a trip might not want to go. Overnight guests receive a $10 discount on adult/teen and $5 on children's safaris.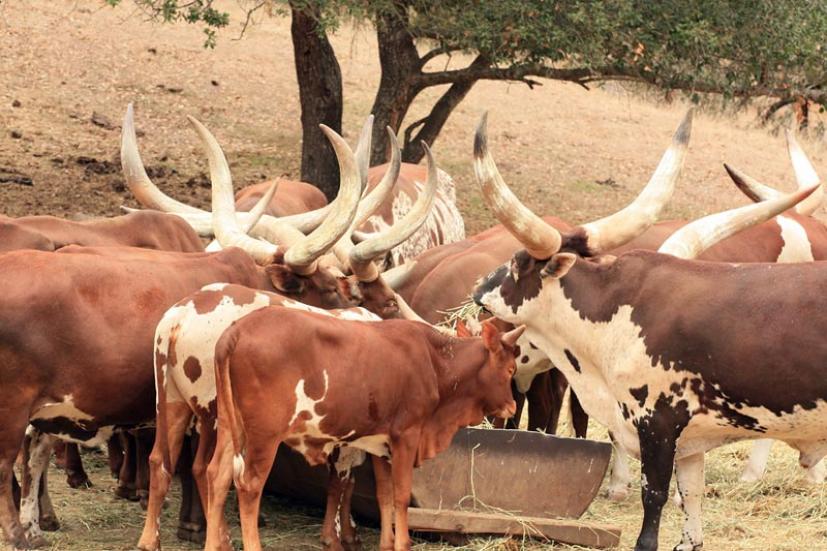 Luxury tent accommodations range in price from $250 to $400, depending on season and tent configuration. Family tents with bunk beds are available. Tent cabins have space heaters and electric blankets; bathrooms are open-air and unheated, so keep that in mind if you decide to stay the night. Since you're in a tent, you'll hear every sound in the preserve, including various animal noises and those of your neighbors. Complimentary earplugs are available at the front desk. An overnight stay includes a continental breakfast the next morning. Overnight stays are not available in January and February.
Buffet-style lunches and dinners are available by reservation only at Safari West's Savannah Grill. The adjacent Delilah's Snack Shop offers reasonably priced and tasty sandwiches, breakfast burritos, ice cream, soft drinks, coffee, and even beer and wine. Coolers with cold water are located around the dining area. Tent guests can also get complimentary coffee, tea, and hot chocolate in the Elephant Room.
You'll be doing a lot of walking along both paved paths and dirt trails, so make sure you wear sturdy shoes like hiking boots as well as clothes that you don't mind getting dirty. Hats and sunscreen are a must, especially if you're riding in the upper seat during the safari.
Safari West is located at 3115 Porter Creek Road in Santa Rosa. To get there from Marin, take Highway 101 north through Santa Rosa until you get to the River Road/Mark West Springs Road exit. Head east on Mark West Springs Road which turns into Porter Creek Road. Safari West will be on your left.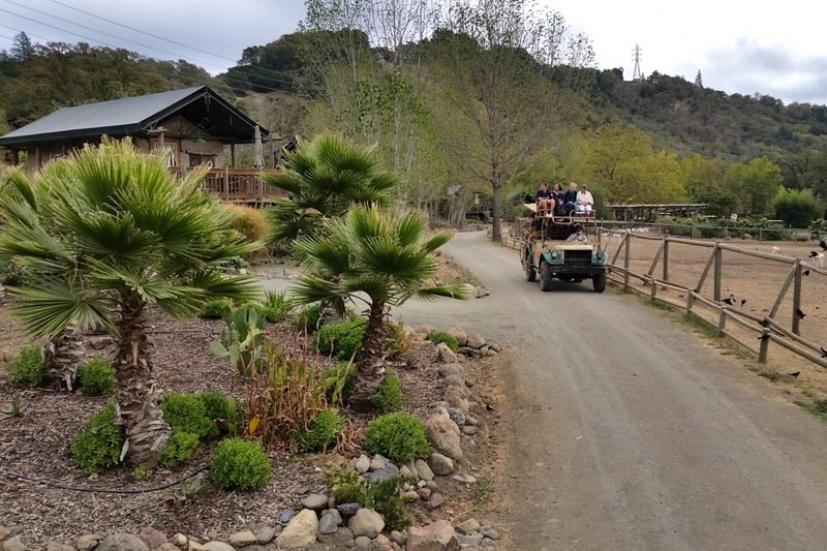 Sign up for tips & news for Marin families!