Back to top
Recipe from Pernilla's Pantry: Black Bean and Kale Tortilla Soup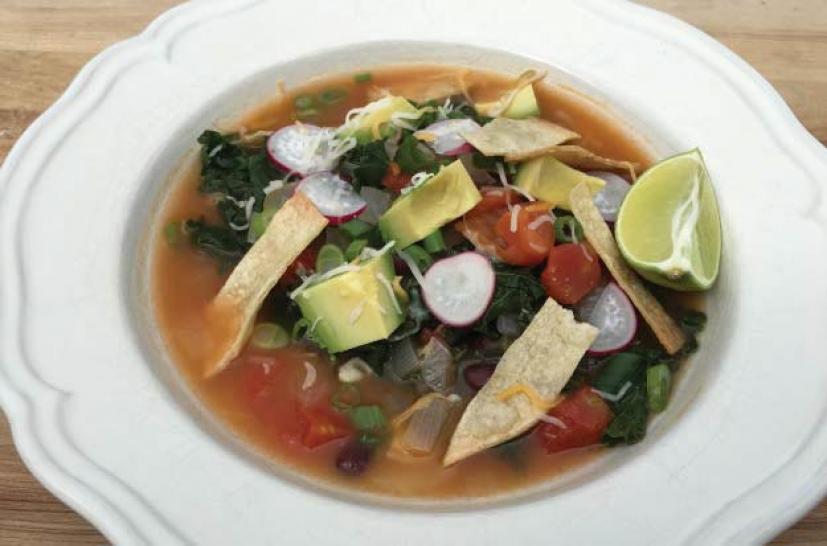 When things get busy in our house, I often place an order to Pernilla's Pantry, a mom-run business here in Marin that offers creative healthy meals for busy families. When your order arrives, you'll receive recipe cards and all the ingredients that you need to make three or four fantastic family meals for the week.
Pernilla's Pantry was created by Pernilla Sumner, a Marin mom and Swedish native who loves to share her passion for food and good cooking with others.
What makes Pernilla's Pantry different from other meal kit services? It's a mom-run, local Marin business that offers new seasonal recipes to choose from each week. Ingredients are organic and GMO-free, and Pernilla uses minimal packaging to cut down on waste. Meals start at just $8 per plate.
Visit pernillaspantry.com to see what's on the menu, to learn more about how it all works, and to sign up for service.
Pernilla shared her recipe for black bean and kale tortilla soup. It's just the thing for an easy warming winter dinner!
Ingredients
6 Corn Tortillas
1 White Onion
1 Jalapeño
2 teaspoons ground cumin
2 teaspoons ground coriander
1 Can Black Beans
1 Can Tomatoes with Green
Chiles
1 Bunch Kale
4 Cups Vegetable Broth
3 Radishes
1 Avocado
1 Lime
1/2 Cup Shredded Cheese
2 Green Onions
From Your Pantry:
Salt and Pepper
Olive Oil
2 Garlic Cloves
Directions
Pre-heat oven and foil-lined baking sheet to 375 degrees. Cut tortillas in half then slice crosswise into thick strips. Toss tortilla strips with 1 tablespoon oil, salt, and pepper. Spread on prepared baking sheet. Bake, until golden about 15 minutes.
Remove seeds from jalapeño. Chop white onion, jalapeño, and 2 garlic cloves. Drain and rinse can of black beans. Remove stems from kale, then slice.
Heat oil in soup pot over medium-high heat. Add onion, jalapeño, garlic, spice mixture, salt, and pepper. Saute 5 minutes. Add beans , can of tomatoes, kale, 4 cups broth, and
2 cups water. Bring to a boil. Reduce heat and simmer until kale is wilted, about 5 minutes.
Slice 3 radishes, 1 avocado, and 2 green onions. Cut lime into wedges. Serve soup in bowl top with radishes, avocado, green onions, grated cheese, and baked tortilla strips.
Sign up for tips & news for Marin families!