Back to top
Register Now for Soccerkiddos Fall Classes in Marin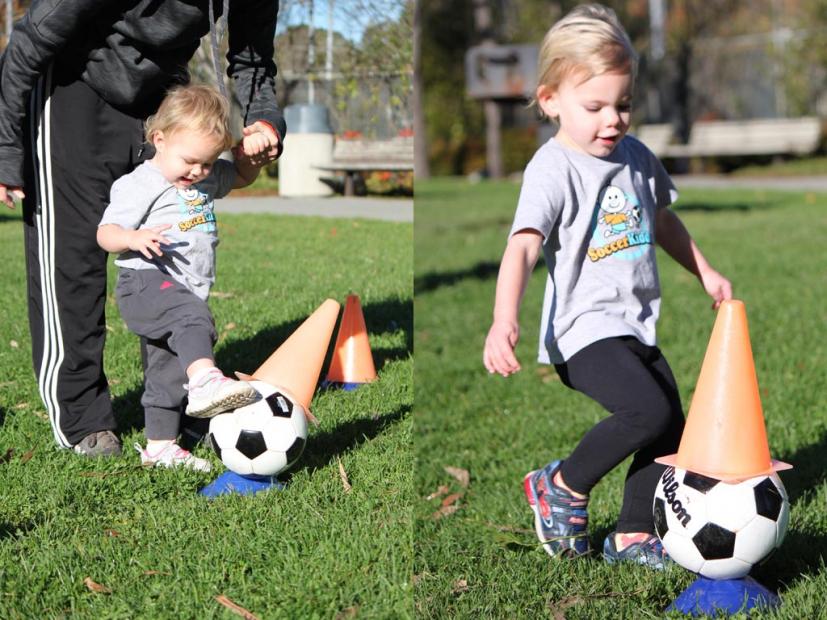 Looking for a fun and active activity for your little one age 18 months to 3-1/2 years in Marin? Check out the classes offered by Soccerkiddos in Corte Madera, Marinwood, and Mill Valley. Registration is now open for fall classes that begin on September 7. Classes are offered seven days a week.
Soccerkiddos is a developmentally age appropriate program that introduces soccer to young children in a fun, non-competitive, interactive manner. Soccerkiddos participants, working with coaches and caregivers, will learn the basic skills of soccer like power shooting, stopping, and dribbling while having fun! Children will not only gain a knowledge and love for soccer, but will also increase their gross motor, cooperation, and verbal skills while playing imaginative games and singing songs that incorporate basic soccer skills.
Soccerkiddos was founded by coach Sarah Vigil, who created the program based on her over 16 years of working with preschool aged children. Sarah fully utilizes her education, soccer, and coaching experience on the field. Sarah's passion for soccer started at an early age where she played on club teams and carried it through to the collegiate level where she played at UC Berkeley. After Cal, she went on to earn her early childhood credential and masters in elementary education and became the founding teacher of a preschool in San Francisco.
Fall Soccerkiddos classes take place at Corte Madera Town Park, Marinwood in San Rafael, and Strawberry Rec in Mill Valley. Learn more at www.marinsoccerkiddos.com and register online at soccerkiddos.registernation.com.
Sign up for tips & news for Marin families!