Back to top
Ride a Classic Carousel in the Bay Area
I can't imagine anyone, young or old, who doesn't love taking a ride on a classic carousel with its colorful carved animals, bright lights, and thundering band organ. Fortunately for families in the San Francisco Bay Area, we have plenty of amazing merry-go-round experiences to choose from, including some incredible historic carousels.
So pick your favorite horse, get ready to grab that brass ring, and go for a ride! Here's our guide to carousels throughout the San Francisco Bay Area. Even though it's not technically in the Bay Area, we included the carousel at the Santa Cruz Beach Boardwalk, since it's one of our all-time favorites!
North Bay Carousels

Take a ride on the carousel at Santa Rosa's Howarth Park.
Santa Rosa's Howarth Park is always worth a visit. Their whimsical carousel has 30 animals and over 1,000 lights! Rides cost $2 each. Open weekends March 4–June 11 and daily (except Fridays) starting June 12.
630 Summerfield Road, Santa Rosa 95405
srcity.org
In addition to its famous trains, Sonoma TrainTown also features a number of carnival rides, including their Iron Horse Carousel. Rides cost $3.95 each; admission to TrainTown is free. Open weekends fall through spring and daily in the summer, weather permitting.
20264 Broadway, Sonoma 95476
www.traintown.com
Instead of the usual horses, this mini carousel at Six Flags Discovery Kingdom in Vallejo features creatures from all over the animal kingdom, including elephants, tigers, and zebras. Rides included with park admission.
1001 Fairgrounds Drive, Vallejo 94589
www.sixflags.com
San Francisco Carousels

The 1914 Herschell-Spillman Carousel delights children of all ages in Golden Gate Park's Koret Playground.
Golden Gate Park's Koret Children's Quarter Playground features a historic Herschell-Spillman carousel made in 1914. The carousel's 62 colorful animals include not only horses but frogs, roosters, and pigs, too. Rides cost $2 for adults, $1 for children 6–12; children 5 and under are free with a paying adult. Hours vary depending on the season.
Martin Luther King, Jr. Drive and Bowling Green Drive, San Francisco 94117
sfrecpark.org
This historic Dentzel carousel has been delighting families visiting the zoo since 1925, and features a menagerie of hand-carved wooden animals. A carousel ride is always the highlight of a zoo visit! It's one of seven Dentzel carousels left in the United States. Rides cost $4 after zoo admission. The zoo is open daily 10 am–4 pm; advance reservations required.
Sloat Boulevard and the Great Highway, San Francisco 94132
www.sfzoo.org
Built by renowned carousel designer Charles Looff in 1906, the LeRoy King Carousel at the Children's Creativity Museum was once housed at San Francisco's long-gone Playland-at-the-Beach amusement park. It moved to its current location in 1998 and was fully restored in 2014. The LeRoy King Carousel is open Saturdays and Sundays 11:30 am–4:30 pm. Rides cost $5 each or $3 with paid museum admission or for members.
221 4th Street, San Francisco 94103
creativity.org
Pier 39's two-level San Francisco Carousel was built in Italy and features over 30 animals, more than 1,800 LED lights, traditional organ music, and artistic renderings of San Francisco scenes. Open daily, 10 am–8 pm.
Beach Street and the Embarcadero, San Francisco 94133
www.pier39.com
East Bay Carousels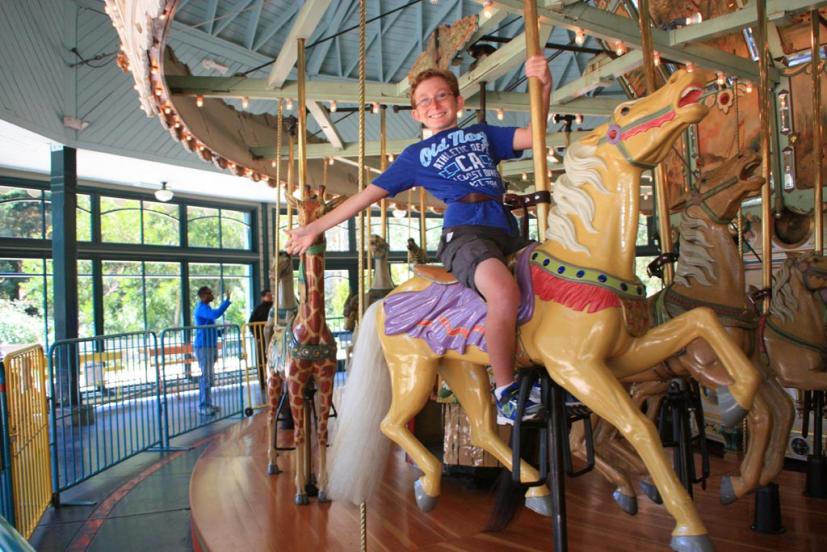 The Herschell-Spillman Merry-Go-Round at Tilden Regional Park in Berkeley is over a century old.
Tilden Regional Park's antique Herschell-Spillman carousel was built 1911 and has been a fixture in the park since the 1940s. The Tilden carousel is on the National Register of Historic Places, and its whimsical hand-carved animals, lights, and band organ really make for a magical experience. Rides are only $4 each, or $24 for a book of 7. Open Friday–Monday, 11 am–5 pm. There's an on-site cafe that serves classic fare like hot dogs, burgers, grilled cheese sandwiches, ice cream, coffee drinks, cotton candy, and more.
Central Park Drive and Lake Anza Road, Berkeley 94708
tildenmerrygoround.org
The Wonder-Go-Round at the beloved Children's Fairyland in Oakland dates from 1956 and, instead of horses, features characters from Lewis Carroll's Alice in Wonderland. The parks also offers the smaller Flecto Carousel for little ones. Carousel rides are included with $15 park admission.
699 Bellevue Avenue, Oakland 94610
fairyland.org
Located in the Adventure Landing amusement area outside the Oakland Zoo's main entrance, this carousel has sculptures of endangerd animals to ride rather than the traditional horses. Ride a black rhino, a Siberian tiger, or a gorilla! Parking fee $10. Open daily 11 am–4:30 pm. Advance tickets required to visit the zoo.
9777 Golf Links Road, Oakland 94605
www.oaklandzoo.org
South Bay Carousels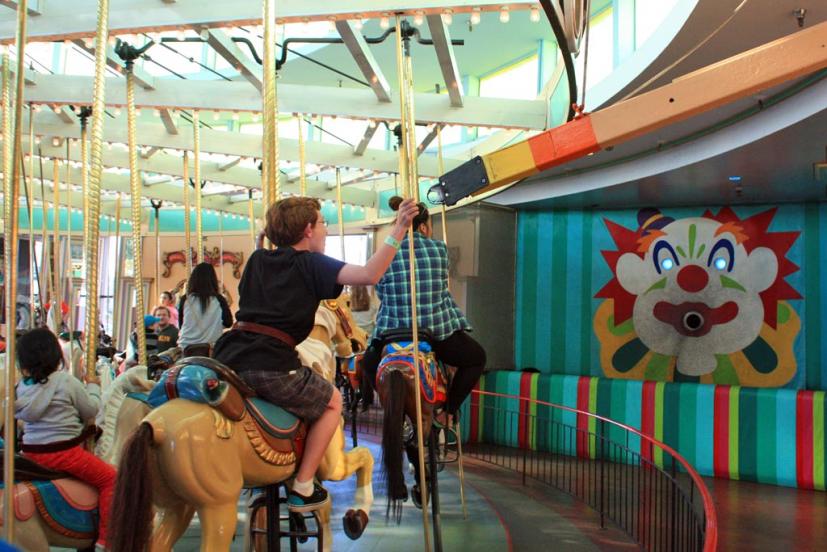 Try and grab the brass ring while you're riding the 1911 Looff Carousel at Santa Cruz Beach Boardwalk
Santa Cruz Beach Boardwalk's historic Looff Carousel is one of only a handful of Looff carousels left in existence, and is surrounded by antique mechanical band organs that provide an amazing musical accompaniment while you ride. The Looff Carousel was delivered to the Boardwalk new in 1911 and has been a popular attraction ever since. It's also one of the few carousels anywhere that has an old-time brass ring dispenser — riders on the outer ring of horses can grab a small metal ring as they ride past and then try to throw it into a target in the shape of a clown's mouth. This is hands-down our all-time favorite carousel! Rides cost $6 or are included with an all-day unlimited rides wristband. Hours vary depending on season.
400 Beach Street, Santa Cruz 95060
beachboardwalk.com
This antique carousel at the Billy Jones Wildcat Railroad in Los Gatos was originally constructed in 1915 for San Francisco's Panama-Pacific International Exposition. The carousel and its unique wooden animals were restored back in the 1980s, and the carousel features a Wurlitzer-style band organ for appropriate music. Rides cost $3 each.
233 Blossom Hill Road, Los Gatos 95032
bjwrr.org
At over 100 feet hight, the Columbia Carousel at California's Great America in Santa Clara is the world's tallest merry-go-round! Dramatically framed by fountains and a reflecting pool, this massive carousel features over 100 horses and exotic animals. Rides included with park admission.
Sign up for tips & news for Marin families!