Back to top
San Marin Music Performs for Fire Relief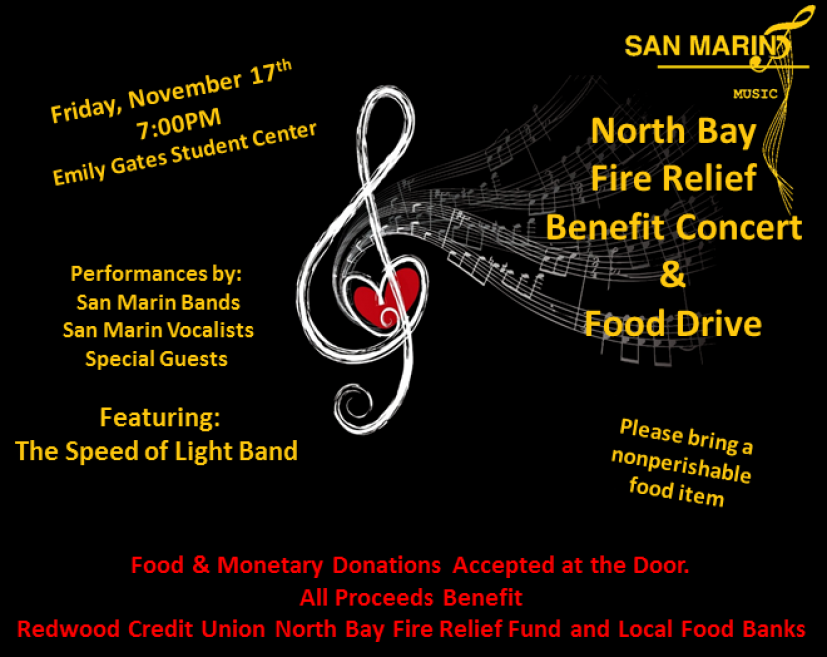 Join the talented students of San Marin High School's music program for their Fire Relief Benefit Concert and Food Drive on Friday, November 17 at 7 pm. San Marin Music musicians will be sharing the stage at the school's Emily Gates Music Center with the Speed of Light Band, whose members include several San Marin alumni.
Monetary and food donations will be accepted at the door. All proceeds will benefit the Redwood Credit Union Fire Relief Fund, as well as local food banks. Please bring one or more nonperishable food items. Come help make this a great evening and assist our friends, family, and neighbors who've been impacted by the recent North Bay fires.
San Marin High School is located at 15 San Marin Drive, at Novato Boulevard, in Novato. For more info, visit their Facebook page.
Sign up for tips & news for Marin families!