Back to top
Spectacular Views and Spring Wildflowers Await at Ring Mountain
Springtime is a perfect time to take a family hike at Ring Mountain Open Space Preserve near Tiburon. The preserve's wildflowers are starting to bloom, and the display gets more and more amazing as we head into spring. You'll be rewarded with spectacular views of San Francisco, Mt. Tamalpais, and the entire Bay Area. It's one of our all-time favorite family hikes.
Right now, you'll see California poppies, yellow lupines, buttercups, white and purple Douglas iris, and other colorful flowers coming into bloom. If you haven't been to Ring Mountain, it's definitely worth a visit. It's especially lush this spring after all the rain we've been having lately. Make sure you bring a camera—it's a great place for a family photo.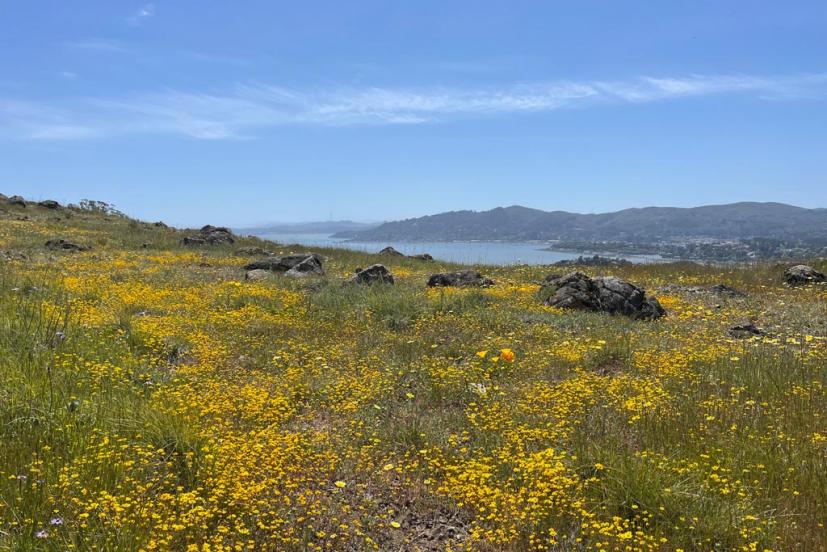 This preserve on a hill above Tiburon and east Corte Madera was saved from development back in the 1990s, and is home to a number of rare plants like the Tiburon Mariposa Lilly, which is found nowhere else in the world. Large boulders and rocks are scattered throughout the hillside, giving it an otherworldly appearance. You'll even find remnants of Native American settlements here in the way of petroglyphs and a grinding rock.
Numerous trails criss-cross the 367-acre Ring Mountain Preserve. The Phyllis Ellman trail leads from Paradise Drive up to the top of the mountain; you can return to the Paradise Drive trailhead via the loop trail. Most families will want to head for the fire roads on top of Ring Mountain. They're largely smooth and flat (some sections are even paved) and are fine for sturdy jogging strollers, as well as mountain bikes.
Best of all, Ring Mountain is a short distance from almost anywhere in Marin County. It feels like it's a world away, though. From mid-March through April the whole hillside is often carpeted in flowers. I like to think that my photos are pretty good, but they really don't do the view justice—you have to go there and see it for yourself.
If You Go
Ring Mountain Open Space Preserve is located near Tiburon and Corte Madera off Paradise Drive. To get there, take the Paradise Drive/Tamalpais Avenue exit and head east on Paradise Drive. Follow Paradise toward Tiburon and turn right on Taylor Road. Follow Taylor Road uphill and park at the end. There are also trailheads on Paradise Drive near Marin Country Day School and at the end of Reed Ranch Road.
The Taylor Road trailhead is in a residential area. Park on the street here and head right on the road that looks a little like someone's driveway; this will lead to the trailhead.
There are no amenities like restrooms or water fountains here, so pack in your own water and snacks. Ring Mountain is largely an open area, so hats and sunscreen are musts. It can get windy there, too, so layered clothing is advised. Poison oak also abounds here, so stay on the trails. On-leash dogs are welcome.
For more information, including a printable trail map, visit the Marin County Open Space District's Ring Mountain page.
Sign up for tips & news for Marin families!